Double Bypass Barn Door Hardware System
| | |
| --- | --- |
| Numéro de modèle : | YMXT-BG01(TSQ04 PYPASS bracket) |
| N° de réf. : | 150204-0555 |
| Brève description: | Sliding bypassing barn door system |
| Position: | Pour porte intérieure |
| Application: | Usage résidentiel et commercial |
| Matériau principal: | Acier Carbone |
| Finition de surface: | Revêtement en poudre noire |
| Taille du profil de rail : | 40x6mm |
| Longueur des rails : | Two piece of rail, each rail length could be 1524mm(60inch), 1830mm(72inch), 2000mm(78-3/4inch), 2134mm(84inch), 2438mm(96inch) and so on. |
| Chargement maximum : | 200kg(440LBS) |
| Cycles de travail : | 100000cycles |
| Pour le type de porte : | Portes en bois, Portes à cadre métallique |
| Pour l'épaisseur de la porte : | 25 mm (1 pouce) à 45 mm (1-3/4 pouce) |
| Fermeture en douceur : | Optionnel |
Plus d'introduction
This is classic barn door hardware but for bypassing doors thanks to the use of bypassing bracket. The barn door was originally used as a warehouse door on the farm, It was later incorporated into interior use with an improved design.
Because the sliding barn doors are perfect for a variety of decor styles, such as rustic style, industrial style, nordic, modern style, etc., it becomes a choice of more and more households globally.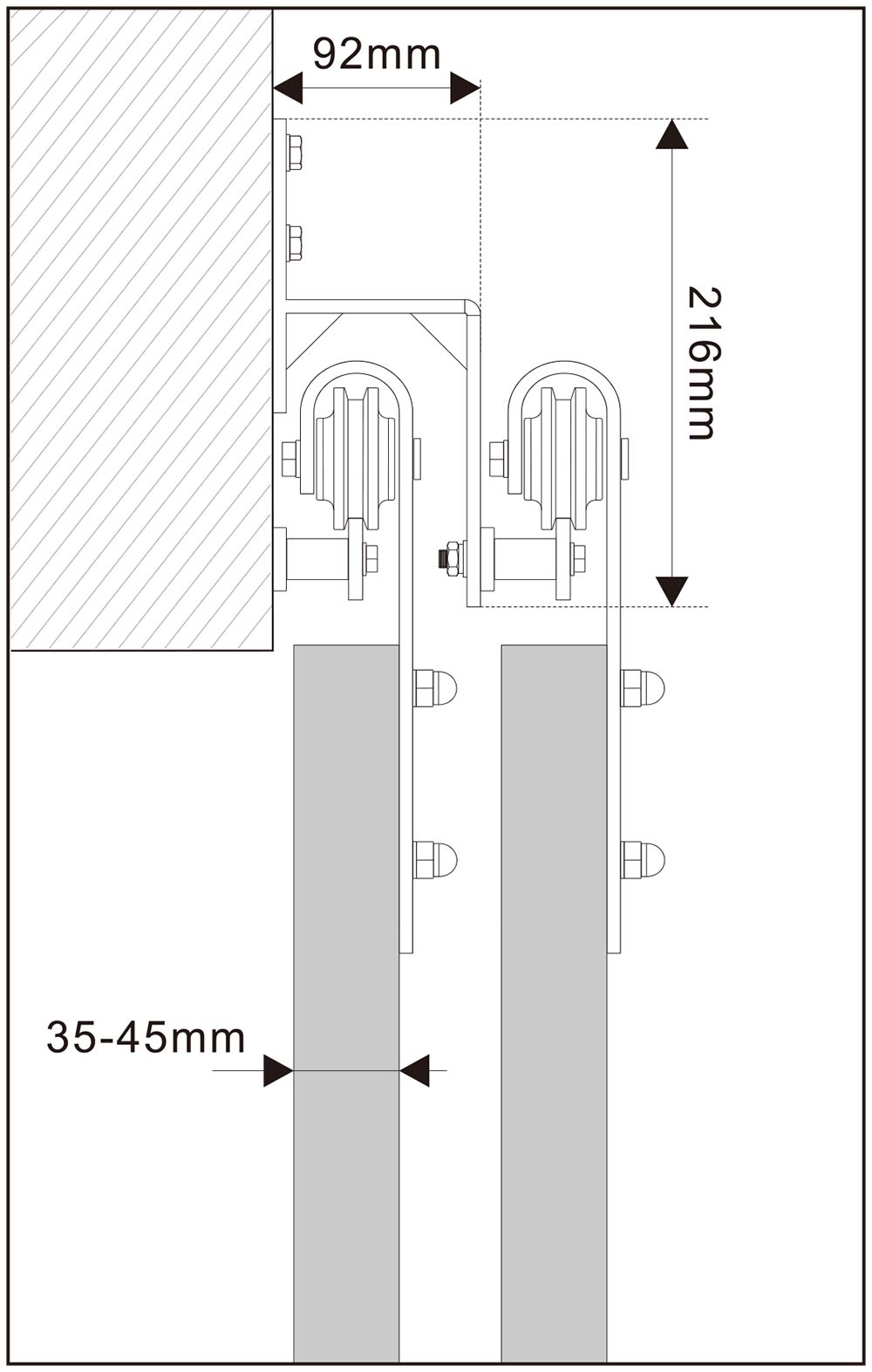 Dimension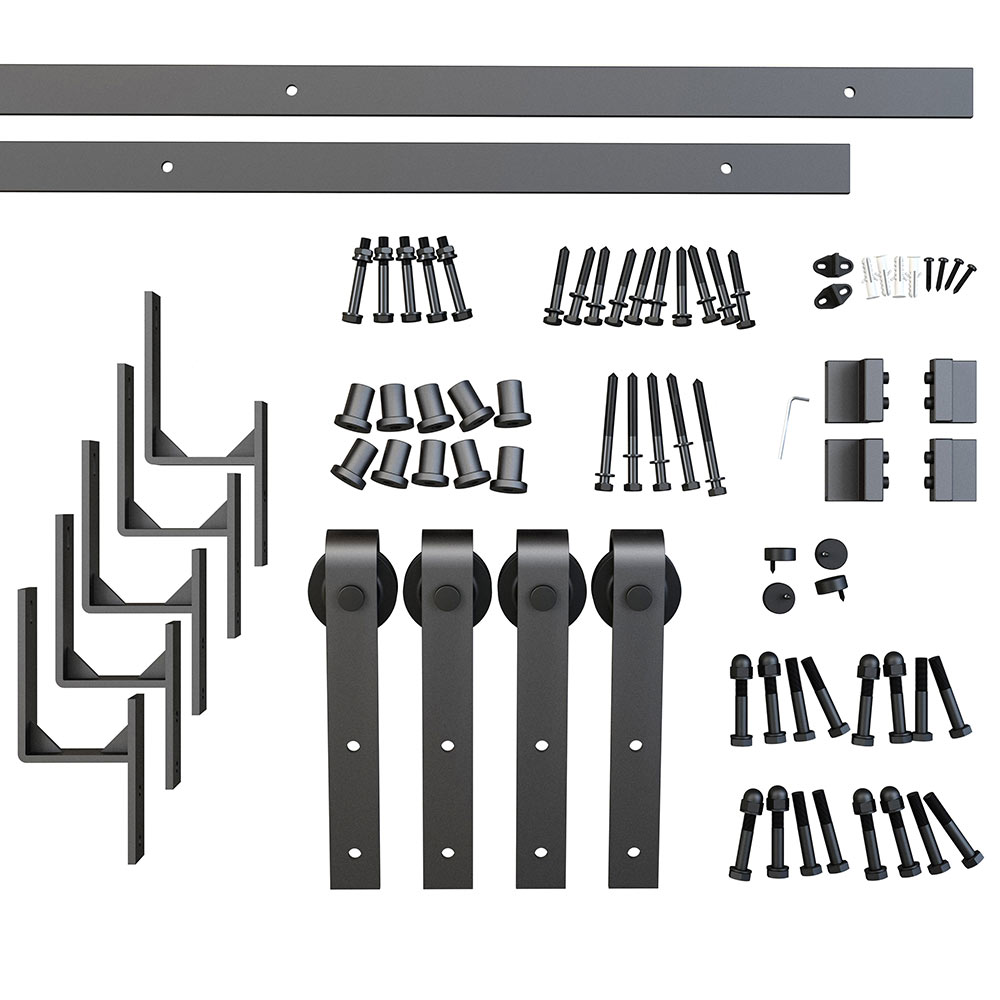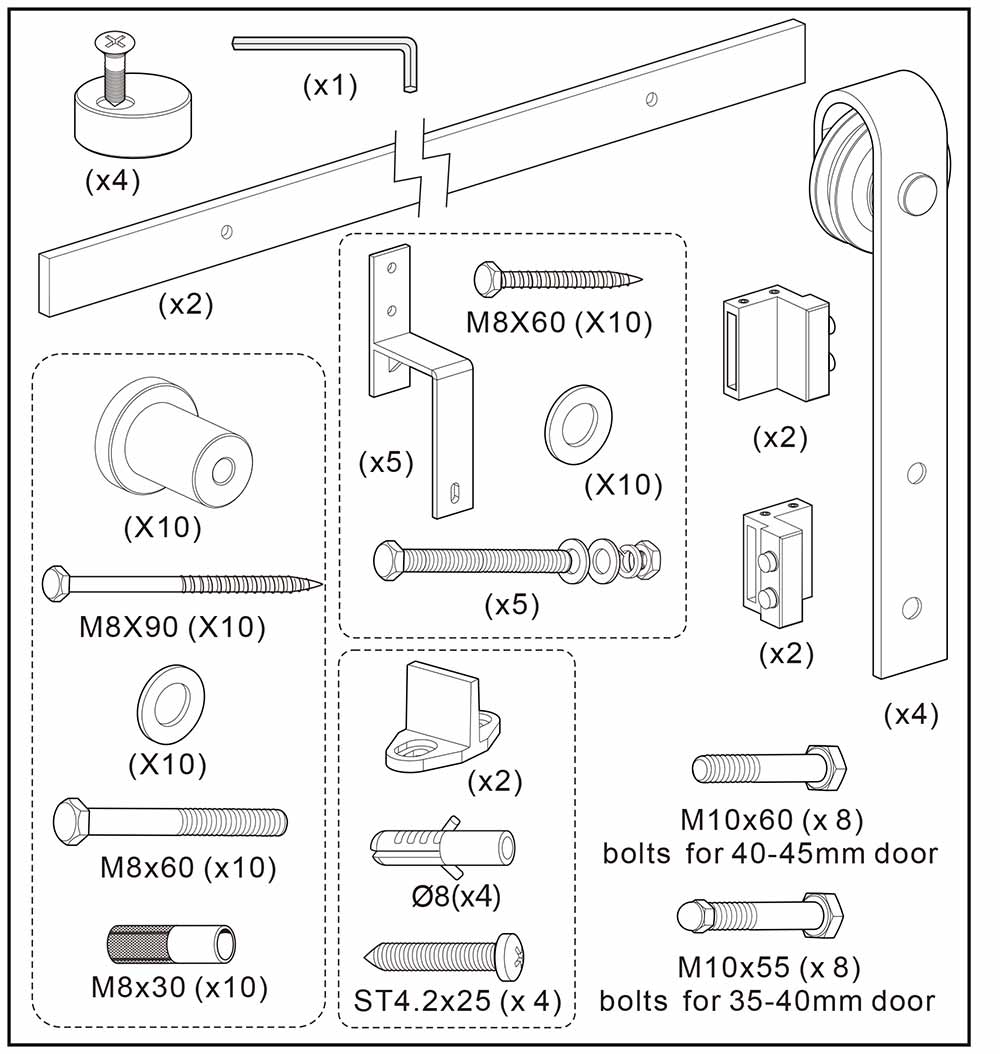 Assemblage de pièces
---
Paquet de produit
| | |
| --- | --- |
| Méthode d'emballage | Components into boxes and a complete set into a carton, around 88sets cartons into a wooden crate. |
| Type d'emballage de l'unité de vente | Carton |
| Taille de l'emballage de l'unité de vente | 1870*150*80mm (for rail length 1830mm) |
| QTÉ/Palette | 66sets/PLT |
| Taille de la palette | 196x96x106cm |
| Quantité de chargement | 792sets for 1x20GP;2016sets for 1x40HQ |
---
If you are looking for a double sliding bypass barn door hardware kit that is easy to install and always guarantees an excellent performance, look no further than this product. Since the barn door was repurposed for use in residential homes and other interior spaces, the barn door have become a favorite. Many homeowners have made the switch to using sliding barn door in their homes.
We attribute the high demand for these interior barn doors to the effective performance of the double bypass barn door hardware kit. These barn door hardware kits essentially make it possible for you to get maximum value while using the bypass barn door in homes or offices.
Best Selection Advise for New Buyers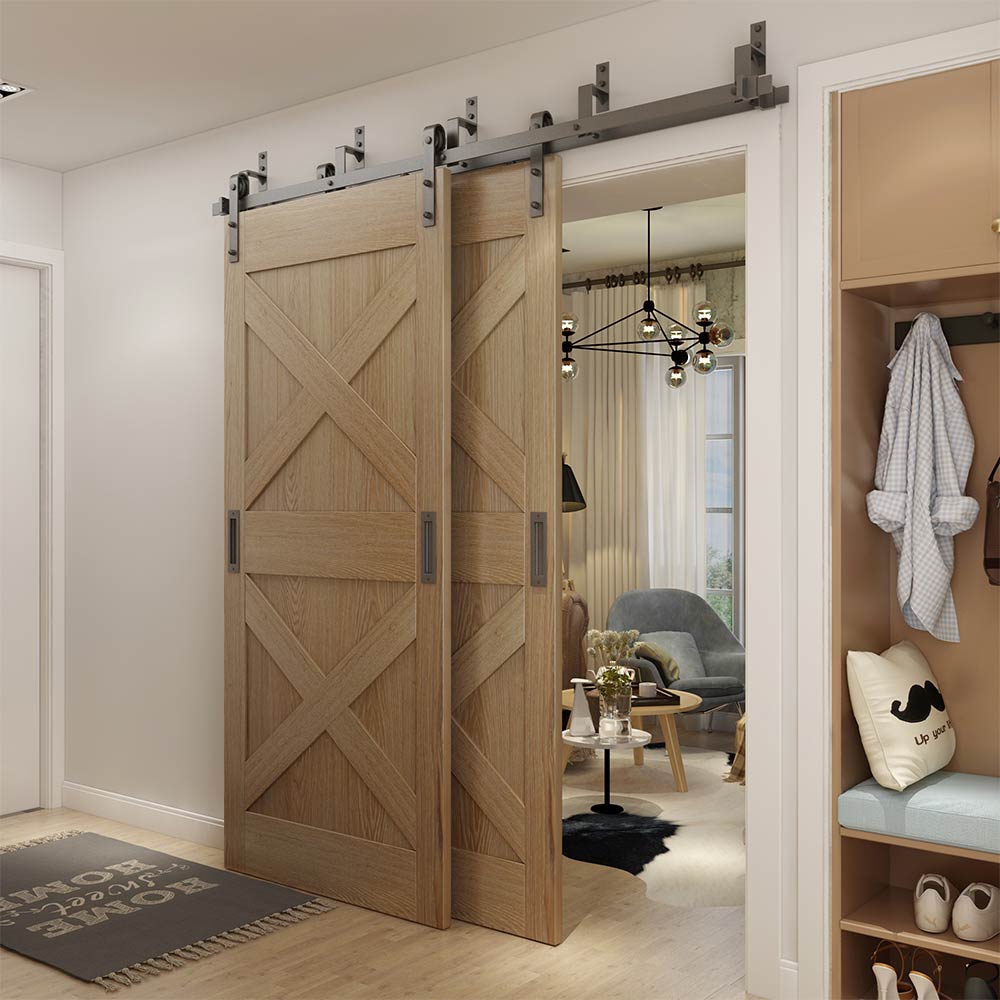 It is true you will find many types of barn door hardware kits on the market, but do not get confused. You should reach out to a reputable company like ours whenever you want to buy sliding barn door hardware.
We have put our double bypass barn sliding door hardware kit to the test, and the results are amazing. The customer reviews also confirm these are the best barn door hardware kit for any double door.
Getting in touch with us is easy if you would like to order any of these products in bulk. All you have to do is send us a customer contact form you have completed. You can add questions about ordering the sliding barn door hardware kit or place an order for the quantity you need to buy.
Features of the Double Sliding Bypass Barn Door Hardware
The double sliding barn door hardware kits generally have the same features, so what matters is that the product you are buying must have quality parts. There are many functional parts that make up the products, and each part of the sliding barn door hardware works independently. However, all parts must function effectively, or else the entire system will not work as expected.
The bypass door hardware kit includes a door hanger, door stoppers, the bypass bracket, hex bolts, and the floor guide. These parts are attached to the door panel, holding it in position to roll over the double track. Some systems have multiple shorter tracks, while others may have a single track length side by side for the double door sliding system.
Installation Tips for the Double Sliding Bypass Barn Door Hardware System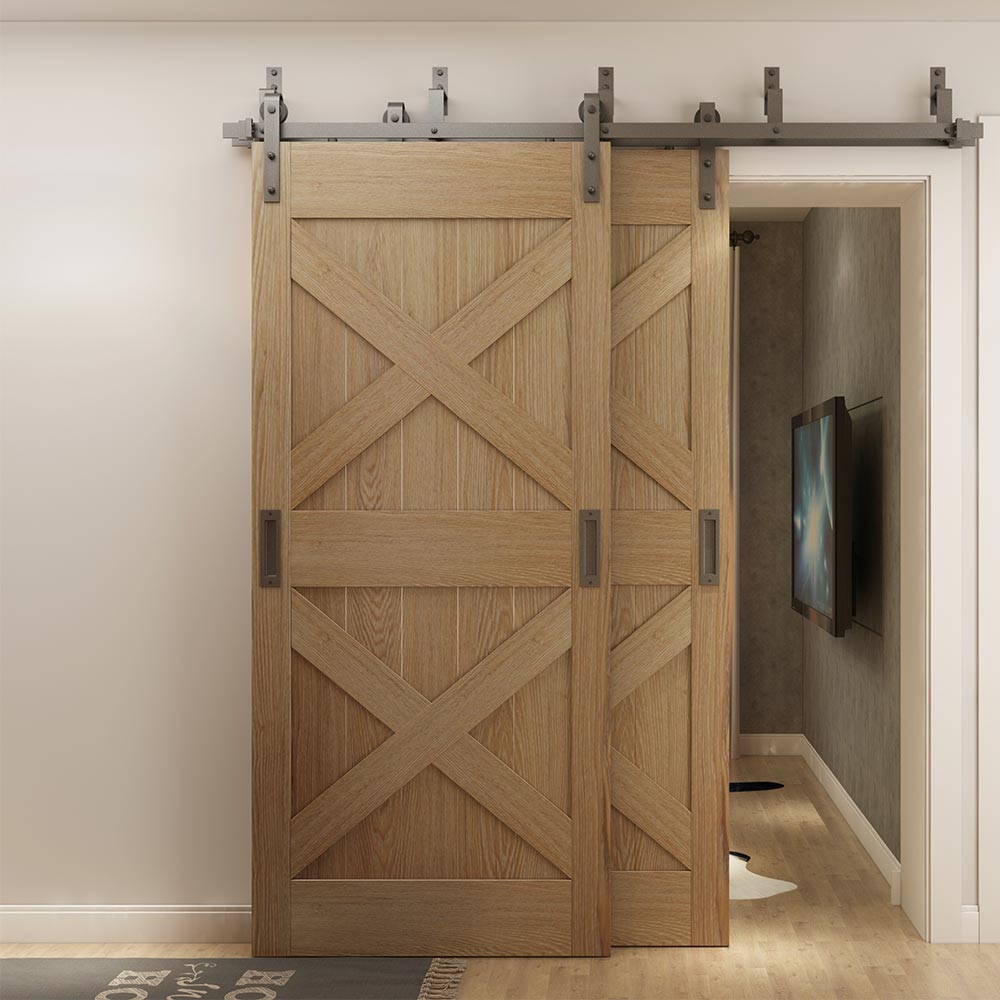 The manufacturers always add specific instructions to aid the installation process. The aim is to ensure there is more clearance and the connecting section on the system is flawless. Many people prefer to have adequate space beneath the door panel to prevent noises due to friction when opening or closing the bypass barn doors.
A solid header board must be used to ensure the barn door hardware kit are in the correct position to function properly. The header board carries the burden of the bypass barn door panel and all the hardware parts involved.
Also, it is a great idea to ensure the metal hardware parts like the door hanger and bypass brackets are corrosion resistant. This will help prolong the product's lifespan.
Product Description – Double Sliding Bypass Barn Door Hardware System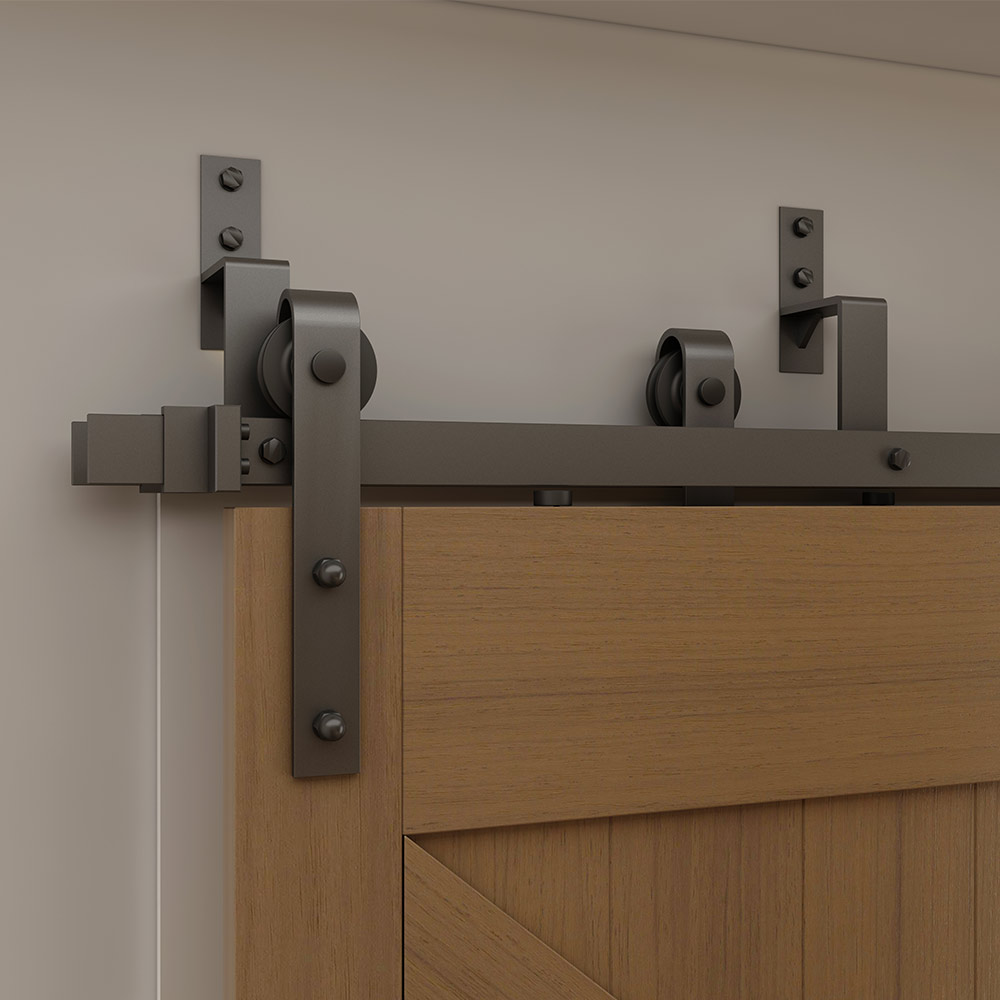 Even if it has many functional parts, the double sliding barn door hardware looks neat and well put together when you complete a proper installation process. It is best to hire a professional to do the installation if you do not have the tools or skills for the job.
The bypass door hardware kit has received many positive customer reviews from users who claim it is the best kit for two tracks. And most people prefer the double track length system to a single track because it allows them close or leaves a wider space open.
Here are the top features of this double bypass sliding barn door hardware kit:
Installation Design
The hardware kit is designed for installing barn door in the interior parts of residential homes. The barn door is also suitable for offices and commercial spaces. However, you would often see them in residential spaces.
Material Used for Manufacturing
The main material used to make the different features of this double sliding barn door hardware is carbon steel. The decision to use carbon steel is the best because it is one of the easiest materials to work with. Using carbon steel also brings an assurance that the hardware kit will last for a long time. The material is also easy to source, so getting the best quality is quite guaranteed.
Finition de surface
The surface finishing used for this hardware kit is excellent. The finishing is a black powder coating that gives a smooth finish. It also leaves the surface looking smooth, and the color matches the wood panels often used in the bypass bard doors system.
Profil ferroviaire
The rail profile for this double bypass sliding barn door hardware is excellently done. It complements the entire bypass barn doors. The rail profile size is given as 40 x 6 mm, which is perfect for the double track.
Also, the system features two rail pieces, which can measure 60, 72, 84, and 96 inches, depending on the bypass sliding door system to be installed.
Capacité de chargement maximale
The entire double bypass sliding barn door hardware system has a maximum loading capacity of 440 lbs. This is an excellent loading capacity that gives installers the freedom to modify the setup to meet the customer's needs. For example, they can use different headboards or wood panels without exceeding the loading capacity.
Working Cycle
The setup has an impressive working cycle. The manufacturers confirm users can enjoy this barn door for 100,000 cycles. This ensures all users get top value for their investment in these bypass sliding barn doors.
Door Panel Type
This double bypass sliding barn door hardware is perfect for wood doors and metal frame doors. The ideal thickness for wood panels can be from 25 mm to 45 mm.
Order Now
This hardware kit for a double sliding bypass barn door is available. You can order in bulk. Send us your customer contact form to place an order.