Barn door hardware
Here at TENGYU, we put the needs of our customers first. We have introduced and adopted several quality management techniques to ensure we offer nothing but the best.
Our barn door hardware is among the best hardware you'll come across in China. You may want to look into a few things before purchasing any style of barn door hardware kit.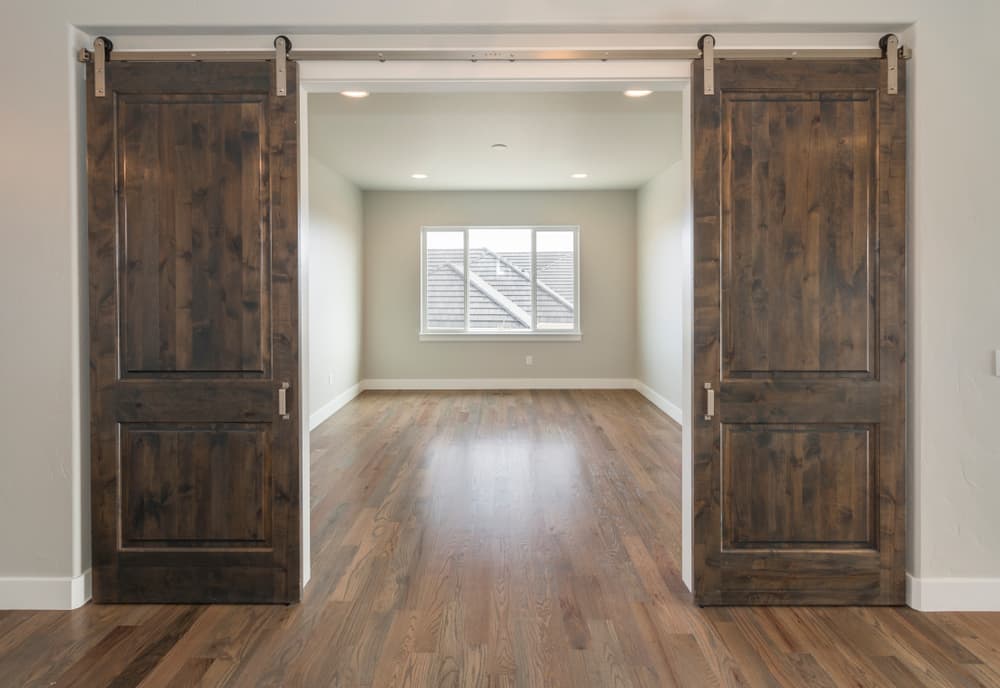 What is Barn Door Hardware?
A barn door hardware is a collection of hardware systems that'll help you install your vintage style, rustic charm barn door hardware. You use a rail track and barn door hardware to create a sliding door.
Barn doors can transform your interior from the traditional dull look into a classic. Basically, it's an easy way to separate a room while adding a unique style, beauty, and rustic charm.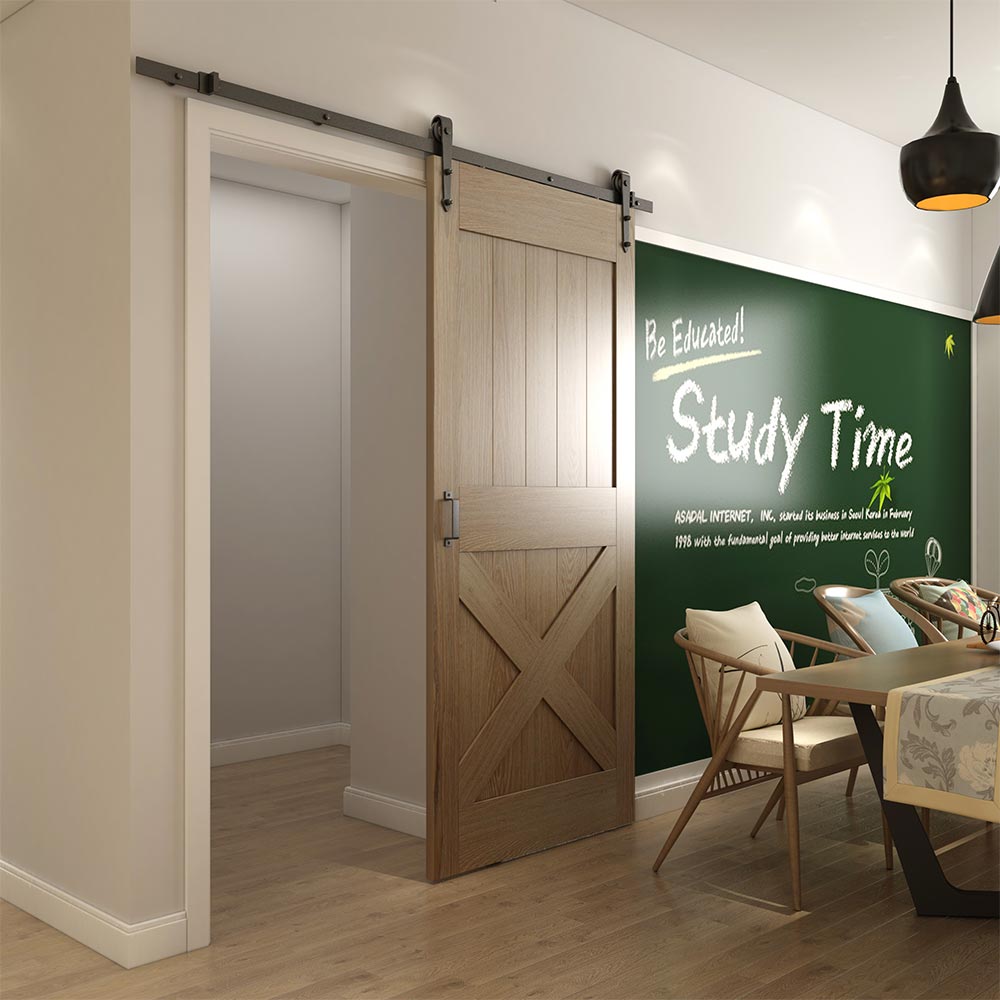 You can also use them in the bathroom, closets, and kitchen cabinets. However, it would help if you avoid common mistakes most people make when installing their barn door hardware.
Barn Door Ideas
Sometimes back, barn doors were only used in the countryside. However, they've become modern over the years, and homeowners are installing them to save space stylishly.
Some of the areas you can use a barn door instead of the traditional doors include the following: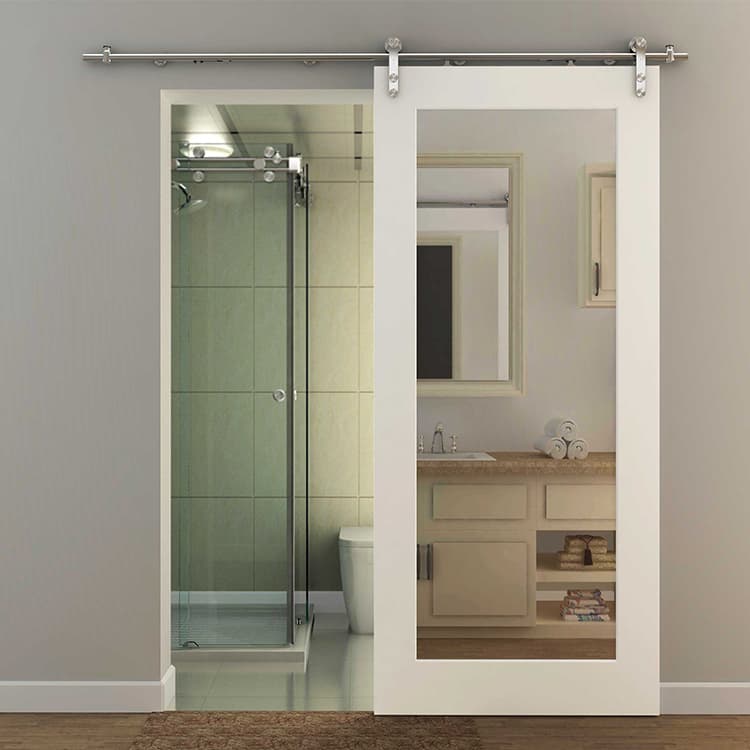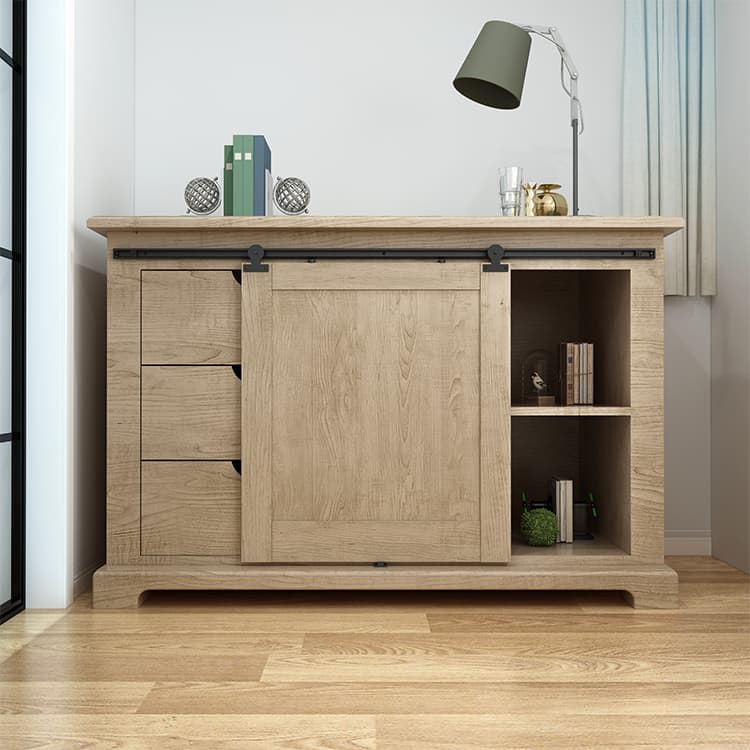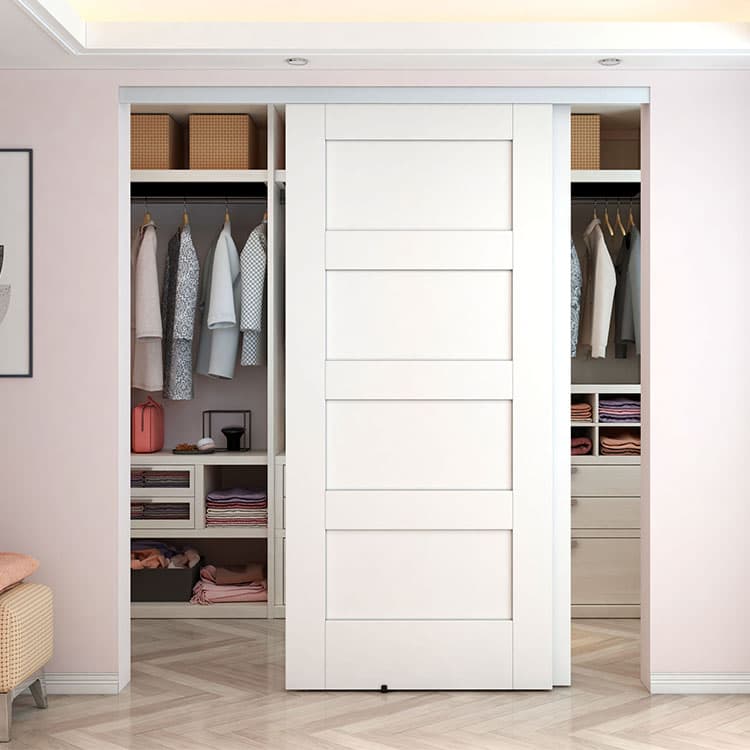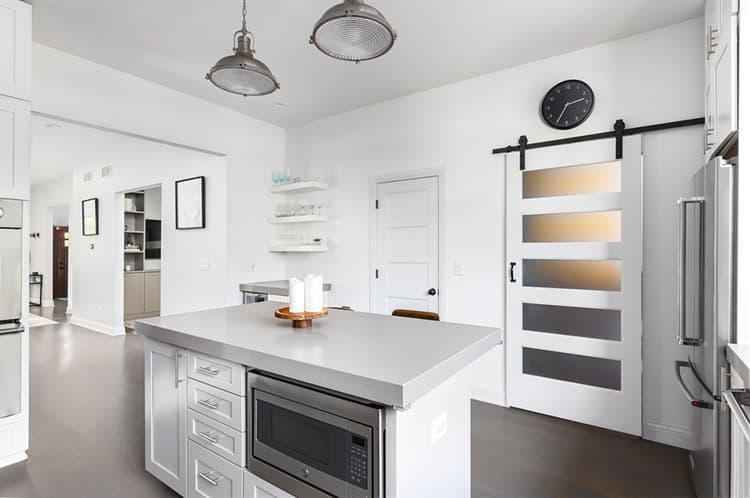 Barn Door Hardware Kit
To install barn door hardware in your home, you'll need a barn door hardware kit. As mentioned, it contains vital equipment required for installation. Each piece of equipment has its crucial role in ensuring the safety and proper functioning of the door.
Therefore, you should ensure your sliding barn door hardware kit has the following components:
Barn door track
Barn door hardware tracks are track-like metal bars fixed above the barn doors to provide a pathway for which the door rolls.
The whole setup of the sliding door depends on this barn door track system. As such, they're robust and made from metal. However, when selecting your barn doorway track, ensure you consider the quality of the metal.
For a barn door track, you may choose to have a standard barn door track or a bypass barn door track:
Bypass barn door hardware tracks
You should have two doors cross each other when you close; this is where the bypass barn door track comes in. It allows both doors to slide along the tracks without touching.
The best part about it is that you can either choose to have a single bypass door or a double bypass door.
Single bypass barn door tracks:You should note that this refers to the number of tracks, not the barn doors. In these, both doors are mounted on the same barn door track, but one is hung flush with the track while the other hangs in a way that it can slide past the other without contact.
Double bypass barn door tracks: These tracks include two separate doors and tracks. The doors move freely with no contact because you mount each door on a different track.
Standard barn-door hardware tracks
Stand barn doors are simple and are readily available in the markets. Like the bypass doors, you'll find single and double barn doors.
Standard single sliding door tracks:As the word suggests, it only comes with a single track and barn door. It's easier and quicker to install and a good alternative for a swinging door.
Standard double barn door tracks:The standard double tracks are twice those of a single barn door as they're designed to accommodate two barn doors. However, unlike in the double bypass barn tracks, none of the doors slide over the other because they customized to meet mid-track.
Barn door hardware handles
Barn door handles are less crucial than the other components. In fact, most barn doors can operate without the handle or pull. However, they are helpful and add to the beauty and style of your door.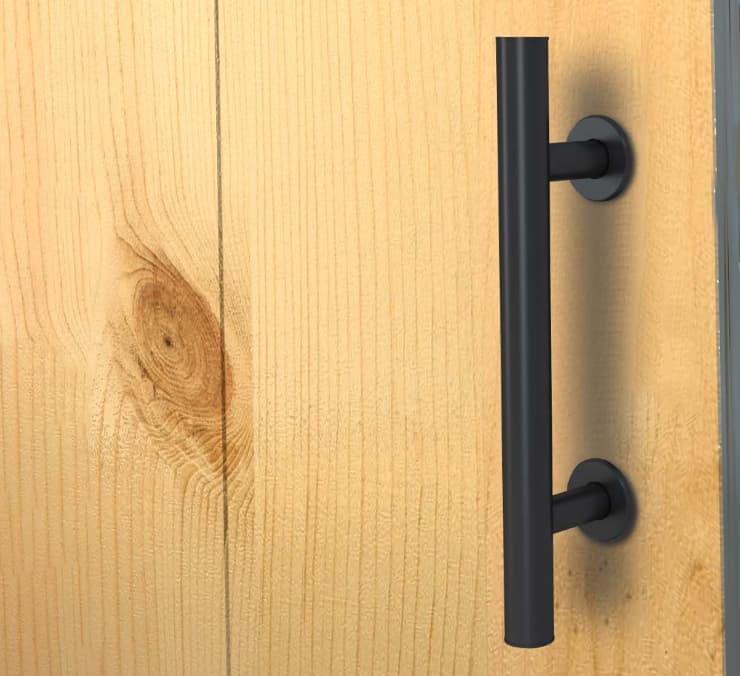 Barn door hardware locks
You'll need privacy if you're using the barn doors for your bedroom or bathroom. The best way to ensure you get the desired privacy is by using barn door locks.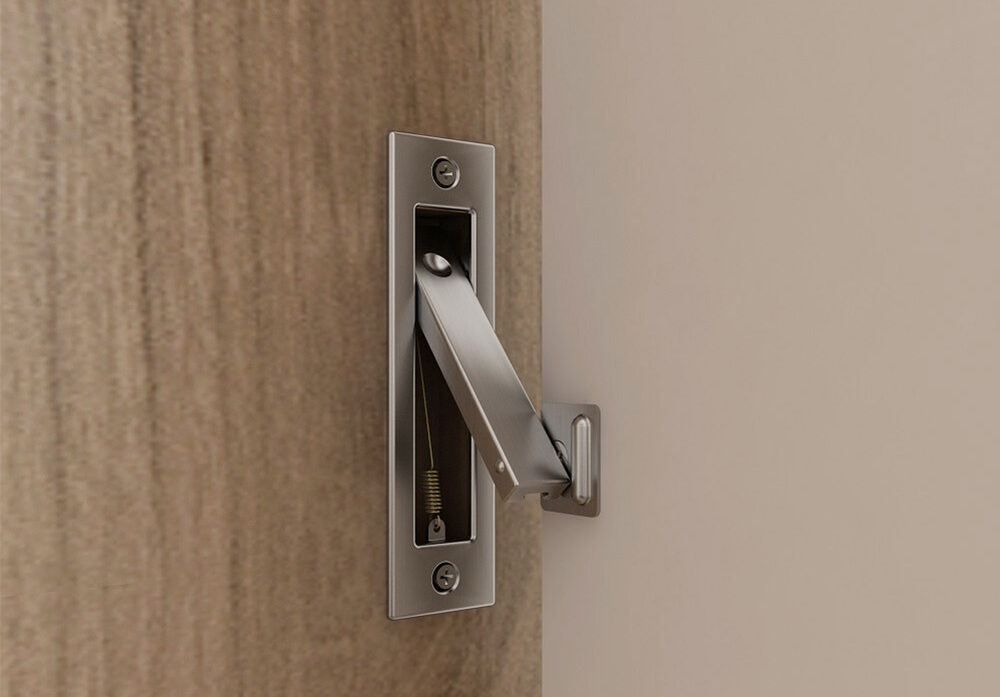 Barn door hardware hangers
For barn doors to slide along the tracks, you need to attach them to the rollers using the barn door hangers.
Barn door hangers come in different designs, designs, and finishes, and depending on whether you want a single or double barn door, you may get two or four hangers. A barn door hardware kit for a single sliding door comes with two hangers. You get four hangers when you plan on installing a double sliding door.
Barn door hardware rollers
Rollers are responsible for opening and closing the barn door. You mount them on the rail track and attach the mounting brackets or hangers that hold the barn door.
Barn door hardware kits have two or four rollers. For double doors, you get four hangers and rollers, and two hangers and rollers for a single barn door.
Barn door hardware accessories
Although not essentials, barn door accessories are just as critical. They help improve the door's stability, prevent damage, and boost its durability.
These accessories include the following:
Guides: One of the crucial accessories you should have when installing your sliding barn door. You attach the guides to the floor, and they prevent the door from swinging. This ensures the door is stable and is a reasonable safety precaution.
Typically, the guides come in different shapes consisting of either a bracket fixed to the roller or a U-shaped.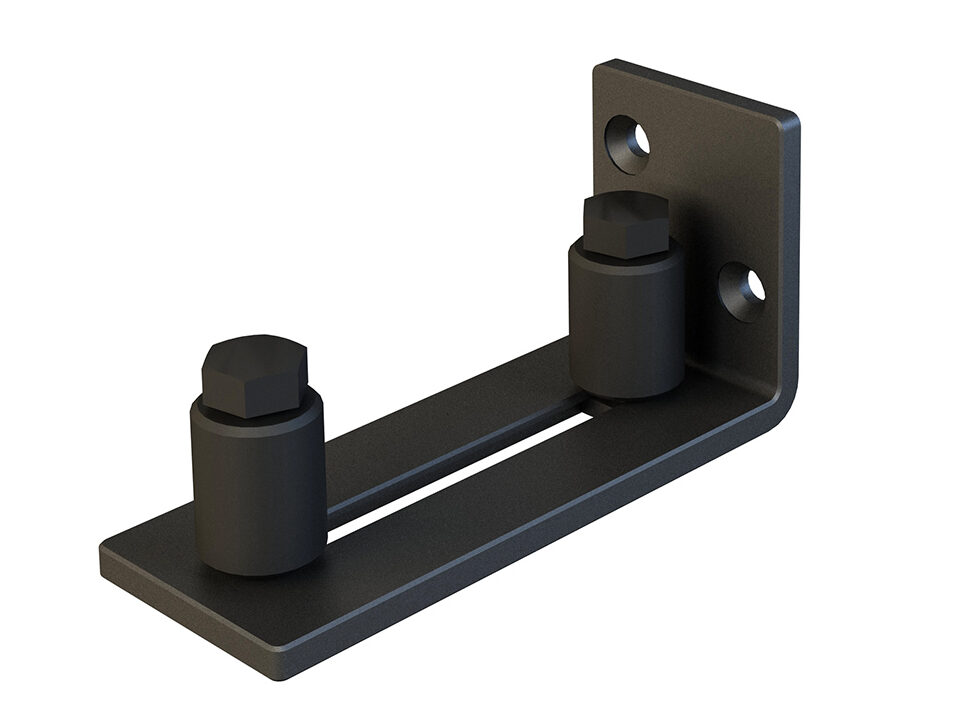 Track connectors: When using double tracks, track connectors help you connect one track to the other end to end.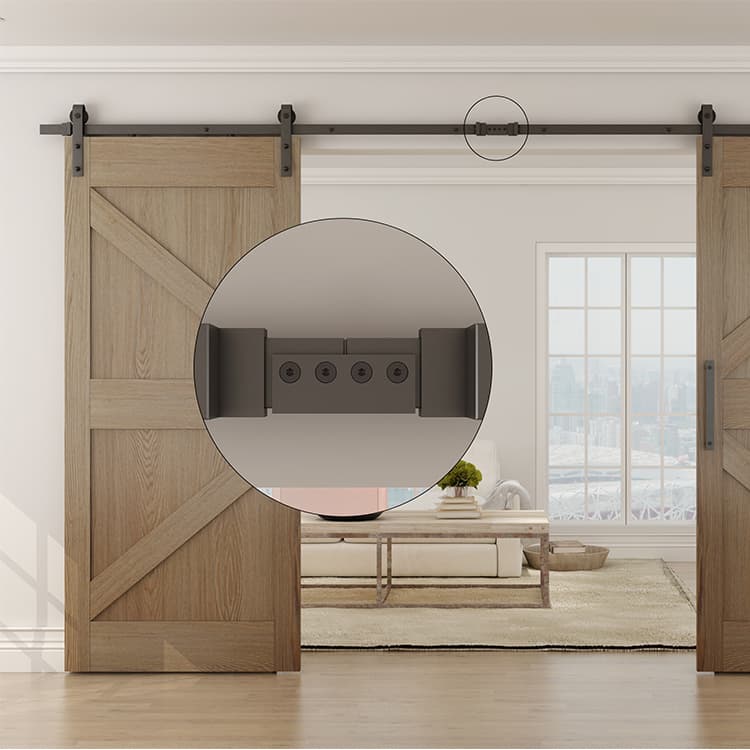 Jump blocks: Anti-jump brackets or jump blocks are round or square-shaped pieces of plastic or metal you attach to the door's top to prevent it from jumping off the rail track.
Door stops: These are attached to the track rails to allow the door to close quickly without coming off the tracks.
Standoffs: They're the accessories behind the door tracks that prevent damage by creating a gap between the wall and the track.
Choosing the Right Sliding Barn Door Hardware Kit
Our sliding barn door hardware is available for sale in different finishes and styles. We can customize your barn door hardware kit to suit your requirements.
When purchasing your barn door hardware kits, it's essential to consider the following:
Your style:You want your barn door to suit your style and complement your modern interior designs, traditional or rustic. Either way, we have barn door hardware kits to suit both styles.
You can have straight, bent, or top-of-door straps, as they can hang your door on the barn door hardware track.
You must decide on the best bi-parting system when dealing with bi-parting doors.
The barn door hardware system to use:The next thing you need to consider before settling for a barn door hardware kit is your barn door system.
You could prefer a standard barn door hardware system (single door and single rail) or a bypass barn door hardware system (two tracks and a door for double bypass door tracks).
You may also have bi-parting doors hardware or a triple bypass barn door system. You can install two doors on a single rail in a bi-parting system and three bypass doors in the triple bypass barn door hardware system.
The systems are priced differently based on their designs, the track system, and the number of doors.
The track length:After choosing your style, you can select the track length that best accommodates your barn doors. The length will likely depend on the type of barn door hardware system chosen.
When measuring, ensure your track length is at least twice the width of the doorway opening.
Your color:It may seem petty but choosing a color for your barn door hardware is one of the crucial decisions you'll have to make when buying a hardware kit. You can select your preferred color that complements your barn door color and other house accessories.
The sliding door hardware accessories:Door stops, jump blocks, guides, and standoffs are vital parts of any sliding door hardware.
Accessories boost your door stability and enhance the functionality of your new barn door.
You can choose a single color and design or mix and match the colors to create a unique style.
Measuring for Barn Door Hardware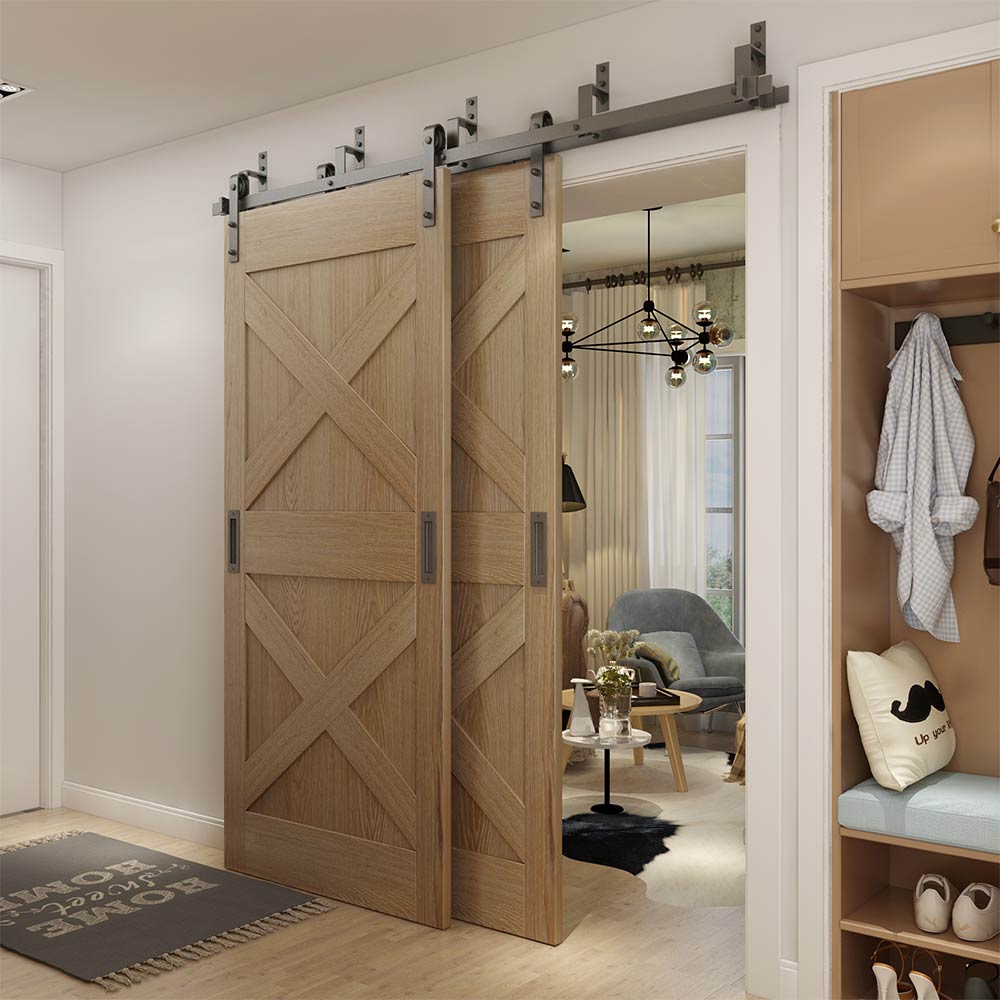 As mentioned, the measurements you take for your barn door differ from that of a swinging door. To take the correct measurements for your sliding door, you first have to know if your door has a trim all around (cased-door opening) or a sheetrock opening (non-cased door opening).
Here are 3 simple steps for measuring non-cased door opening:
Determining your barn door width:The first step is to measure the width of your doorway opening. Once you get the reading, add a few inches to your width measurement (preferably 4-6 inches) to give you enough space for privacy and to reduce the gap between the barn door and the wall.
If your door has a molding door frame, your measurement should go up to the outside edges.
For example, if the width of your door measures 36 inches, then the width of your sliding door should be 36 + (4 to 6 inches).
Determine the track length:The next step is determining the track measurement. The track needs twice the door width measurement.
Therefore, if your door width findings were 36, your track measurements will be (36*2) + (4 to 6 inches).
Determining your barn door height:To know the height of your barn door, you must first choose where you want the barn door track mounted. It could be 2 inches above the doorway opening or halfway between the door opening and the ceiling.
Once you have your track spot, measure from the bottom to the chosen place. However, it would be best if you leave an inch or so from the floor to ensure there's enough room for movement of the sliding door.
Installing Interior Barn Door Hardware
By now, you know the correct measurements for your barn door, design, the accessories, tools, and materials to use, and you're ready to start the installation process.
Remember, you must have your sliding door hardware kit to install these doors. Once you have the kits, it's simple to install bi-parting doors.
It would be best if you counter-checked to see if you have all the necessary materials, tools, and barn door hardware components.
For a single barn door check, ensure you have the following:
Two rollers
Two hangers
A barn door
A mounting track
For double barn doors, ensure you have the following:
Four hangers
Four rollers
Two barn doors
Two mounting tracks (One for a single bypass barn door system)
Once you have all the materials, you can start with the installation process. Here are a few simple tracks that'll help you get started on your project:
Secure the hangers
The first step in installing barn door hardware is to attach the hanger to your barn door. Secure two hangers on top of your barn door, strategically placing one close to each edge.
The distance from where you place your hanger will vary based on your barn door style. You can hang them from different angles to see which fits best. However, you should ensure they're about 3-6 inches from the corner.
Attach the header board
Some barn doors come with pre-installed drill holes, and some don't. In your case, if you have one without the drill holes, use a header board.
You can use whichever board size you prefer, but most come in sizes 1*4 and 1*6. Attach the board above your barn door for installation.
When installing, ensure the center of the header board is at least 2 inches above the door. You can paint the board to match or contrast the door.
Mount the rail track
Each sliding door hardware comes with one or two rail tracks. The height from which you hang your rail will differ by the type of hanger you use.
However, the standard height is about 2.25 inches from the door height, leaving about 1.75 inches of clearance from the door top to the rail.
Fix the floor guide
The next step is attaching the floor guides. Most sliding door hardware comes with a standard T-Guide. If not, you can use the wall-mount guide.
Here's how you install the wall mount and T-Guide:
Wall-mount: They're easy, simple to install, and convenient. Unlike the T-Guide, you don't have to groove into your door, and they're very convenient, especially when installed over a tiled floor or carpet. However, you'll have to purchase them separately because they're not included in the hardware kits.
T-Guide: To install a T-Guide, you need to groove into the center of the bottom edge of your barn door to create a space for the guide to slide in.
Attach your barn door
The next step is relatively easy. You have everything installed, and now all you need to do is hang your door and carefully slide it into the guide.
Position the door stops
This step requires you to completely close your barn door and slide in the door stopper. Open the door to attach another stop.
For a successful and flawless installation process, consider the following:
Using quality metals: The biggest mistake you can make when installing your barn door hardware is using low-quality metals.
Most of the barn door hardware kits available today are made of aluminum. They're less expensive and readily available in the market. However, they're not durable because of their lower quality.
To be on the safer side, look for =barn door hardware kits with steel finishes for an interior setting. They're better quality and more promising than the aluminum ones because raw steel is more substantial and gives a worn-in look.
However, steel oxidizes over time and begins to rust. Therefore, if you want to install a barn door in your garage or any other exterior area, consider using hot-dipped galvanized steel sliding door hardware because it can withstand harsh conditions in a corrosive environment.
Another good option for your barn door hardware kit is stainless steel. It brings out a modern barn door outlook, making for luxe, smooth, spotless finishings and astonishing sturdy.
You can consider other good metal qualities for an on-trend and chic appearance: copper, silver, solid brass, and gold.
Selecting the proper hardware: The sliding barn door hardware you choose will determine the success of your installation. Ensure you like a style that can withstand the weight capacity of your barn door. Consider a system that wraps and straps the door for a heavy barn door.
Having a sliding door floor guide:A barn door floor guide may seem less important, but it's still crucial for a successful barn door installation.
The accessories in the floor guide will help prevent the door from swaying back and forth and protect it from banging against the wall whenever you open it.
One of the significant accessories you're likely to find in a floor guide is the T-guide. The T-guide is typically food-mounted into the groove cut in to keep the barn door aligned on the track.
You could also use a wall-mounted barn door guide if you don't wish to drill on your floor and a C-guide if you don't have a groove in your sliding door.
Consider powder-coated barn door hardware: The top coat is another thing to consider when purchasing your barn door kits.
Ensure the barn door hardware is coated with powder if you want something colorful because the powder is more durable than steel paint.
Your privacy requirements: As much as you can use barn doors for every room of your house, you also have to consider if they'll give you the privacy you need. The privacy you get while using barn doors depends on how you install them.
If soundproofing is your primary goal, consider using a solid wood plank for your barn door.
Also, ensure the sliding doors overlap the opening for more privacy. The less space you have between the barn door and the wall, the more soundproof it is.
You can also use sliding door locks, such as teardrop locks, to secure them.
Taking accurate measurements:You must be very careful when measuring your sliding barn door. The measurements you need for a barn door are different from that required for a traditional or swinging door.
Make sure you have enough space:When installing your sliding door, it's vital to check if you have adequate space (at least twice the door width) on either side of the door opening because you need enough space to open it completely.
Using a header board: Although not compulsory, you can use a track support header board to lessen the burden of the installation process.
They allow you to start with installing the track to the board first before fixing it to the wall, which is a lot easier than when you try installing it on a fixed board.
Protecting wood finishes:You must seal your door with a finish for a successful installation. It helps protect your door against cupping, twisting, and warping.
It also protects the door against temperature changes and moisture while bringing out the copious particulars in the grain patterns.
Don't forget hush wheels and soft stop: Hush wheels have a soft polymer insert that separates them from the standard steel wheel.
It quietens the sounds from the metal tracks when the wheels move along them whenever you open or close the sliding doors and are best suited for quiet spaces.
Another way to ensure quiet movement is by using a soft stop. It prevents the door from slamming into the end stop. For longer tracks, you can have a soft stop on both ends.
What is the Maximum Weight a Barn Door Can Hold?
Sliding doors hardware kits are customized to hold various weights. Therefore, it's very critical to choose your door first before settling for an hardware kit. The choice of a barn dooe hardware kit greatly depends on the weigh of the barn door you want for your interior.
For instance, solid wood barn doors from reclaimed woods are heavier and you'll need a heavy duty hardware kit that can hold up the door.
Are Barn Doors Adjustable?
One of the many benefits of installing a sliding a barn door is that you can repurpose your old door. You'll find many barn door hardware designs in the market but you shouldn't settle for them if they're not your style. You can convert your old metal or wood door into a sliding door.
But first, you need to find out if your old door has the width and length you'll need to create a barn door. This is because barn your barn door will need an extra space to fit.
When adjusting or converting your old door into a barn door, ensure its solid because they're more convenient for barn doors.
Creating an Interior Barn Door Using Existing Door
If you're wondering if you can create a barn door for your interior from an existing door, the answer is yes! It's pretty simple. All you need is paint, screws, nails, and plywood.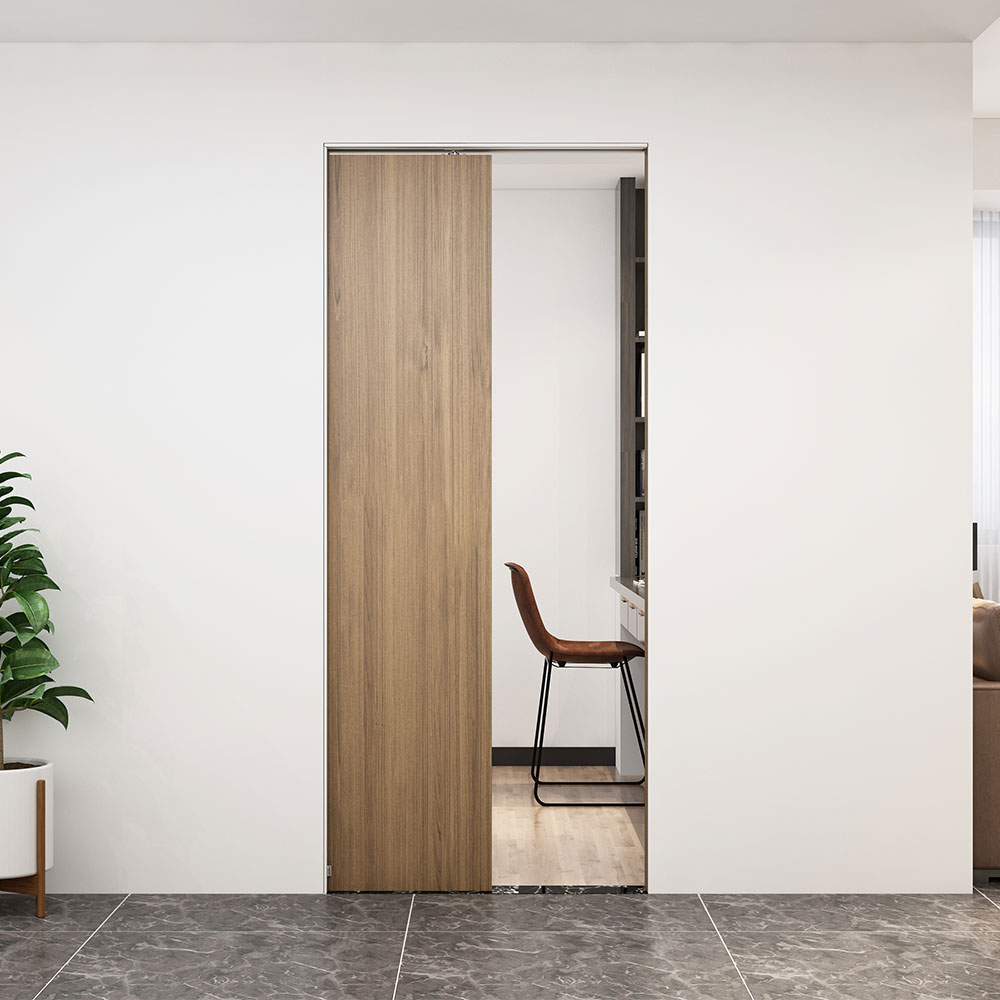 Start by detaching the existing door from the door frame. Unscrew the hinges, door knobs, and additional hardware, if any. It would be best if you had the plain door to act as the base of your barn door.
Then, fill the holes or voids once occupied by the hardware accessories and hinges using wood fillers, sand smooth, and then paint to match the rest of the door.
Remember, the length and width of a barn door are a few inches more than that of a traditional door; therefore, you have to add wood all the way around to cover the door frame and can create your design using thin, thin plywood of about 5mm.
Prime the wood strips with a regular brush or spray paint primer and leave it to dry. Once dry, paint at least two coats with your preferred color on both sides of the door.
Now, you have your barn door, and all that's missing is the additional barn door hardware and accessories.
Best Interior Barn Door Hardware for Industrial Style
Barn doors can match up to about just any interior and industrial style. They're all available in different textures, materials, and finishes, with matching hardware kits for both. However, not all are convenient for industrial use.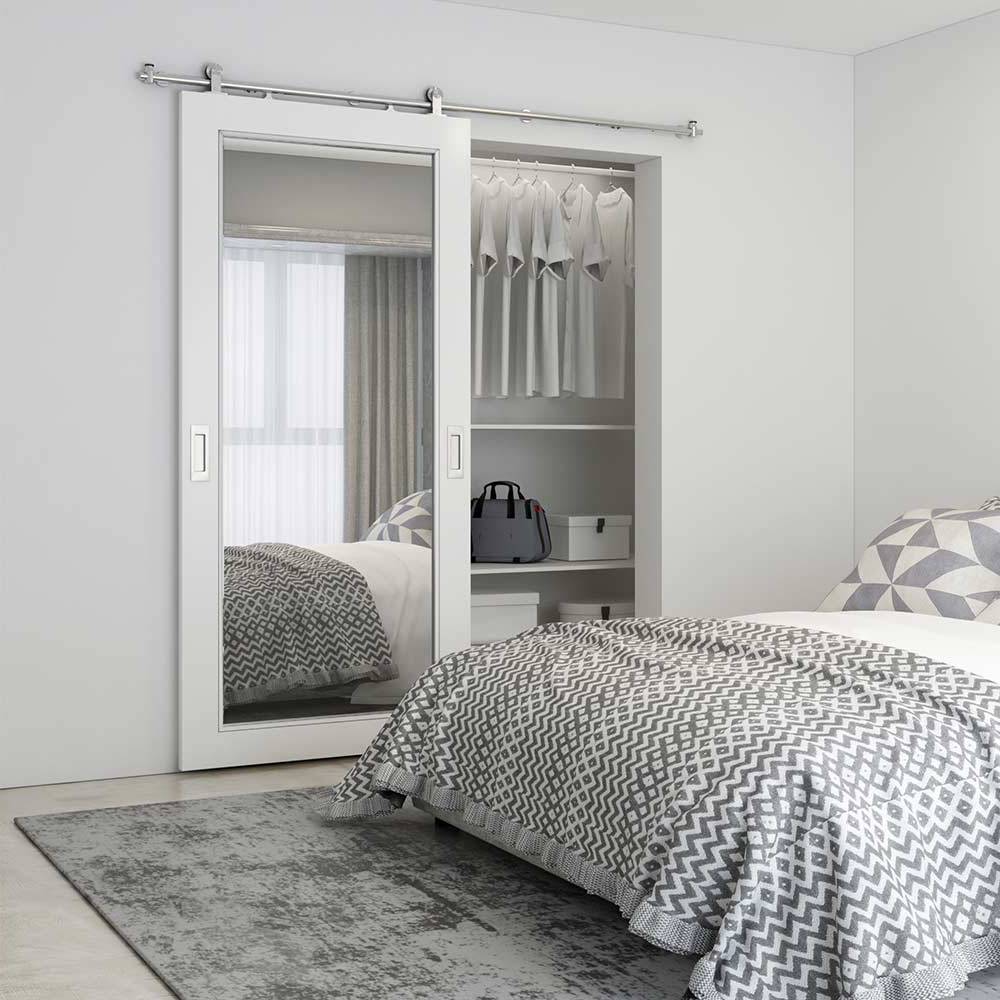 Here are some excellent barn door hardware for industrial designs:
Classic barn door hardware
Traditional top-mount barn door hardware
Stag flat barn door hardware
Modern rectangular top mount hardware
Reflex barn door hardware
Garrick barn door hardware
Buck barn door hardware
430 smooth stainless steel hardware kits
Benefits of Barn Door Hardware
If you're wondering why you should install barn doors over traditional or swinging doors, here are a few reasons:
Saves space: Sliding barn doors are the ideal door for small spaces because they don't need as much room to open. You need to slide them along the wall.
Easy to install:Installing  barn door is more accessible than a conventional one. You can even install it yourself without the help of a hardy man.
Showcases your style:You get a chase to flaunt your interior designing taste and style through the barn doors. From traditional rustic doors to vintage, shabby chic, and modern styles.
Versatile designs: Sliding doors come in various designs that allow them to fit with  most door ways. You can either choose a single barn door or double barn doors which is convenient for large door openings.
Convenient: As barn doors are made from lightweight materials, it becomes easier to move furniture around the house without struggling to completely open a door.
Conclusion
From their functionality, appearance, and styles, barn doors have many advantages for home and industrial use. They're available in different designs, and you can customize your barn door hardware to suit your style. Shop for our fantastic barn door hardware and bring out the inner you.