Mini Barn Door Hardware
Mini barn door hardware, also known as cabinet barn door hardware, works perfectly when dealing with a low ceiling clearance in your door opening or when you can't use full-sized hangers. We've customized our barn door to work with this barn door hardware.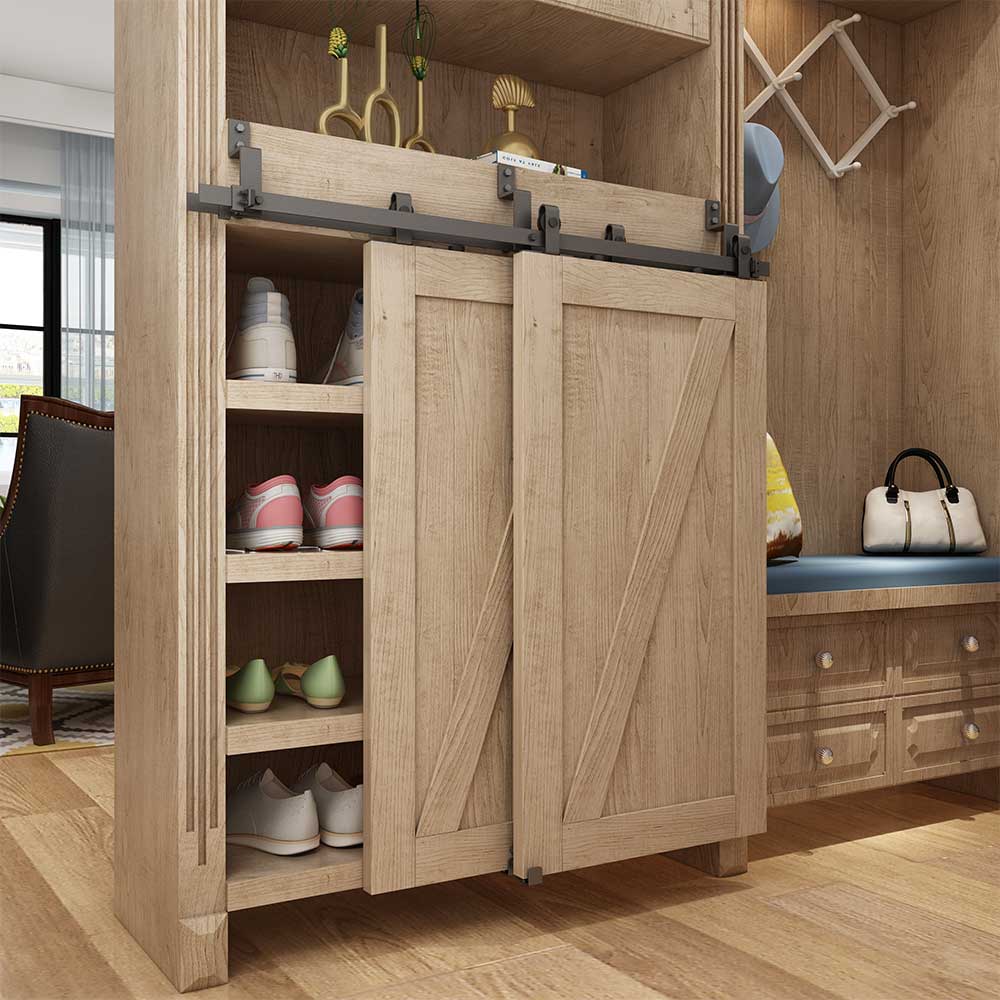 However, you would want to add some extra hangers when using mini hardware for your barn door to ensure stability, especially when dealing with large doors. Read on below for more information on cabinet barn door hardware:
8 Cabinet Barn Door Hardware Customization Options to Consider
Everyone wants their home's interior to be astonishing, and there are many ways you could make this happen. Taking your home interior design to the next level isn't just about the frames you hang on the wall or the color of the rooms; it goes beyond that, and barn door happen to be one of the crucial aspects of home decor most people don't utilize.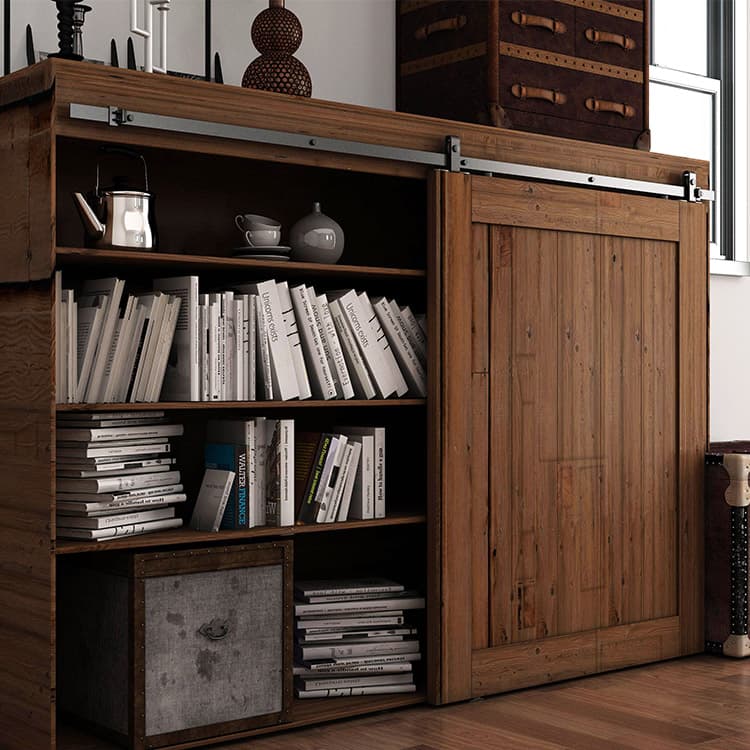 You can use barn doors to separate rooms in your home while maintaining their unique aesthetics and rustic charm. And the best part is, there are now barn door hardware you could use if your space can't accommodate a full-sized sliding barn door.
Many options are available in terms of different hardware systems, including barn door designs, finishes, and stop styles you can use to bring out the perfect interior look. That said, here are the customization options to consider when buying your cabinet barn door hardware.
1. Hardware System
A sliding door hardware system is a hardware kit containing all components and parts, such as hangers, rollers, wall mounts, and fasteners, you need to install a small barn door. These hardware systems are customized to make it easy for contractors and homeowners to install sliding doors with less effort and time.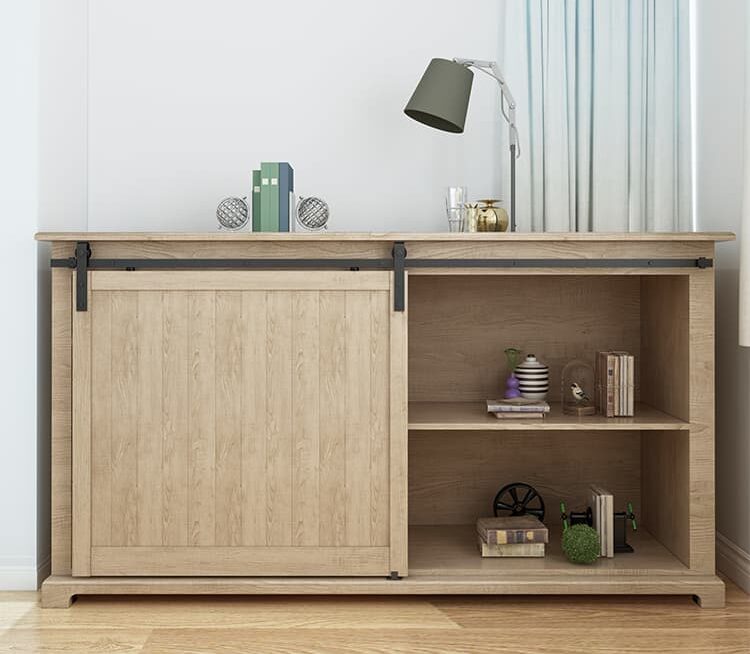 The hardware system used for mini sliding doors isn't that different from that used in full-sized brand doors. The only difference is that mini barn door hardware systems are more diminutive. The various types of hardware kits you could use for your sliding door include the following:
A barn door hardware kit allows two or more bi-parting doors to slide past each other without touching. It's a good hardware option if you have a small space and want something that won't occupy much room.
Floor-mounted hardware: This is the best system to use if you're planning to install a heavy sliding barn door. These systems are mounted directly to the floor, giving your door more stability than when you suspend it from the top tracks.
Single-track hardware: It's a hardware kit designed for a single barn door and small spaces. It only comes with a single barn door and track and two hangers, unlike the double track hardware, which comes with two barn doors and four hangers.
Double-track hardware: These hardware kits are designed to be used when installing two sliding barn doors. As mentioned, they come with two barn doors and four hangers. You can get one or two tracks, depending on what you need. However, they're not ideal if you're looking for something for your small space.
Wall-mounted hardware: Another hardware system you could use for your sliding door installation is the wall-mounted hardware kit. You mount it directly to the wall, and it also occupies less space. However, it's best suited for lightweight doors, and you can't use it if you want to install a heavier door.
Strap hardware: These hardware kits come with flat metal straps that offer a rustic industrial look to your interior.
Industrial hardware: These hardware kits contain components that are more rugged and better used for industrial places or if you want to give your home a vintage or industrial aesthetic.
Decorative hardware: It's a barn hardware kit customized to offer a cosmetic appeal to your home. You can install these barn door hardware to add unique and excellent touches to your space.
2. Finish
Another vital factor to consider when buying a cabinet barn door hardware kit is the finishing you want for your kitchen cabinets or wardrobe doors. Different finishes have varying vibes, add unique styles to your interior, and have a different feel.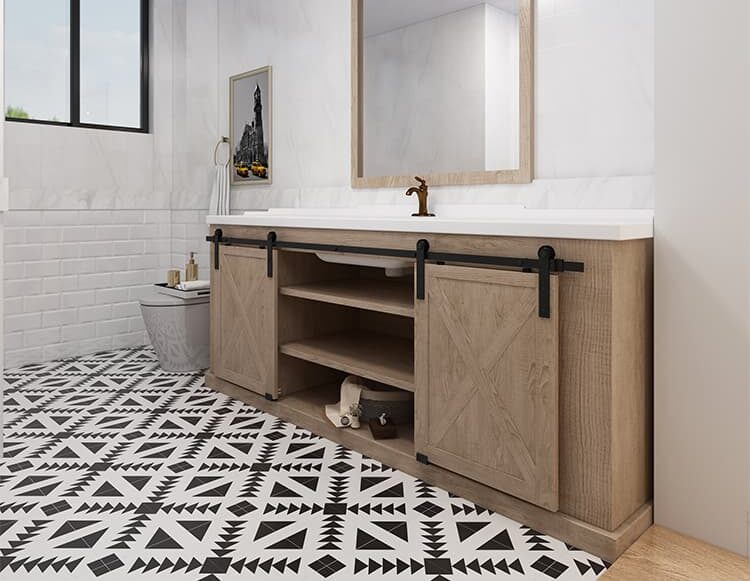 However, your sliding cabinet hardware will significantly depend on the design of the door you pair it with.
Therefore, you may want to consider pairing a brushed-stainless-steel finish barn door hardware with a reclaimed wood door if you're going to bring out the rustic charm and raw-steel-finish sliding door hardware with a leather-like barn door to bring out an industrial look.
Therefore, before buying barn door hardware, consider whether you want something that highlights its construction materials, adds some natural weathered look to your interior, or is coated in solid colors to add to its aesthetics.
If you want to use coated barn door hardware, consider one coated with powder. It's more durable than steel paint and brings more color to your home.
3. Door Hanger
A door hanger is a vital part of the barn door hardware kit. You use it to hang your barn door during installation to hold the door in place when it slides open and closes on the rail tracks.
Typically, it consists of a metal plate mounted to the barn door top, a hook, and a roller to attach it to the plate. Depending on your barn door hardware track, you may have two or four hangers. You get two hangers when installing a single barn door and four hangers when installing two or more bi-parting sliding doors.
The design of the wheel and door hanger you use for your barn door also makes a tremendous difference in its overall appearance. The type of hanger you use will depend on the kind of doors (full-sized or mini barn door hardware) and the track system you're using. Choosing the best type is crucial because it ensures the door's smooth operation.
4. Stop Style
A barn door stop guide is the door mechanism that helps you stop your barn door from rolling off the end of the track in all directions. These stop styles vary in shape and design. Some achieve an angled edge, while others have a vertical edge.
Choosing the right stop style will also affect the effectiveness of your cabinet barn door. However, your choice will depend on your specific requirements and needs for your project. Luckily, there are various types you could consider. They include the following:
Soft stop: It's round and uses rubber surrounded by bolts to stop the door from running off the rail track.
Soft close stop: It's a compact system hidden underneath the rail track to stop the door when they reach the end of the track. They're more convenient when using fragile and heavy doors.
Hard stop: They have small pieces of flat metal layered with rubber to stop the door when opening and closing, and it's one of the best options for doors with vertical edges.
Magnet stop: These are stop styles that use a solid magnet to hold the door in place when it reaches the end of the track.
Wall stop: These stops are mounted on the wall near a few inches from the end of the track length to stop the doors from sliding too far in either direction.
5. Track Length
Barn hardware tracks are one of the most crucial parts of constructing a sliding door system. They're made of metals such as aluminum and steel and come in different lengths and styles to accommodate varying applications and barn types. Sliding door tracks include a roller system and track guide that allows the door to move along the tracks when opening and closing.
Unlike the door hanger or barn door, where you can choose any type, tracks exist only in one kind. When buying your mini door hardware kit, you'd also want to consider the track length. Of course, the barn door track length will depend on the type and size of the barn door you wish to install.
Cabinet barn door track lengths range from 5-15 feet, but you can customize them to whatever size you want. Besides the type of door you have, the track length you select will also depend on the chosen hardware system and how wide your door opening is.
When buying tracks for your cabinets, you can get them with or without pre-drilled holes, depending on whether or not you're using a header board. If your wall is already supported or if you want to use a header board, consider buying barn door tacks with pre-drilled walls.
However, if this isn't the case, you would want to buy one with no holes and drill them yourself, depending on where you want to install your door.
6. Door Guide
A door guide is a barn door hardware kit component that keeps the sliding door aligned on the track when you open and closes it. It ensures the door doesn't slide off the tracks, maintaining a safe and reliable operation. Typically, it comes alongside the tracks and rollers or wheels that connect to the bottom part of the door, allowing it to slide effortlessly along the rail tracks.
When installing your cabinet barn door hardware, you can choose between continuous guides stretching throughout the track length or small, strategically-placed guides.
Another factor to consider when choosing a door guide is whether you want a floor or wall mount. You can select a wall or floor mount if you have low cabinets and a wall mount door guide if you have raised cabinets. This way, you maintain the door's stability along the tracks and ensure they're well-functional.
7. Front Barn Door Handles
The front handles or door pulls may not seem like a crucial customizing option to consider when buying sliding door hardware. However, they're just as essential because they contribute to the overall look of your sliding door. They come in various finishes and styles, including pull, lever, and T handles.
The finishes of these barn door handles range from modern to rustic and are made of wood or metal. You can choose to have one made from brushed stainless steel, raw steel, or just brushed steel. Whatever you choose, it'll add to the overall aesthetics of your barn door hardware.
The availability of different types makes it easy to find a style that can complement your decor. You can use a flush handle, a raised one, or even a ring handle that is just as classier and sleek.
8. Latches
Another vital consideration for buying your cabinet barn door hardware is the styles and designs of the door latches to use. Door latches increase the privacy of barn doors when using the bathroom because they allow you to lock and securely hold the door. They also help you keep the cabinets shut at all times.
If you prefer simple things, then choose an essential eye-type latch for your cabinets. But if you want something more stylish and chic, go for the teardrop door latch. You can either attach them to the door or jamb to keep it shut. Basically, they come in different finishes and designs that can go with just about any setting.
8 Ways to Use Mini Barn Door Hardware
Nowadays, there are many modern barn doors for your interior, unlike the olden days when there was only a traditional barn door for the exterior. There are many areas where you could use barn doors instead of the usual wooden doors. Some of these areas include the following:
1. TV Console Covers
Gone are the days when you needed full-sized TV consoles and wall units that took up half the space in your living room. Nowadays, there are many cleaner designs for TV consoles that you can just mount on the wall. These wall-mounted consoles save you lots of space and room to fit other essentials in your living room.
However, the wall mounts may not be as stylish, and this is where you can put your barn door hardware design to good use. You can utilize the barn door hardware kit to create your unique design while concealing your private DVD collection.
2. Kitchen Cabinet Replacements
Another way to use cabinet barn door hardware is by creating a sliding cabinet door for your kitchen or bathroom while adding a unique touch. They offer an attractive and functional way to access your dishes and other kitchen essentials locked up in the cabinets.
Cabinet barn door hardware is an excellent option when you want to get rid of the traditional cabinet doors and add more life and decor to your kitchen, giving it unique finishes that complement your interior design.
Cabinet barn door hardware also comes in handy when you're working with raised cabinets and small clearance space from the ceiling. You can find cabinet barn door hardware components that are perfect for such situations.
3. Window Treatments
Barn door shutters are perfect substitutes for window treatments like curtains and blinds, which are expensive to install and maintain. They are designed to slide open and shut like a barn door and can offer just as much privacy as curtains and blinds.
Typically, these shutters are made from plywood and can control the amount of light and temperature that enter your space through the windows. Additionally, they add unique and attractive design aesthetics to your room.
Like the barn door, you mount these shutters on a track and hang them directly from the wall or from the barn door hardware system. They're compatible with commercial, home, and office spaces as they can be customized to meet the needs of the environment therein.
4. Laundry Sliding Doors
The laundry room is the most forgotten part of the house. However, this doesn't have to be the case. You can decorate it and separate it from the rest of the rooms using a sliding barn door while allowing easy access and making it as presentable as any other room in the room.
You have many options to choose from because they're made from different materials like wood, glass, and metal. Other than the aesthetics, these doors also help create organized and tidy laundry spaces.
5. Utility Rooms and Storage Areas
Another clever use of barn door hardware is installing them in your utility and storage areas. These spaces are usually found in the basement, and most people abandon them to focus on more visible areas like the living room, kitchen, bathroom, and bedrooms.
However, these rooms are just as important, and putting in some decorative effort won't hurt. You can use barn door hardware to create a more presentable and easy-accessible storage space for your unused equipment. It doesn't only increase your home's aesthetics but also its value.
6. Bathroom Door Replacement
Barn doors are also an excellent choice of replacement for bathroom doors. They're a popular way to add privacy to your bathroom because they offer a unique, attractive look while saving lots of space you would have needed to install the traditional doors that swing on their hinges.
Like the other barn door, sliding bathroom doors are made from various materials, and you can pick your preferred one. It may not be possible to replace your old door with a full-sized bar door, and that's where cabinet barn door hardware comes in.
7. Playhouses
You can also use sliding doors for playhouses to build the small sections kids play in underneath the playhouse stairs. These areas are usually underutilized, but you can counter that if you add a few attractive touches and make it easier for the kids to access.
8. Custom Wardrobe Doors
Instead of using traditional, outdated wardrobe doors, use modern outdoor designs for your closet. A DIY mini sliding door hardware kit will help you redesign your common space into a high-end-looking room. Barn doors are the best to use for a wardrobe so that you can have enough space for your make-up table or other bedroom necessities.
Installing Mini Barn Door Hardware
Mini barn door hardware is easy to install, and you can do it yourself without the need for a professional.
Here are simple steps you can follow for a successful barn door installation:
First, ensure you have all the required materials like a drill, screws, clumps, and a barn door hardware
Measure the length and width opening where you want to install your mini door, and remember to add about two inches for the tracks
Start by installing the header board at the top of the opening to provide a sturdier surface for the track.
Mount the track on the header board, ensuring it is level and well-secured
Attach the rollers to the bottom of the door first, then connect the hangers to it
Slowly slide the door in place along the track and attach the hangers to the rail track
Add any additional hardware accessories and adjust your rollers to ensure the door opens and closes smoothly
What's Included in the Mini Barn Door Hardware Kit?
Mini barn door hardware kit comes with all the components you need for a mini sliding barn door installation. In general, our mini barn door hardware kit includes the following parts:
Tracks
Rollers or wheels
Hangers
Stop guides
Handles
Barn doors
How to Maintain Cabinet Barn Door Hardware
You'll need to maintain your mini barn door hardware after installation. This means cleaning the handles from time to time or even repainting. You can use basic cleaning products like 409 or even lean on more natural surfaces cleaning products, such as vinegar and water mix.
Cleaning is just one way of maintaining your barn door hardware. You can also ensure you replace any part that wears out, readjust your rollers when they loosen up, or buy new rails.
Conclusion
By now, you know that you can use barn door hardware in almost every part of your house, starting from the cabinets, to the bathroom doors and wardrobe doors. If you embark on a DIY project, take accurate measurements and select the best hardware kit that matches your decor. Luckily, we customize our mini barn door hardware system to suit your unique style, whether you want a rustic charm or a vintage outlook.