Top Mounting Cabinet Sliding Mini Bypass Barn Door Hardware
| | |
| --- | --- |
| Model NO.: | YMXT-CG01 |
| Ref.NO.: | 150204-2663 |
| Brief Description: | Mini top mounting style sliding barn door system for cabinet |
| Position: | For interior door use |
| Application: | Both residential and commercial use |
| Main Material: | Carbon steel |
| Surface Finish: | Black powder coating |
| Rail Profile Size: | 25x3mm |
| Rail Length: | 915mm (36inch) or to be customized |
| Max Loading: | 40kg(88LBS) |
| Working Cycles: | 100000cycles |
| For Door Type: | Wooden doors |
| For Door Thickness: | 25mm(1inch) |
| Soft Closing: | Optional |
More Introduction
The mini sliding barn door roller is a perfect combination with the cabinet. Besides the sliding opening could save space, It also brings rustic but modern aesthetics.
The barn door was originally used as a warehouse door on the farm, It was later incorporated into interior use with an improved design.
Because the sliding barn doors are perfect for a variety of decor styles, such as rustic style, industrial style, nordic, modern style, etc., it becomes a choice of more and more households globally.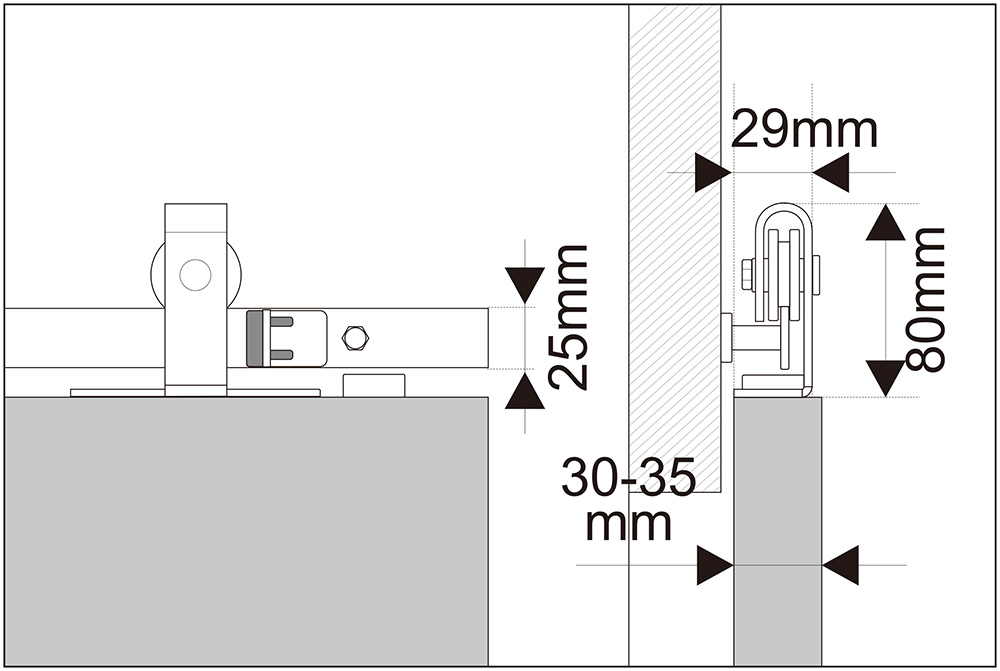 Dimension

Part assembly
---
Product Package
| | |
| --- | --- |
| Packing Method | a complete set into a carton with EPE foam inside, around 96 sets onto a pallet. |
| Sales Unit Packing Type | Carton |
| Sales Unit Packing Size | 960x135x70mm |
| QTY/Pallet | 96sets/PLT |
| Pallet Size | 110x100x100cm |
| Loading QTY | 1960sets for 1x20GP;4224sets for 1x40HQ |
---
The way we use barn doors has changed over time. Previously, barn doors were used to demarcate large rooms and spaces in homes. Now, we are not surprised to find that homeowners are choosing to install small barn doors in addition to large barn doors. The mini barn door hardware kit and installation manual for these small barn door hardware are similar to the tools used to install larger sliding door panels for rooms.
What Other Ways Are Property Owners Using Sliding Barn Doors?
Cabinet Barn Doors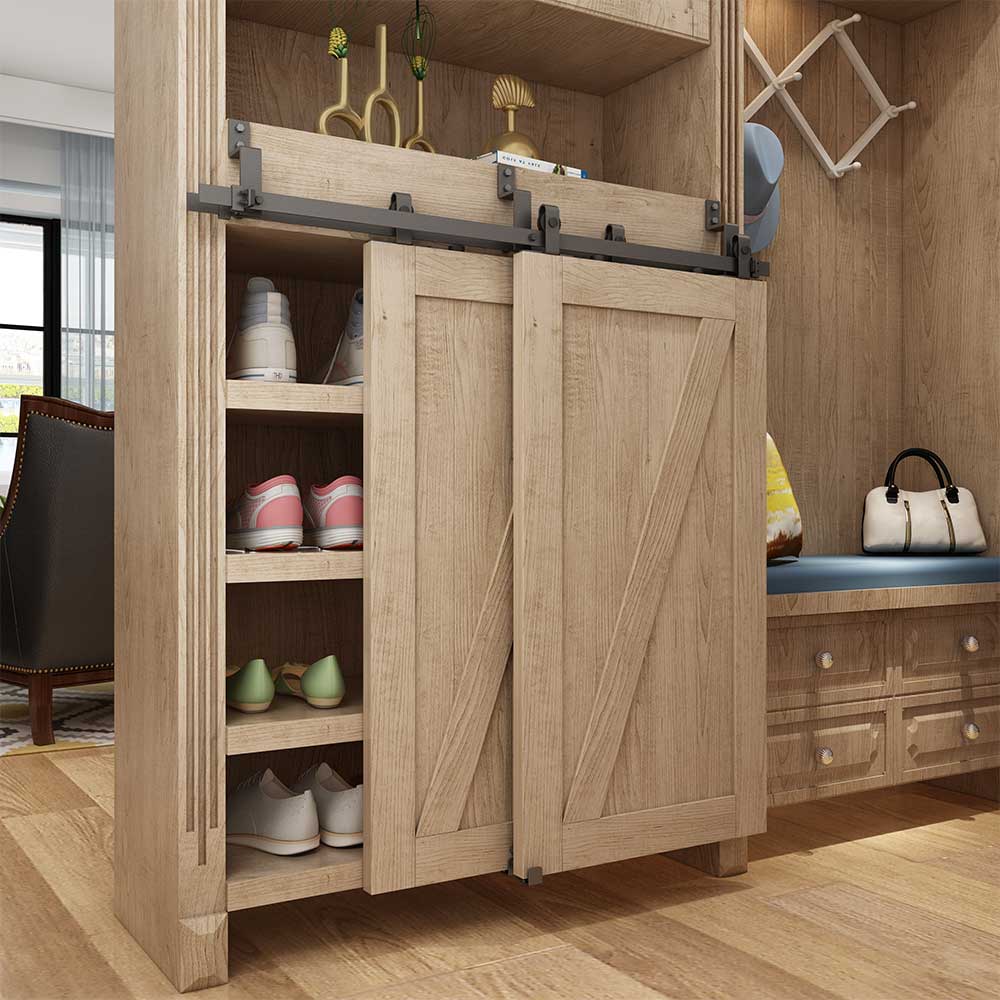 The barn doors are perfect for use as cabinet doors. The mini barn door hardware kit allows installers to securely fit these sliding bypass doors on the cabinet's frame. Then, the user can slide smoothly to open or close the cabinet.
Using these mini barn door models for cabinets is a great idea because of the advantages we have written about below.
Closet Doors
You will be thrilled to discover that many new closet doors are mini bypass sliding door systems. These doors provide a screen for shoes, clothes, and other fashion items the person decides to keep in their closet. These mini sliding doors are easy to use and suitable for closets in residential or commercial buildings.
The Advantage of Using a Proper Mini Bypass Barn Door Hardware Kit
While it is a good thing many people are installing bypass barn doors in smaller spaces, you should use the best cabinet barn door hardware kit to enjoy all the benefits of these features. Here are the advantages of doing installations with an original and high-quality mini hardware kit:
Smooth Opening and Closing of Barn Doors
You will never have to struggle to open your closet or cabinet barn doors when you use a vanity door replacement with our top-rated barn door hardware kit. Anyone can use these doors without stress. All they need to do is open up any locks and slide the barn door smoothly across the bypass part.
Complete Sealing
The mini barn door hardware kit holds the bypass doors securely, completely sealing the interior parts of the cabinet or closet. This provides enough privacy for people who would instead prevent the items they keep inside the enclosure from public view. The bypass barn door hardware is excellent for thick door trim or thinner doors. So, the user can be reassured if their mini cabinet has a different structure.
Save Space with these Barn Doors
The swinging doors people are now avoiding have been known to require more space when used to close cabinets. These new cabinet barn door hardware kits can hold bypass barn doors that can open or close without taking up essential space the homeowner could have used for other stuff.
This is one of the reasons you would now find the sliding doors held by cabinet barn door hardware in many homes with modern interior designs.
Durable Cabinet Barn Door Hardware Kit
These mini sliding barn doors will not work as well without excellently designed cabinet barn door hardware kits. These kits are sturdy and last long. All the installer needs to do is ask a professional customer service team the right questions or read the installation manual if they have any issues with the cabinet hardware.
The cabinet barn door hardware parts can last for many years, and that provides more value for money.
Product Description – Mini Bypass Barn Door Hardware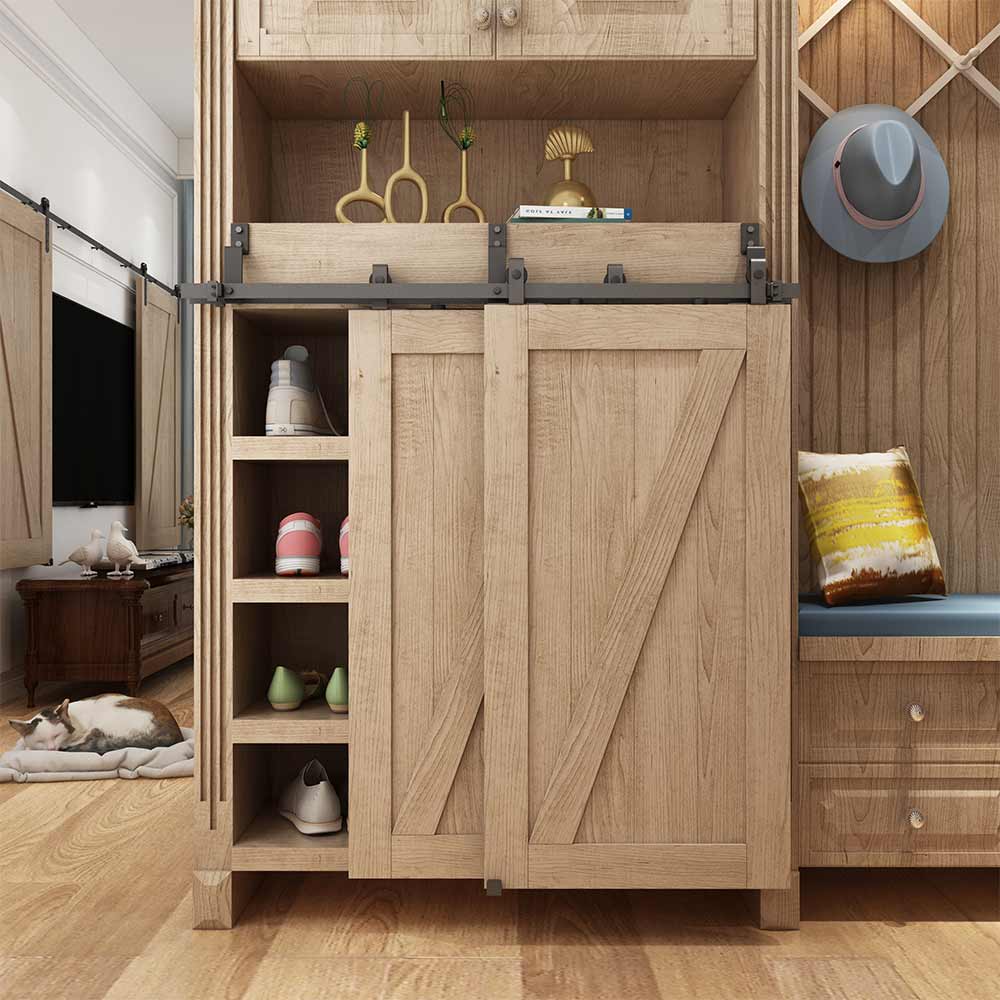 There won't be much talk about these mini bypass barn doors for smaller cabinets or closets if the hardware kit doesn't work effectively, regardless of a vague installation manual. Here is why the products we sell are always in demand all through the year:
Top Mounting Design
The barn door hardware kit allows the installer to fix them using the top mounting method, which is more convenient and can support a reasonable weight rating. The fully covered bypass barn doors are held securely in position, and the track sizes are always perfect or can be adjusted to match personal preferences.
Usage Advice
The manufacturers specifically state that this product is best for interior use only. This means the barn door hardware kit should be protected from harsh weather outdoors. However, you can take out smaller cabinets for airing only for a few hours when necessary.
Durable Material
The primary material used to create this hardware system and the parts of the kit is high-grade carbon steel. This is the best material for it because there are no risks of corrosion or unexpected damage while using the mini bypass doors.
Beautiful Surface Finishing
The surface finishing is done with black powder coating, which is beautiful to look at and gives the product a neat look that blends with the wood panel used to make the doors.
Rail Profile Size
This hardware kit has an excellent rail profile size, suitable for the custom order some clients may request for their cabinets or closets. The measurement of this rail profile size is 25 x 3 mm. This is perfect according to industry standards.
Also, the average rail length is 915 mm, but the user can request customized measurements as needed.
Loading Weight Capacity
The hardware kit can support a loading weight of up to 40 kg, which is impressive. This is why the product has a wide range of applications, and it is also suitable for a single-track bypass system.
Overall, these products have up to 100,000 cycles guaranteed and are suitable for wood doors of 25 mm. Also, the user can choose the soft closing option according to preference.
Order in Bulk Today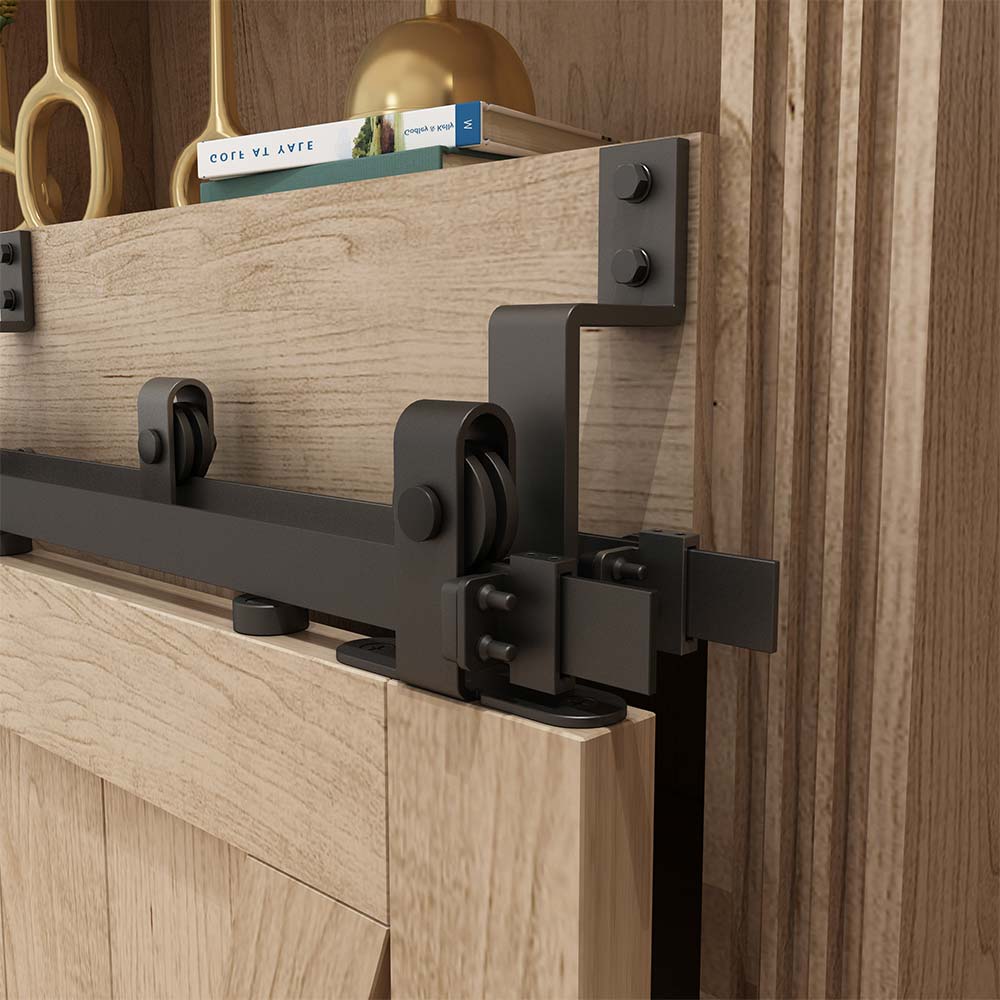 We have made it easy to order any number of these mini bypass barn door hardware kits from our company. All you have to do is send us your customer contact form, and we will respond to help complete your order.