Single Track Double Door Sliding Bypass Barn Door Hardware Kit
| | |
| --- | --- |
| Numéro de modèle : | YMXT-BG32 |
| N° de réf. : | 150204-2429 |
| Brève description: | Sliding bypassing barn door system |
| Position: | Pour porte intérieure |
| Application: | Both residential and commercial use |
| Matériau principal: | Acier Carbone |
| Finition de surface: | Revêtement en poudre noire |
| Taille du profil de rail : | 40x6mm |
| Longueur des rails : | Only one piece of rail,the length could be 1524mm(60inch), 1830mm(72inch), 2000mm(78-3/4inch), 2134mm(84inch), 2438mm(96inch) and so on. |
| Chargement maximum : | 200kg(440LBS) |
| Cycles de travail : | 100000cycles |
| Pour le type de porte : | Portes en bois, Portes à cadre métallique |
| Pour l'épaisseur de la porte : | 25 mm (1 pouce) à 45 mm (1-3/4 pouce) |
| Fermeture en douceur : | Optionnel |
Plus d'introduction
This is classic barn door hardware but for bypassing doors, thanks to the unique design of the bent hanging wheel. Compared with the bypassing barn door by the brackets, this style looks simpler. The barn door was originally used as a warehouse door on the farm. It was later incorporated into interior use with an improved design.
Because the sliding barn door is perfect for a variety of decor styles, such as rustic style, Industrial style, Nordic, modern style, etc., it has become a choice for more and more households globally.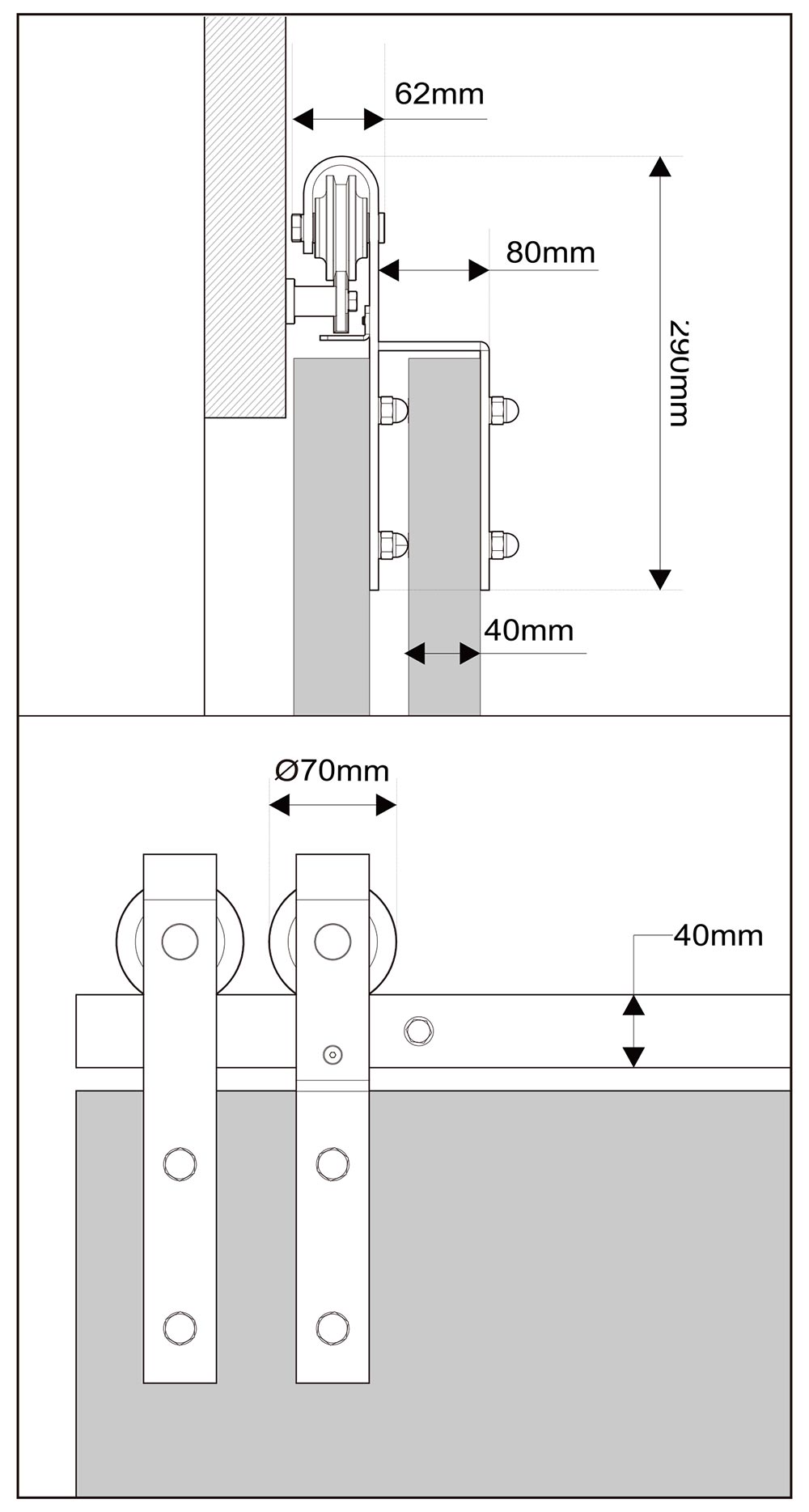 Dimension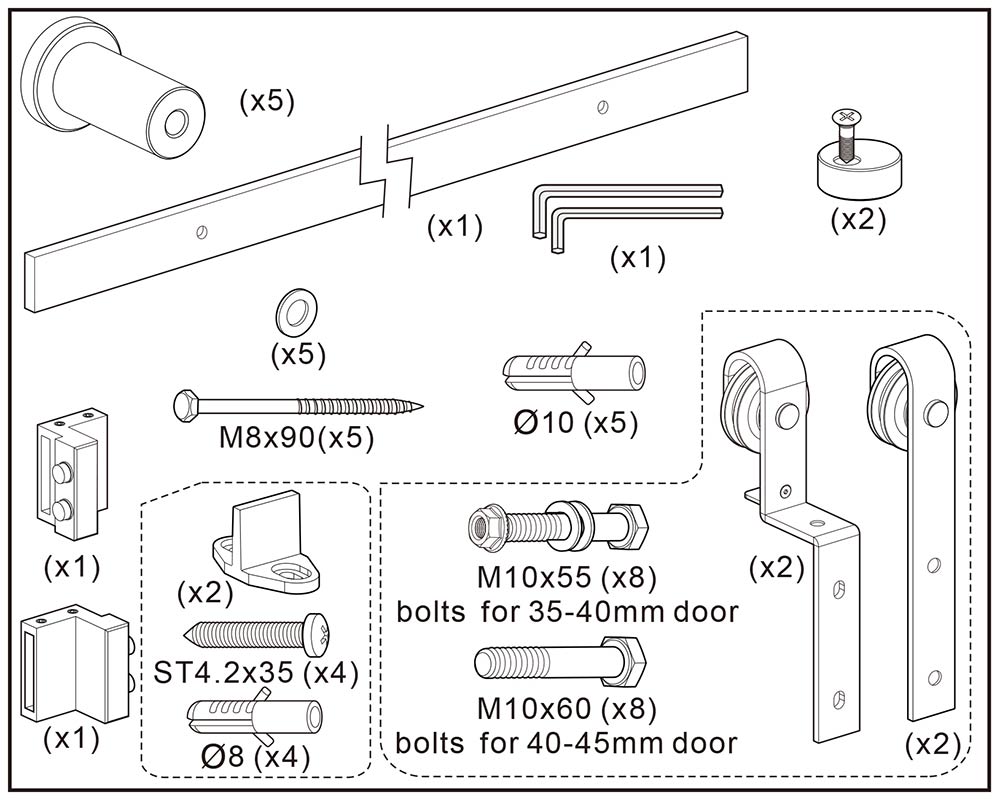 Assemblage de pièces
---
Paquet de produit
| | |
| --- | --- |
| Méthode d'emballage | Components into boxes and a complete set into a carton, around 88sets cartons into a wooden crate. |
| Type d'emballage de l'unité de vente | Carton |
| Taille de l'emballage de l'unité de vente | 204*155*80mm (for rail length 1830mm) |
| QTÉ/Palette | 66sets/PLT |
| Taille de la palette | 212x105x107cm |
| Quantité de chargement | 660sets for 1x20GP;1564sets for 1x40HQ |
---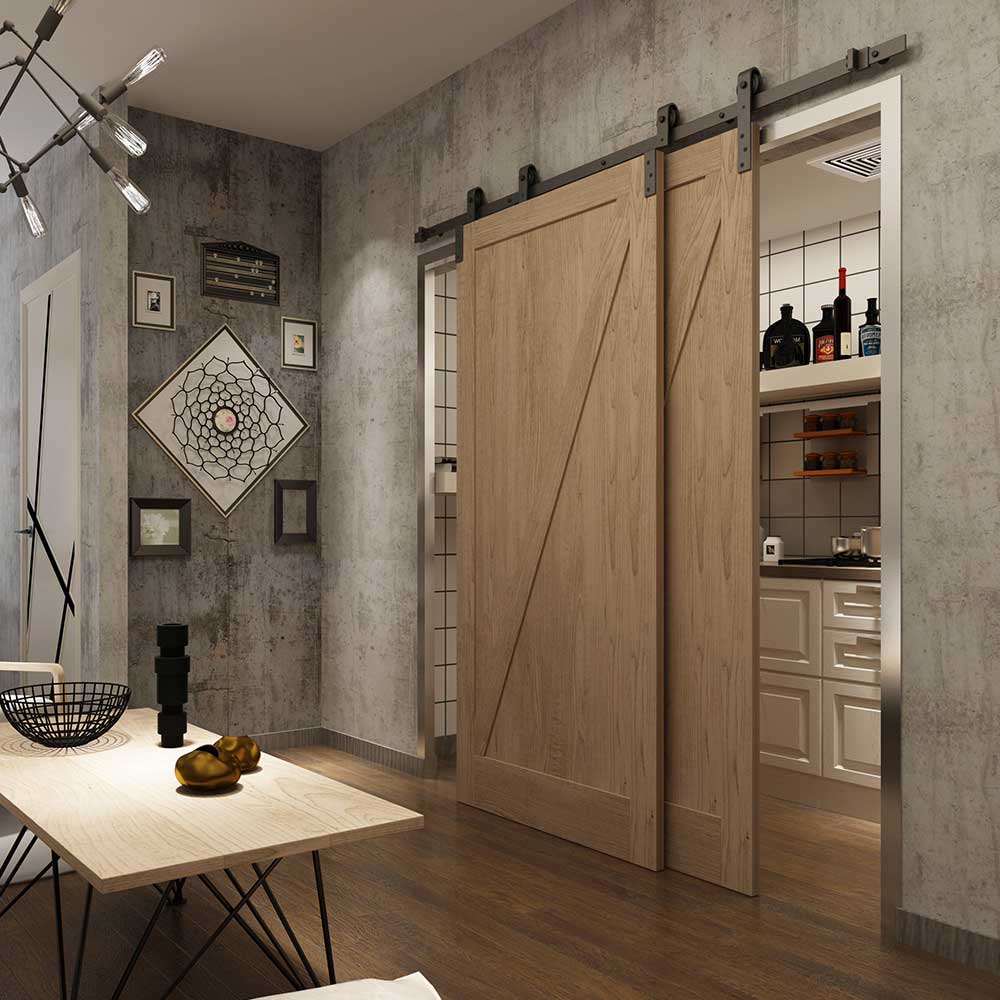 Many homeowners are drawn to the rustic look of interior decor. It is simplistic and unique and can make the home interior design stand out from others. The barn doors are one of the main pieces of furniture that complete the rustic charm in homes, and the bypass barn door tops the list of favorite barn door.
However, installing these bypass barn door with the correct barn door hardware kit is the best way to enjoy all its benefits.
These are beautiful, sturdy bypass barn door made from materials like wood with a metal frame. To install these barn doors, you will need to use all the relevant components in the best bypass barn door hardware kit. This kit makes putting the bypass barn door hardware together relatively easy and seamless, giving you all the value for your money.
5 Benefits of Bypassing Your Barn Door
Bypass barn door systems are ideal for use when traditional barn doors are not available in your home. The system allows two barn doors to slide side by side on the tracks, saving space. And it's perfect for any barn door.
Here's why these doors are a favorite:
1. Create Privacy Between Rooms
With bypass doors, you have more privacy in your rooms. The door panels can slide open or shut. When you need some privacy, just slide the panels shut. These door panels can also accommodate locks for additional privacy.
2. Simple installation process
With the correct barn door hardware kit, you can easily install these bypass barn door panels. However, you should contact a professional if you do not have the skills to use the barn door hardware kit.
3. Rustic, unique interior decoration options
You can enhance the ambiance in your home with the rustic interior decor bypass door project. These door styles complement other rustic furniture and decor items you may wish to bring into your living space.
4. Alternatives to traditional door frames
The bypass door are functional and built to last, so they are an excellent replacement for traditional door frames. If you want something different from the norm, have bypass door installed.
5. Multiple bypass barn door hardware kits to choose from
You have a wide array of kits to choose from. These products influence user experience and overall satisfaction. You should research and select the most suitable barn door hardware kits for your project. You can also get expert advice if this is something you do not know about.
Bypass Barn Door Hardware Features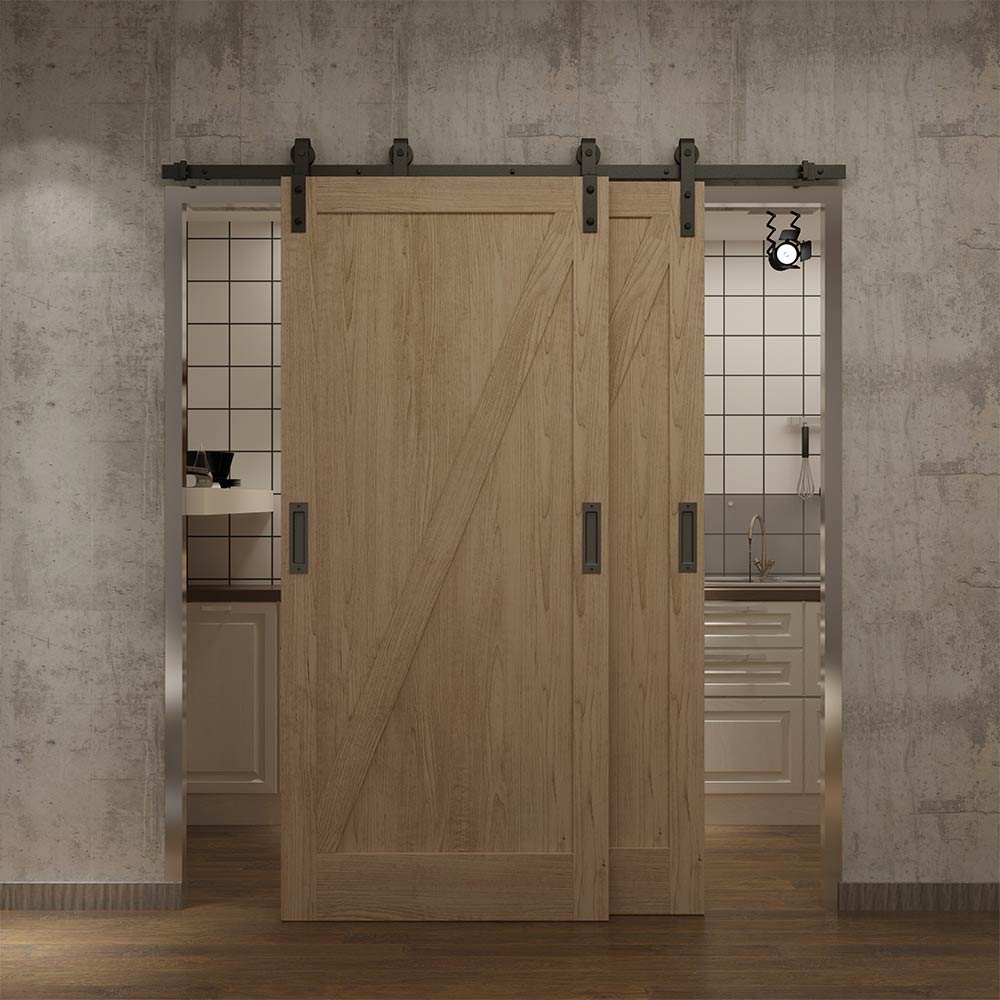 The bypass barn door has two or more door panels. These panels are set up in front of each other, having a separate rail at the top. The barn door hardware kit for bypass barn doors is installed to hold each door panel, and they work independently. Therefore, you can slide one door panel in front of the other to open or close the entryway.
The most important thing is buying an authentic barn door hardware kit that can securely hold your bypass barn door panels, and these are the products we sell.
There are now so many sliding barn door designs, so you must consider some factors before choosing the product you would like to install when setting up your bypass door. The single track model is quite popular, but if you have a larger entrance, you should go for the double track bypass model.
The sliding barn door hardware kit you choose will be almost similar, whether you are trying to install the wood or metal door panel. So, generally, the main feature that distinguishes both barn door options is the door type.
Bypass Barn Door Hardware Kit Components
What is inside the bypass barn door hardware kit? The bypass barn door hardware components include the barn door hangers, wooden doors, single track or double, and the header board.
Also, the hex bolts, floor guides, and hangers are among the barn door hardware kit components.
Many moving parts make the single track or double tracks work seamlessly. These include the wheels beneath the barn door. Overall, it is best to buy a complete barn door hardware kit that comes with everything you will need to have a good experience while installing the bypass barn door and hangers.
Our bypass barn door hardware kit comes with a complete set of accessories. These items are the barn door hardware that allows the installer to put the tracks in place. The tracks allow the wheels to move smoothly from one end of the track length to the other.
Can Bypass Barn Doors Fit in Limited Space?
It is possible to install these door types in a limited space where only one door can fit. The idea is to demarcate the entryway. Therefore, you may consider using the model with only two door panels. This means the barn door hardware kit will contain fewer hardware components for a successful installation.
While installing these bypass doors in tight spaces with the correct barn door hardware is possible, you should call in an engineer to make proper plans before installation. These plans include ensuring the doors have more clearance and opening. Also, the hangers and other accessories for the barn door hardware should be top quality. This will provide additional security to prevent the door from dislodging from the track length.
How Does the Bypass Barn Door Work?
The operating mechanism for these barn doors is simple. The doors are installed on the floor guide tracks and then secured upright with tools and accessories in the bypass barn door hardware kit.
When that is done, the owner can choose to install locks on the inside or two-way locks. To open the door, the user only needs to unlock the door and slide it in the opposite direction. The rollers move smoothly over the single track or double track length to create an opening.
Some barn doors have two tracks and door stoppers. These varying features may be on the model you buy. Therefore, before buying these products in bulk, it is best to note the different features, like door thickness and door hanger type.
So, you can slide either of the bypass barn doors open and shut. These two doors and the other installation needed for the framework won't be feasible without using the best barn door hardware kit for barn doors.
We sell the complete barn door hardware kit for single track length or double track. These kits are suitable for products with varying door thickness and tight spaces. With our quality hardware kit, the installation process for one single track length or to define the entryway to a room is easy. This also goes for installing the barn door hardware track.
You can become our customer today. Send us a customer contact form to find more information or order your barn door hardware kit in bulk.
Why Many People Prefer Bypass Barn Door Hardware?
Choosing these products is easy because they have a rustic charm that many people prefer. The single track or two tracks are also secure. No chance that the door panels will topple. Also, the door thickness is excellent, and these products come with the best door hardware, including the header board. The products are best for any tight space, and the hangers, bolts, and other accessories last long because they are durable.
Fast Shipping
Also, shipping arrangements after purchase are fast and efficient, even if you buy the low-profile brands in bulk. The width, on average, is excellent for any doorway and has proper clearance from the ceiling. This makes the stock bestsellers on the market.
You can check out our bypass barn door hardware online and place your order.
Product Category Breakdown
The bypass barn door hardware can be mounted with a roller and the best wheels for stability. The products you will find on the market come with different features, but they generally work the same way.
Part Assembly
The easy way to install these products is by following the manufacturer's guidelines if you do not want to hire an installer. You can also access options to customize the product, making it more suitable for indoor spaces.
Single Bypass Track Double Door Sliding Barn Door Hardware Kit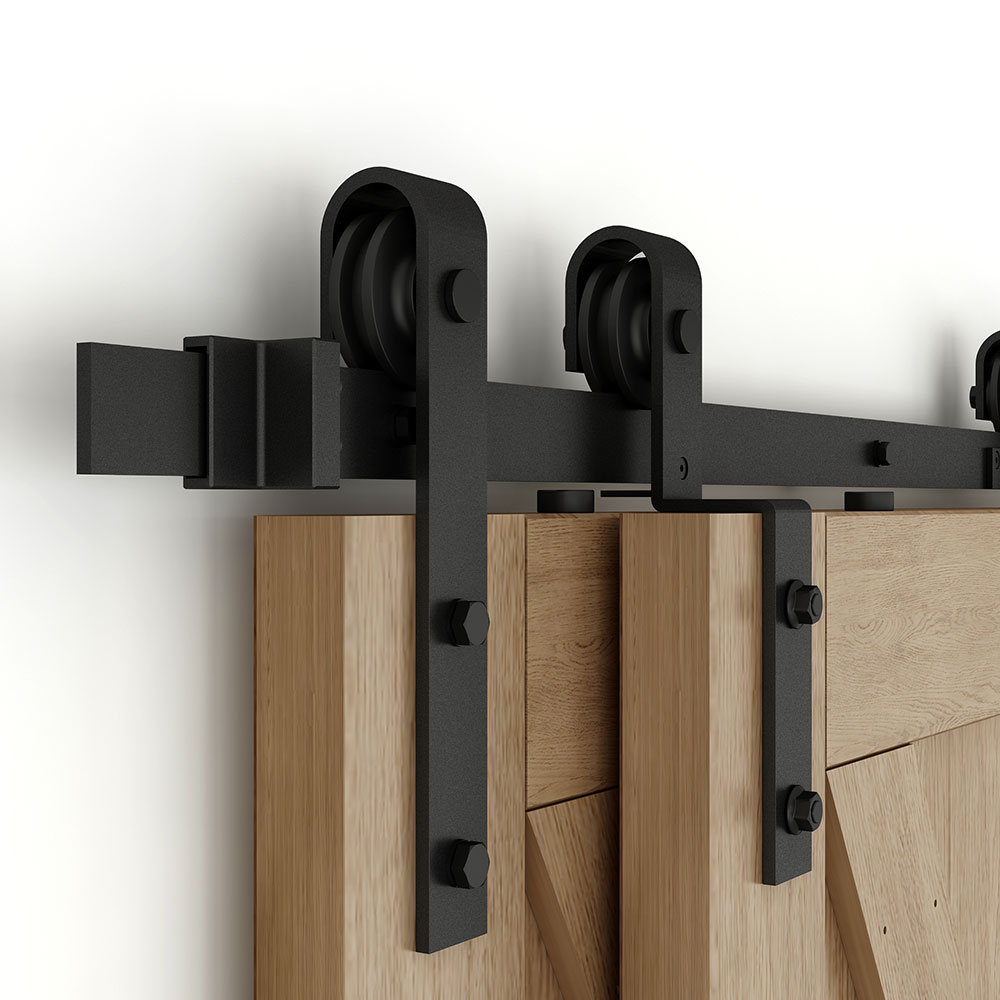 This unique bypass barn door hardware kit comes with sturdy wheels and width and has the best low profile for residential living spaces. The doors can be set to roll to the left or right. The product's width is also perfect, matching the rustic charm many people want to style.
A quick search will reveal this kit contains everything needed to set up and assemble the bypass barn door after shipping. Here are the features:
Manufacturer Recommendation
According to the manufacturers who created this product, it is solely meant for use in residential spaces. The intention is more about ensuring the track system functions effectively and the wood parts of the opening door will not fade or wear out. It would be best if you focused on installing and using these beautifully designed products indoors.
Outdoors of these products will be exposed to too much moisture, and the mount accessories can become compromised. Therefore, following the manufacturer's advice is best.
Usage Options
While these kits for doors are perfect for residential spaces, you can also set them up in commercial spaces. The bypass barn door can create access to tight spaces in the home or allow proper human traffic flow in commercial buildings. The rustic wood gives off an aesthetic appeal that makes these products best sellers.
Production Material
The main product used to create this bypass barn door hardware kit is carbon steel. The physical appearance of the mount door stoppers and other items in the kit is appealing. After fixing the product, it essentially improves the look and attracts more pleasant comments from visitors.
Also, carbon steel is highly durable, making them suitable for bypass barn door. With these parts, there will hardly be risks of wear and tear due to corrosion.
Finition de surface
The beautiful pieces are finished with a top-quality black powder coating. This finishing complements any wall space. It is also suitable for the single track setting or whether the assembly involves two doors.
Rail Profile Size
The rail size for this product measures 40 x 6 mm. However, the rail length varies depending on the project. You can find rail lengths from 6o inches to 96 inches.
Capacité de chargement maximale
The product works so effectively because it has a maximum loading range from 190 to 200 kg. In some cases, this value is written in pounds when you look at the product packaging. In such situations, you should go for the product with a load capacity of 440 lbs for the single track.
Cycles de travail
If you search online, you may see varying working cycles for these products. However, you should adhere to the information the manufacturer provides. The working cycle for this product is estimated at 100,000 cycles.
We note that this is a huge allowance, which can significantly increase customer satisfaction whether the product is used in a room or commercial space.
Door Type
The bypass barn door hardware kit is ideal for two main door types. These recommendations are wood doors and doors with a metal frame. According to customer reviews, working with these types of doors give excellent results, and the final product always looks appealing.
The recommendations for door thickness may be from 25 mm to 45 mm. However, the soft closing option can be considered or overlooked, depending on the owner's preference.
Product Labeling
The items in this bypass barn door hardware kit have been appropriately labeled, so there is no worry about mixing things up. The bolts, screws, door stoppers, and hangers have clear markings. Also, the kit comes with a user manual for added support.
The packing method is the best. It comes in a carton with different sets. In total, the package contains 88 sets. Also, buyers can confirm the loading quantity if necessary.
Buy in Bulk
Investing in these bestselling products is worth it. Send us a customer contact form today to find out more information or to order.