Wall Mount Architectural Sliding Round Barn Door Track Hardware
| | |
| --- | --- |
| Modello numero.: | YMXT-YG14 |
| Ref no.: | 150101-0175 |
| Breve descrizione: | Stainless steel top mounting sliding door system with soft closing |
| Posizione: | Per uso porta interna |
| Applicazione: | For both residential&commercial |
| Materiale principale: | Stainless steel |
| Finitura superficiale: | Brushed stainless steel |
| Lunghezza della guida: | 2000 mm (78-3 / 4 pollici) o da personalizzare |
| Caricamento massimo: | 80kg(176LBS) with soft closing |
| Cicli di lavoro: | 100000 cicli |
| Per tipo di porta: | Porte in legno |
| Per spessore porta: | 30mm(1-3/16inch) to 55mm(2-11/64inch) |
| Caratteristiche: | Soft closing function could be optional |
Più Introduzione
This sliding system is quite suitable for commercial use. Firstly it's durable as it's sustainable for up to 100000working cycles with softing closing max loading of 80kg. It's an ideal solution as a sliding door for entry into the bathroom. The top mounting stainless steel sliding door system makes it needless to drill any holes in the wooden door, and it's quite flexible to work with a range of door thicknesses. The stainless steel sliding track hardware system features a stylish and modern design for hanging sliding glass or wood doors. It is a perfect solution for where space is at a premium and aesthetics are important such as offices, hotel rooms, laundry rooms, closets, bathrooms, and multifamily units. The stainless steel hinges glide along on nylon wheels and its smooth and quiet operation makes it appropriate for shared spaces. Each hanger is equipped with an anti-rise pin to ensure the door can not be lifted off the track. It meets the performance requirement of ANSI/BHMA 156.14.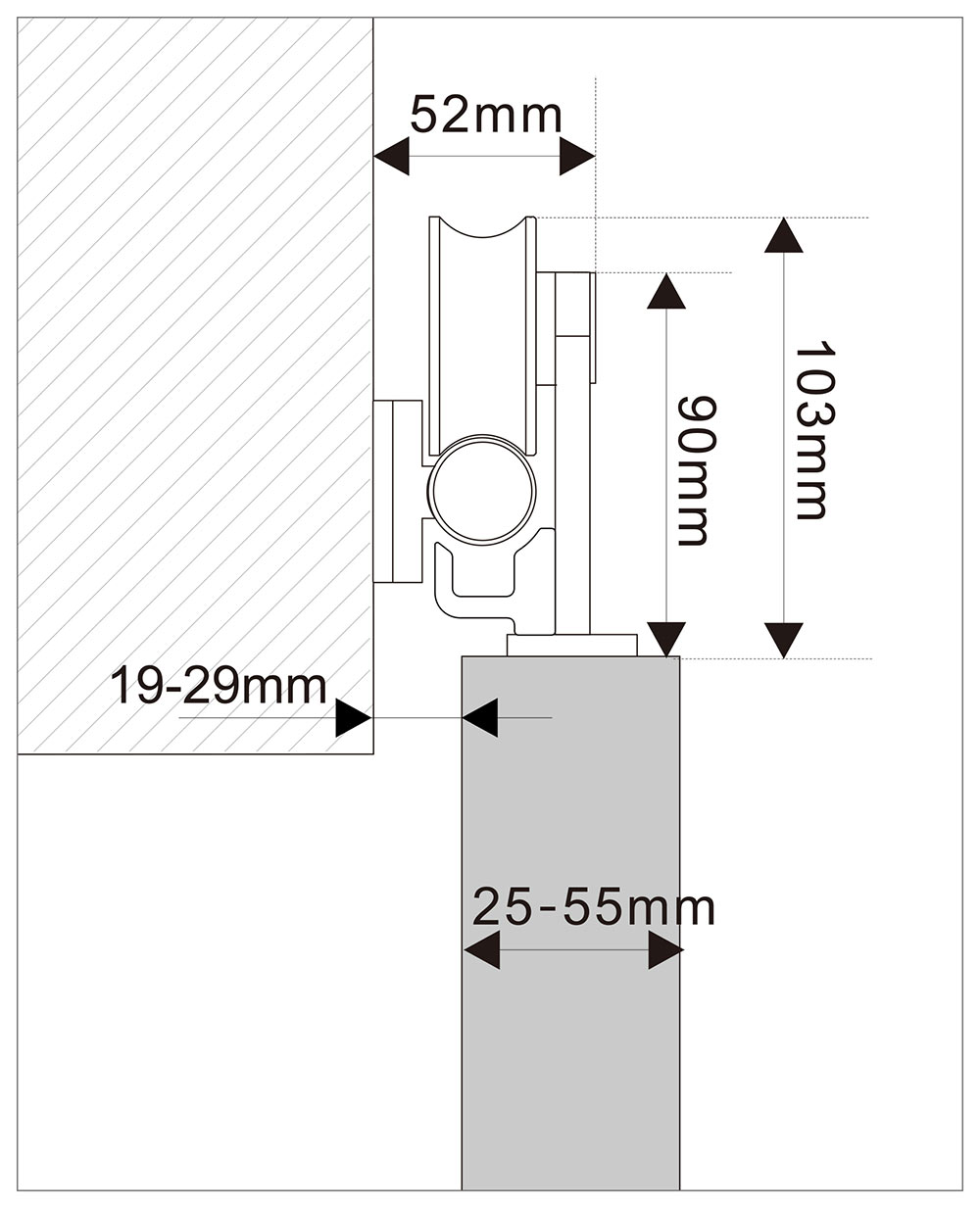 Dimensione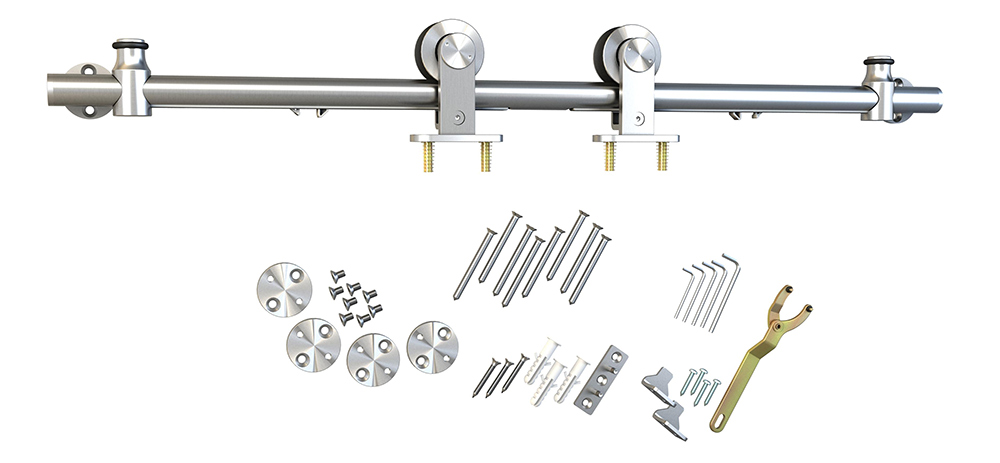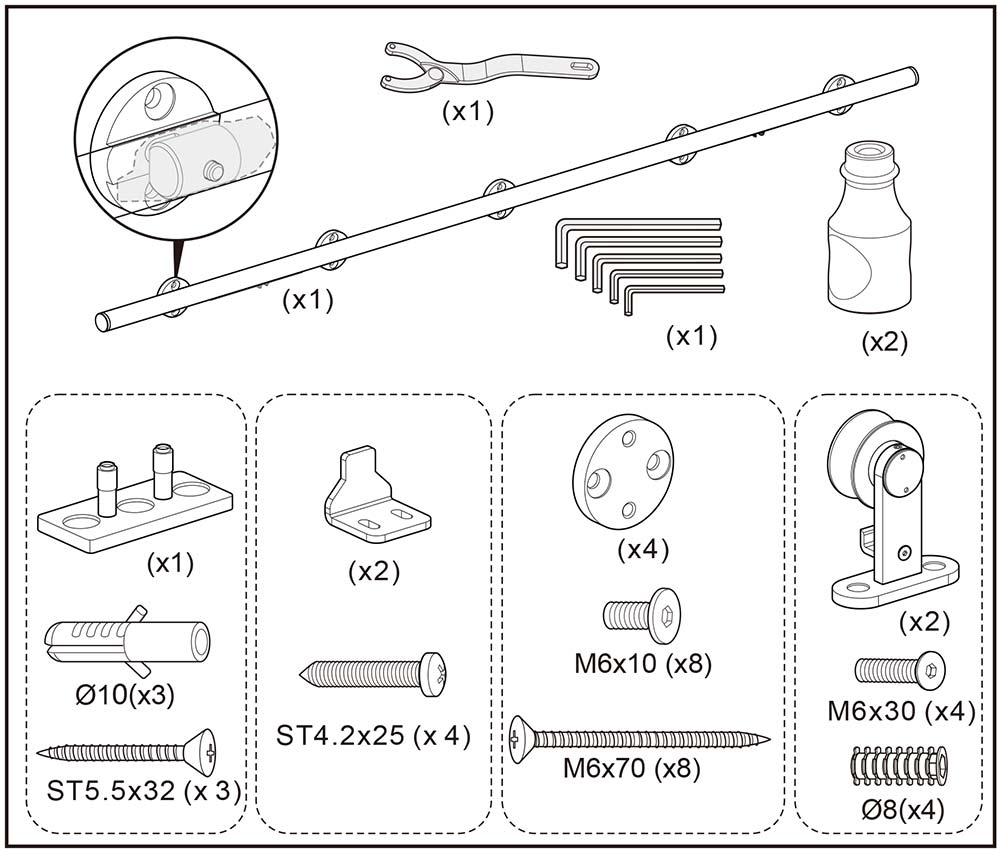 Assemblaggio di parti
---
Pacchetto del prodotto

| | |
| --- | --- |
| Metodo di imballaggio | Components into boxes and a complete set into a carton, around 78 cartons into a wooden crate. |
| Tipo di imballaggio dell'unità di vendita | cartone |
| Dimensioni dell'imballaggio dell'unità di vendita | 2040*145*70 mm |
| QTÀ/Pallet | 78/PLT |
| Dimensione del pallet | 2120*930*107mm |
| Caricamento QTÀ | 936sets/20GP, 1872sets/40GP |
---
We have plenty to offer if you are looking for reasons to install barn doors in your closet, rooms, or mini cabinets because these are tested and trusted products. However, users can only enjoy the maximum benefits of their barn doors when the right round rail hardware parts have been used.
The round barn door hardware refers to all the components that hold the doors weighing up to 80 kg. The parts are designed to make them durable and easier to mount. A professional and experienced person can mount the round rail, roller wheels, and sliding barn door stops in a few minutes, depending on the particular project.
Where to Buy Authentic Round Barn Door Tracks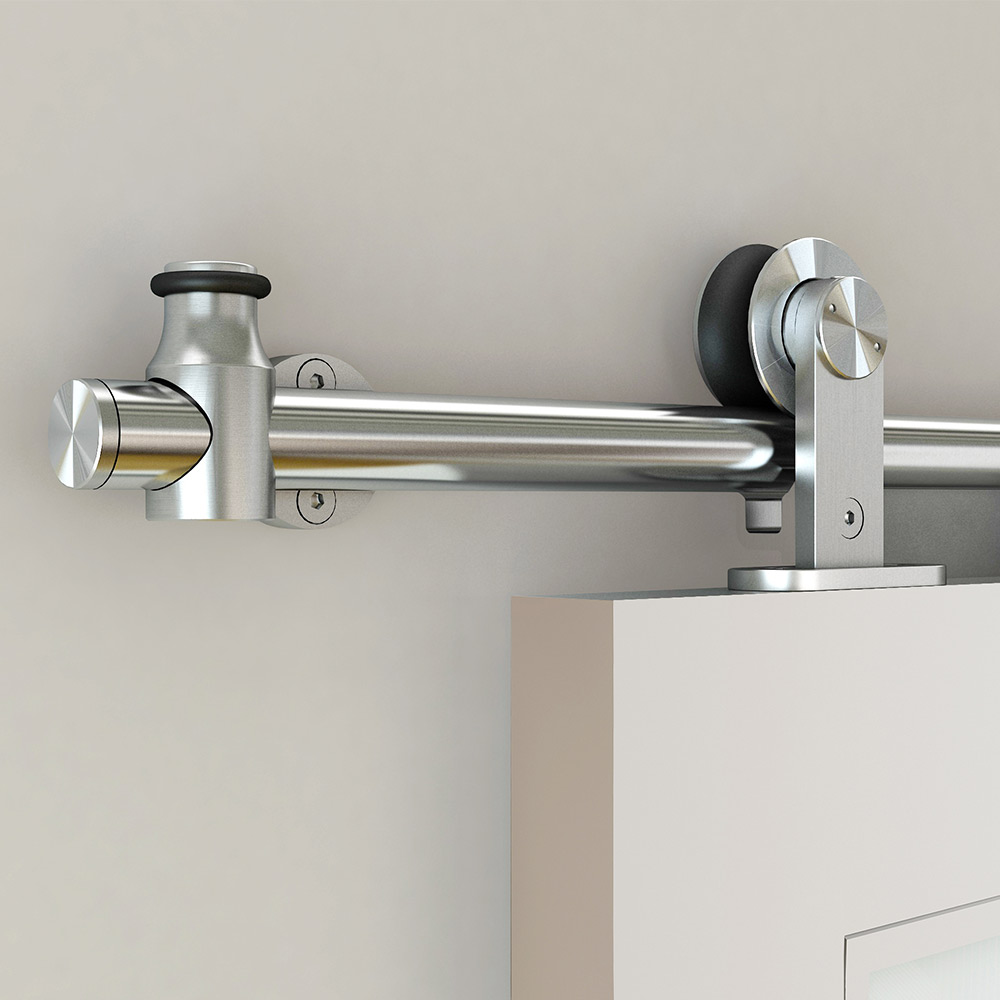 We have invested huge resources into getting sliding barn door round rail parts made from high-grade materials. These products are thoroughly tested for compliance and effectiveness. They work excellently. We will not hesitate to inform you our company sells the best of these products, as confirmed by multiple user reviews.
You can send us a message to learn more about purchasing these products or send a customer contact form to place your bulk order.
Descrizione del prodotto
The parts of this hardware kit are designed for hanging interior barn doors to complete the modern and classy look of that interior space. They are perfect for closets, bathroom doors, bedroom doors, and other parts of the home.
Here are the top features of these wall mount round rail, sliding barn door track hardware:
Adequate Rail Length
Unlike other products with brackets sold separately, these products come complete with the perfect rail length. The rail length measures up to 2,000 mm and can be customized to meet the user's requirements.
Durable Materials
Stainless steel is the main material used to make the parts in this product package. This is a great choice because stainless steel has an aesthetic appeal, durable, and is not prone to corrosion. The beautiful surface finish features brushed stainless steel, which effortlessly blends with any wood door panel the user chooses for their barn door panel.
Capacità di carico massima
The hardware kit can support a maximum load of up to 80 kg. This impressive loading capacity gives the user more options regarding their wood door panel preferences and other personalized features they would like to add to their barn door system.
Cicli di lavoro
The hardware kit for these round rail sliding barn door track hardware is up to 100,000 cycles. This confirms the ANSI/BHMA 156.14 performance standard. This works perfectly with wood door panels, and since it is soft closing, there will hardly be squeaky sounds when using the barn doors.
Door Panel Specifications
These hardware parts are perfect for a wide range of wood door panels. Also, they will be the best fit for door panels of thickness range from 30 mm to 55 mm. This makes the hardware kit perfect for both residential and commercial buildings.
How to Order in Bulk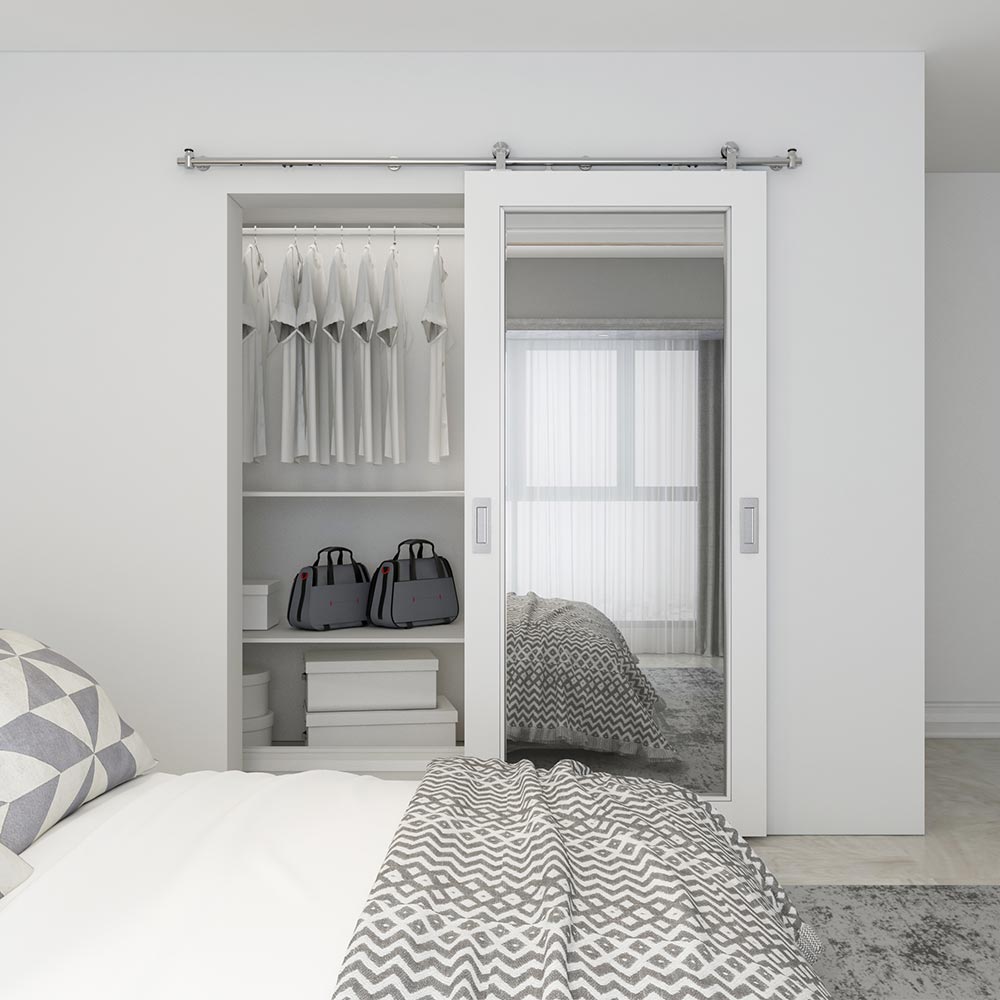 These products are best sellers because of their excellent stainless steel finish and efficiency. Users also like the soft closing option. You can order by sending us a customer contact form to get started, and we will reply to help complete the process.
The products ship out in packages that contain all the parts and an inventory sheet. Also, there are 78 cartons per pallet, so ordering in bulk is a smart choice.