3 Panel Frosted Black Interior Steel Glass Doors
| | |
| --- | --- |
| Model NO.: | TKM-A02(TY2.112.282.44) |
| Ref.NO.: | 151000-0349 |
| Brief Description: | Knocked down version three lite glass barn door |
| Position: | For interior door use |
| Application: | Both Residential and commercial use |
| Opening style: | Sliding opening |
| Main Material: | Carbon steel, Tempered glass |
| Surface Finish: | Black powder coating |
| Door size | 2134*914mm (84inch x 36inch) |
| Door Thickness | 40mm |
| Glass thickness | 5mm |
| Glass Pattern: | Acid glass on single side |
| Durability: | 100000 working cycles |
| Others: | With bottom groove (to work with floor guide) |
More Introduction
These are especially interior steel glass doors designed for the E-commerce business types. This door panel is divided into three parts. It makes cartons smaller, just right for handling, and also makes less shipping cost. Meanwhile, the simple screw connection design makes it quite convenient assembly. This metal frame glass barn door is an ideal option, which satisfies
your need of aesthetics. Especially combining the top-mounted exposed sliding barn door rollers, it gives a timeless look and it's suitable for home decoration no matter it's industrial style, rustic style or modern style. This large frosted glass panel brings light to the partitioned room while providing privacy. The sliding opening saves space and allows for use in tighter places where a normal swinging door may not work. There are many other door patterns for your selection, the door size could be customized and different glass options could be available.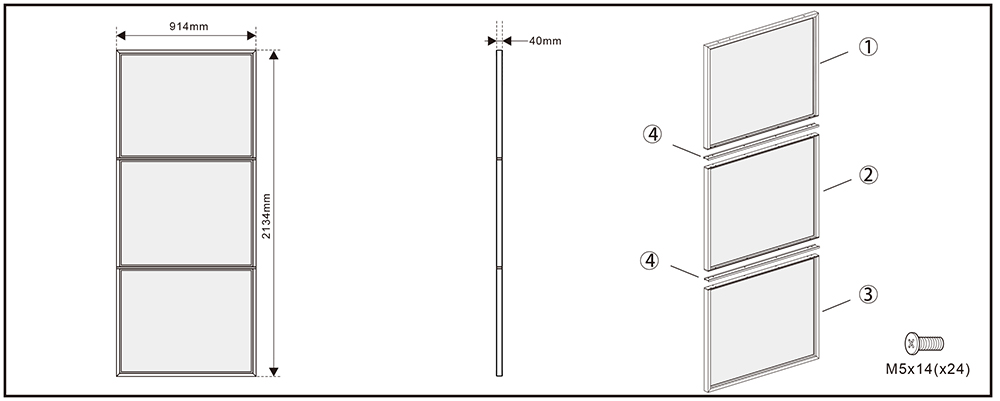 Dimension
---
Product Package
| | |
| --- | --- |
| Packing Method | A full piece (knocked down lite) into a carton, with EPE or equivalent filling material inside the carton. It could pass the drop test. |
| Sales Unit Packing Type | Carton |
| Sales Unit Packing Size | 1030*770*180mm |
| QTY/Pallet | 10PCS/PLT |
| Pallet size | 1050*790*1950mm |
| Loading QTY | 140PCS for 1x20GP and 300PCS for 1x40GP |
---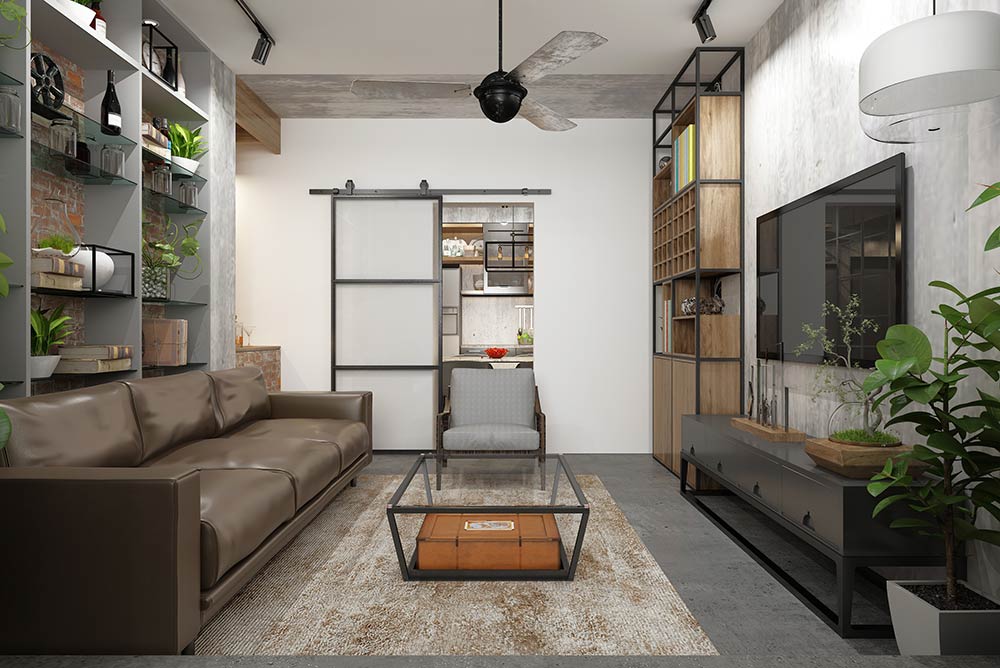 If you are looking for the best interior steel glass doors with a timeless modern look, these 3 panels frosted black interior steel glass doors are your best choice. The manufacturers have taken into consideration the best features, and they have made a steel and glass barn door that is best for use as interior doors. The specially designed shape and structure feature exceptionally thin door frames that are attractive and sturdy at the same time. Also, the door models feature the highest quality galvanised steel.
Everything is put together using simple screws, so the installation process is quick. After installation, the final look of these glass interior doors will blend with your rustic or modern interior design.
Customizable Interior Steel Glass Doors
You can request customized steel interior doors or the standard steel door models. The modern interior glass doors can be customized to meet the current market demands or special preferences. For example, people who prefer to buy interior steel glass doors with a particular type of glass can have their requests granted. Also, parts like steel thickness can be adjusted slightly to meet the customer's needs.
Why You Should Buy These Steel Interior Doors
These unique products meet various architectural styles and have the best rail steel profiles, making them top-rated pocket doors. The demand for these steel interior doors exceeds other interior doors.
Here's why these products are bestsellers:
Multiple Door Patterns Available
The product options for these door models include varying steel profiles, standard steel door models, exceptionally thin door frames, different types of glass like smoke glass esg or wired glass esg, and many other attractive features.
Having options when ordering these products allows homeowners or interior designers to define their style. The options for door models easily blend and enhance the interior decor theme you are trying to achieve, whether rustic or modern.
Space Management
The metal framed barn door design is an excellent choice for tight spaces in homes or even a commercial office. These barn door models are perfect for spaces where a swinging door will not be appropriate because of the space required for the swinging door construction. Instead, installing these steel and glass barn doors will allow you to demarcate the space with stylish interior doors.
Customizable Door Construction
Since the steel and glass panel sizes can be customized, these interior doors are perfect for any part of the building where you need privacy.
All that is needed is the right measurements. To order these products for such spaces, the client needs to call in a professional to measure the space. Then they can send the sizes to our team, who are always ready to produce exceptionally thin door or thicker door models for the project.
Quick Barn Door Assembly
It takes only a short time to assemble the different parts that make up these interior steel doors. There are three welded steel door panels that need o to be assembled with a simple screw connection. Once this is done, the result is a steel interior door made with the highest quality galvanised steel.
Affordable Shipping Costs
Shipping these glass interior doors requires a reasonable fee compared to many other types of steel doors. The glass interior doors are packaged into three parts, which makes the package for shipping smaller, so the shipping fees are lower.
Where Can These Barn Interior Steel Doors Be Installed?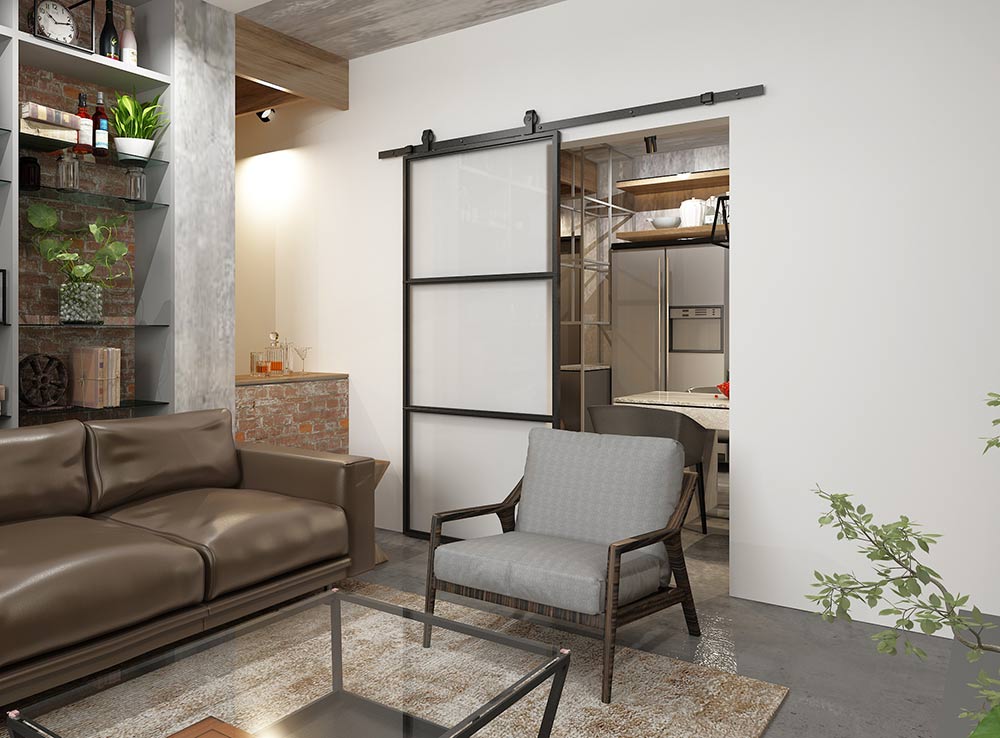 The glass interior doors are the perfect steel doors for tight spaces and other spaces where you would like to achieve a modern, classy look.
You can install these interior steel doors in residential buildings. They have sturdy glass, which makes the barn doors ideal for entrances like the living rooms, wine cellar, bedrooms, etc.
On the other hand, you can install these doors with steel and glass interiors in commercial buildings. The sturdy design and high-quality steel materials used to make these doors make them suitable for busy commercial buildings with high human traffic.
The doors are also excellent for places where you need natural light while giving a luxurious yet minimalist look without compromising durability.
Product Category- 3 Panel Frosted Black Steel Glass Interior Barn Door
This is a knocked down version three lite glass barn door that can be customized to have a specially designed shape like the french interior custom doors. These quick ship door models are easy to assemble and made from the finest quality materials on the market.
Intended Use
These steel and glass interior barn doors are perfect for residential buildings. They are also ideal for a commercial office. The various architectural styles you can get with these products make them versatile.
Functional Design
These are barn doors with the traditional sliding opening feature that allows sunlight into the room. The excellent rail steel profiles are built to last for many years. And the door may feature a loft handle or magnetic lock handles which are easy to use and convenient. The moving parts have 100,000 working cycles.
Manufacturing Materials Used
The steel and glass combination for these products features the finest quality of carbon steel. This high-grade steel is used to form the frame for the tempered glass interior doors.
The manufacturers have invested much money to create these steel interior doors to have a luxurious yet minimalist look.
Surface Finishing
We can attribute the attractive design of these steel and interior steel glass doors to the black powder coated finish. The immaculate job makes these glass interior doors stand out compared to other interior doors.
Door and Glass Thickness
The thickness of the frame on these interior steel glass doors is 40 mm. This carbon steel frames the glass, which is 5 mm thick. The glass pattern features acid glass on one side, which makes these interior doors stand out.
Bulk Orders Available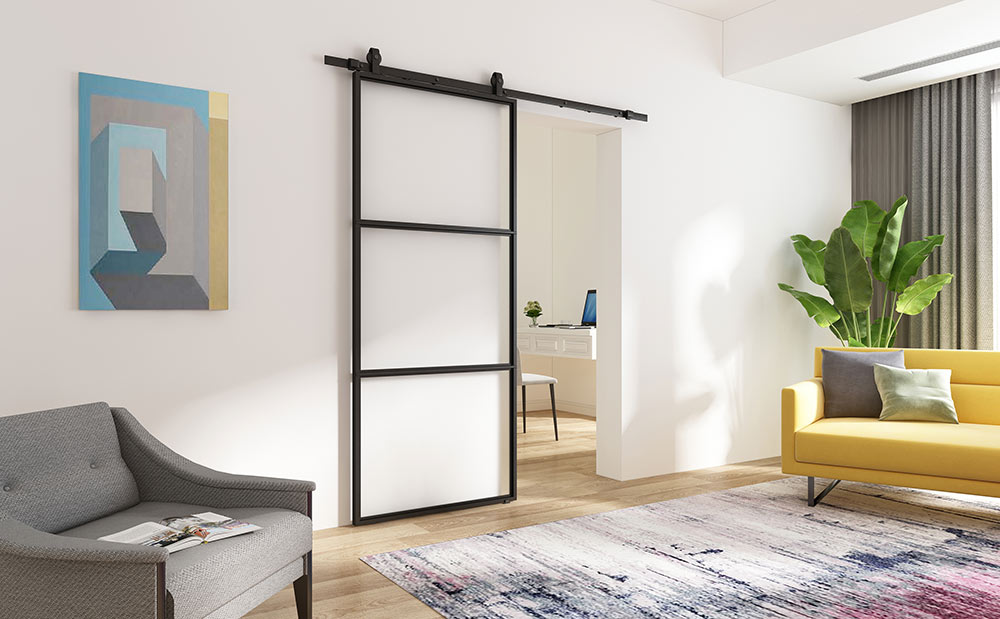 These fast-selling interior steel glass doors ship out in secure cartons, and the packaging methods pass the drop test. Send us a customer contact form to place bulk orders today.
"*" indicates required fields