Top Mount Barn Door Hardware, Big Wheel
| | |
| --- | --- |
| Model NO.: | YMXT-BG23 |
| Ref.NO.: | 150204-2824 |
| Brief Description: | Big wheel top mounting sliding barn door hardware |
| Position: | For interior door use |
| Application: | Both Residential and commercial use |
| Main Material: | Carbon steel |
| Surface Finish: | Black powder coating |
| Rail Profile Size: | 40x6mm |
| Rail Length: | 1830mm(72inch),2000mm(78-3/4inch),2134mm(84inch),2438mm(96inch) |
| Max Loading: | 100kg(220LBS) |
| Working Cycles: | 100000cycles |
| For Door Type: | Wooden doors, Metal frame doors |
| For Door Thickness: | 25mm(1inch) to 45mm(1-3/4inch) |
| Soft Closing: | Optional |
More Introduction
This is a quite typical style of barn door hardware. The big wheel sliding roller meets many customers' aesthetic preferences. The barn door was originally used as a warehouse door on the farm, It was later incorporated into interior use with an improved design.
Because the sliding barn doors are perfect for a variety of decor styles, such as rustic style, industrial style, nordic, modern style, etc., it becomes a choice of more and more households globally.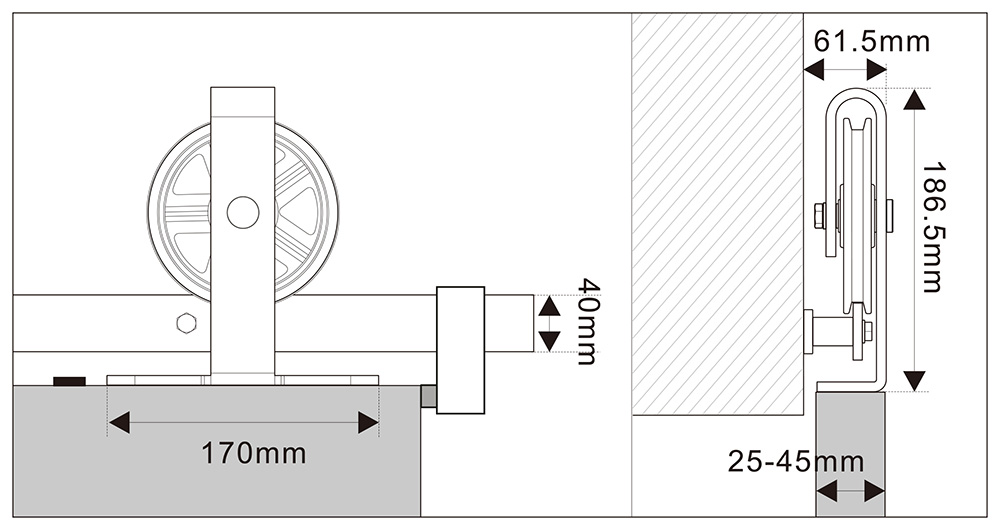 Dimension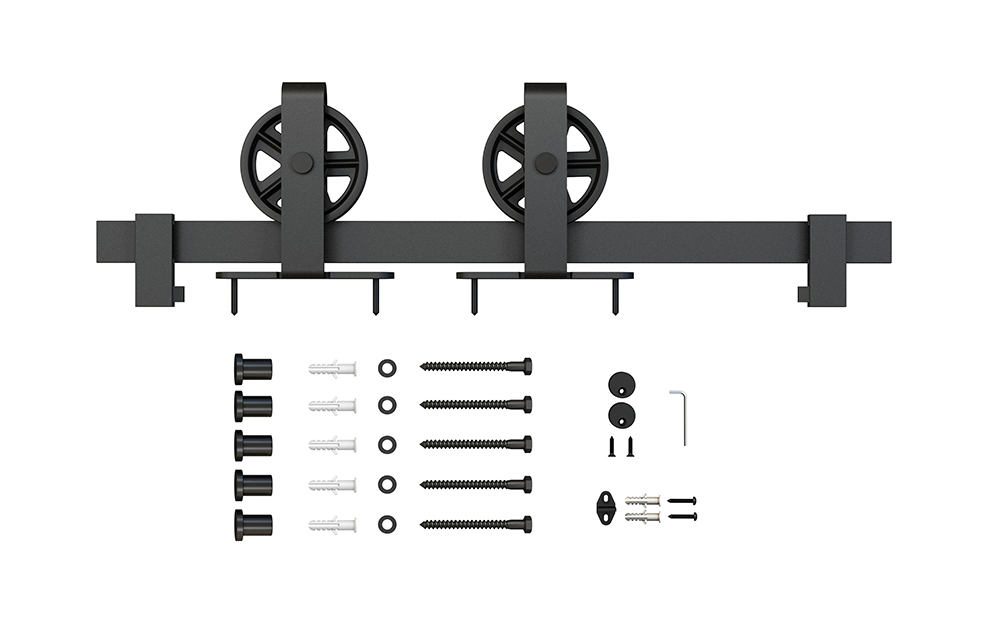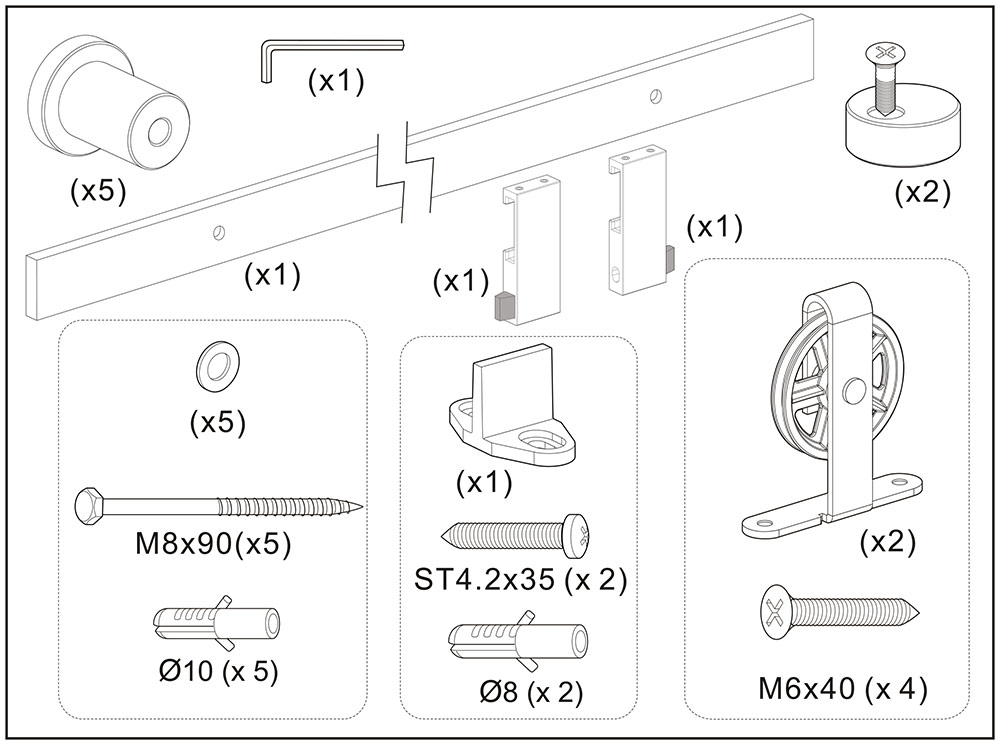 Part assembly
---
Product Package
| | |
| --- | --- |
| Packing Method | Components into boxes and a complete set into a carton, around 52 sets cartons into a wooden crate. |
| Sales Unit Packing Type | Carton |
| Sales Unit Packing Size | 2040x210x70mm |
| QTY/Pallet | 52sets/PLT |
| Pallet Size | 213x95x110cm |
| Loading QTY | 624sets for 1x20GP;1344sets for 1x40HQ |
---
Top mount barn door hardware is a popular sliding door soft close system type that has gained immense popularity in recent years due to its sleek and stylish design. This type of hardware is typically used to hang and slide wooden or metal doors along a track mounted on the top of the door frame. The hardware design allows the door to glide smoothly and quietly, making it an ideal choice for spaces where noise reduction is essential.
Top mount barn door hardware is also known for its durability and ease of installation. It can be used in various settings, including homes, offices, restaurants, and retail spaces. The hardware is available in various finishes, such as black, brushed nickel, and stainless steel, making it easy to match any decor style.
Whether you want to add a touch of rustic charm to your home or a modern and minimalist look to your office, top mount barn door hardware can be a great solution. It offers both form and function and is a great way to maximize space while adding a unique and stylish touch to any room.
Features of Tengyu's big wheel top mount sliding barn door hardware
Tengyu hardware's design and manufacturing team have made extensive efforts to create sleek and precise classic top mount barn door hardware, which has consistently been a best seller in the industry. With just over 5″ clearance above the door, it has the lowest profile among Tengyu hardware's designs, making it a top choice for those seeking a modern and clean product. The 3″ wide wheel is equipped with an oil-infused bushing, providing a smooth and noiseless roll. Although its weight capacity may not match that of strap designs, its simple and minimalist style enhances the appearance of any sliding barn door. We have designed, manufactured, and approved this top mount barn door hardware to ensure its quality and reliability.
To provide maximum strength, the classic top mount barn door hardware is mounted on the top of the door using hangers with a baseplate with two holes. The type of screw utilized will depend on the weight and material of the door. However, the two connection points per hanger guarantee that weight will be manageable.
Every set of barn door hardware kits comes with the following
Two top wheels and hangers
All the barn door hardware is powder coated
All required hardware, such as bolts and nuts
Track as per the ordered length
Two stops for the end of the track
Base guide to preventing the door from moving
Lag bolts and spacers, one per each foot of track
The weight rating is 200 lbs for each pair, and 6″ is the required clearance above the door.
What is the difference between side mount and top mount
Barn doors can be mounted in two ways, side mount or top mount. Side mount involves installing the hardware on the outer side of the door, facing towards the room. This style is ideal for those seeking a pronounced industrial-style appearance for sliding door hardware. It works particularly well with metal doors but requires more clearance between the door and ceiling to accommodate the decorative rollers. Although this style needs more space, it offers more durability and can support heavier loads, making it a suitable choice for solid wood or heavier doors.
Only the wheel is visible on the top mount, creating a minimalist appearance and drawing attention to the door as the room's centerpiece. This option is suitable for low-ceilinged spaces, as it requires less clearance and is ideal for those who want to highlight the door. Top mount hardware is also suitable for door panels made of materials that cannot use side mounts, such as glass. Installing top mount barn door hardware is an excellent solution for hanging sliding glass doors in any desired location.
5 Benefits of top mount barn door hardware
The Classic Top Mount Barn Door Hardware has been a bestseller due to its frequent use in the industry. It's minimalist and clean design allows the door's style to be fully appreciated. The versatility of this style is limitless, as it can be utilized for a range of doors, including sliding closets, double, bypass, and bifold doors. The timeless design can be used in any household area and with any door material, whether glass, aluminum, steel, or wood. This allows you to enjoy this classic style repeatedly for any door type, making it a perfect addition to your home.
Not only does this style provide a minimalist and sleek look, but it's also a cost-effective option. You can save money by eliminating the need for decorative rollers made of heavy materials while still receiving a sturdy and secure piece. This style can be installed throughout your household without the risk of becoming overbearing or repetitive, making it an excellent choice for those seeking a consistent and stylish appearance.
With just over five inches of clearance required above the door, this sliding barn door hardware has the lowest profile among Artisan Hardware's designs, making it a popular choice for those seeking a clean and modern look. It's especially well-suited for older homes with lower ceilings, as it requires less clearance. Low clearance isn't a problem for this hardware kit, making it a practical and stylish choice for any space.
The wheel of this sliding barn door hardware is three inches wide and can be chosen in either steel or nylon. It encloses an oil-infused bushing, which ensures a smooth and noiseless roll. The powder coating on the railings, bottom guide to stabilize the door, and stoppers all work together to provide a consistent and smooth glide each time the interior door is opened or closed. With these features, you can trust that your rollers will operate smoothly and evenly every time without wobbling or shifting.
You can say goodbye to squeaky door hinges and the space consumed by traditional hinged doors on door frames. With sliding barn door hardware, you can enjoy smooth and effortless sliding movement. It's hard to resist the calming sensation of the rollers gliding along the track, and you or your kids might even find yourselves doing it just for fun.
Each hanger of the classic top mount barn door hardware attaches to the top of the door with a baseplate featuring two holes to ensure maximum strength. The appropriate screws to use depend on the weight and material of the door, but with four connection points per hanger, weight capacity is not a concern.
Although the weight capacity of the top-mounted hardware is lower than strap hardware, its clean and straightforward style complements and enhances any sliding barn door.
The spacers and lag bolts provide extra stability and durability to the track, with one lag bolt used per foot of the track. This heavy-duty track is capable of holding a considerable amount of weight. If you have concerns about using this hardware kit with your barn door slab, contact customer support with your door's dimensions and specifications.
Usually, the barn door track's length is twice the door's width to allow it to move entirely out of the opening. Nevertheless, as a custom manufacturer, you can choose the track length that suits your requirements. You can adjust the track to the desired length if you need the door to open more or less than the standard installation. The tracks are cut-to-order and come with all the required hardware (nuts, bolts, screws, etc.) for installing your bespoke top mount barn door hardware for sliding doors.
How to install top mount barn door hardware
Every barn door hardware comes with comprehensive installation instructions for each product in every order, ensuring you have all the necessary tools and information to install your sliding hardware safely and securely. Whether you choose to install the hardware yourself or hire professional help, you can rest assured that you will have access to the installation packet and a step-by-step guide to follow. It's essential to carefully read the instructions and follow the outlined steps to ensure a successful installation.
You can follow these simple steps if you choose to install the top mount barn door hardware yourself.
Measure how much track you will need
Before installation, measuring the space where you plan to install your sliding door(s) is essential to determine the appropriate track length to order. For a single door, you will need a track that is double the width of the door, plus two to three inches. If installing double barn doors, ensure enough space on each side of the doorway to accommodate each door without obstruction. Carefully check for any obstacles, such as light switches or wainscoting, that could interfere with the door's movement along the track.
Determine how high to hang the track
There's some flexibility when it comes to the height of sliding doors. Generally, it's recommended to have a minimum of half an inch available at the bottom of the door, with the mount placed at least 2.75 inches above the door frame. However, if you prefer to mount it higher and closer to the ceiling, you can do so. Just make sure to measure the space and ensure that there is enough room for the rollers and track to move without obstruction.
Following the guidelines, use the spacers and lag bolts to hang the track. Check for wall studs and anchor the screws according to the wall type and instructions. It's crucial to ensure that the wall can bear the weight of the track and door.
Mount the door hardware on the door
By following the instructions, install the barn door kit on top of the door. This is also the stage where you can add any extra details, such as hardware or door pulls that you have acquired. It's recommended that a door handle be installed at approximately 36 inches above the floor.
Hang door on track and install door guides
With the help of a family member or friend, carefully lift the door onto the track and position it into place. Then, mark the placement for the bottom guide and securely screw it into position to provide stability to your newly installed sliding door. This will prevent it from wobbling, knocking against the wall, causing any scratches or scuffs, or producing any noise, and will provide it with additional stability.
Conclusion
Top mount barn door hardware offers a classic and versatile design that fits well with any home décor seeking a minimalist and streamlined appearance. Top mount barn door hardware kit provides an opportunity to fully customize the size and style of the sliding door system. Each product is meticulously designed, manufactured, and approved by skilled manufacturers, ensuring a precise and sleek top mount design that functions without flaw. The included installation guidelines and hardware make it easy to install the hardware kit yourself, ensuring a safe and secure installation. With the top mount design, you'll have a soft close, and quiet slides each time you open or close your interior door. Overall, barn door hardware is a stylish and practical addition to any home. It truly is the ideal barn door track system.