Double Barn Door Hardware, Dual Sliding Track
| | |
| --- | --- |
| Model NO.: | TSQ04 DOUBLE |
| Ref.NO.: | 150204-3304 |
| Brief Description: | Hanging style sliding door system for double door |
| Position: | For interior door use |
| Application: | Both Residential and commercial use |
| Main Material: | Carbon steel |
| Surface Finish: | Black powder coating |
| Rail Profile size: | 40x6mm |
| Rail Length: | Two piece of rail,each rail length could be 1524mm(60inch), 1830mm(72inch), 2000mm(78-3/4inch), 2134mm(84inch), 2438mm(96inch) and so on. |
| Max Loading: | 200kg(440LBS) |
| Working Cycles: | 100000cycles |
| For Door Type: | Wooden doors, Metal frame doors |
| For Door thickness: | 25mm(1inch) to 45mm(1-3/4inch) |
| Soft Closing: | Optional |
More Introduction
This is the classic double barn door hardware.
The barn door was originally used as a warehouse door on the farm, It was later incorporated into interior use with an improved design.
Because the sliding barn doors are perfect for a variety of decor styles, such as rustic style, industrial style, nordic, modern style, etc., it becomes a choice of more and more households globally.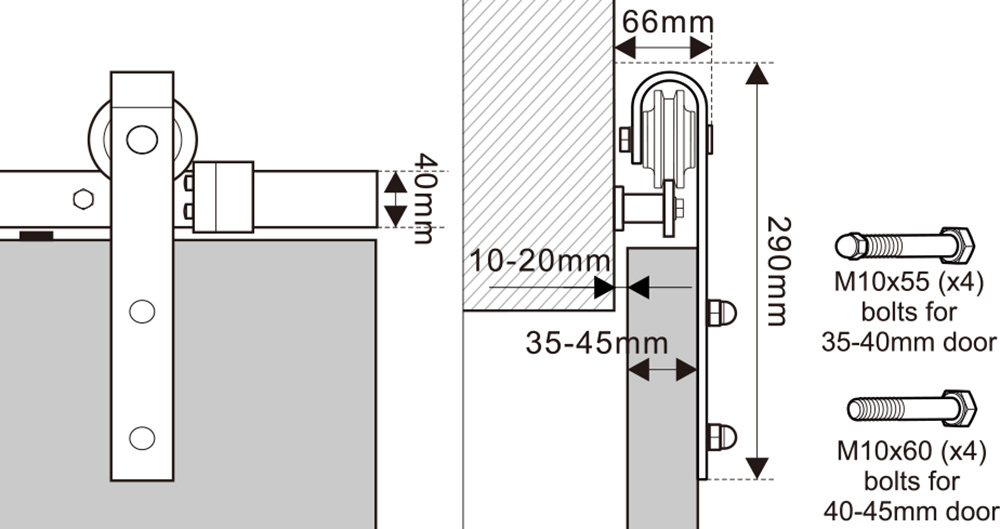 Dimension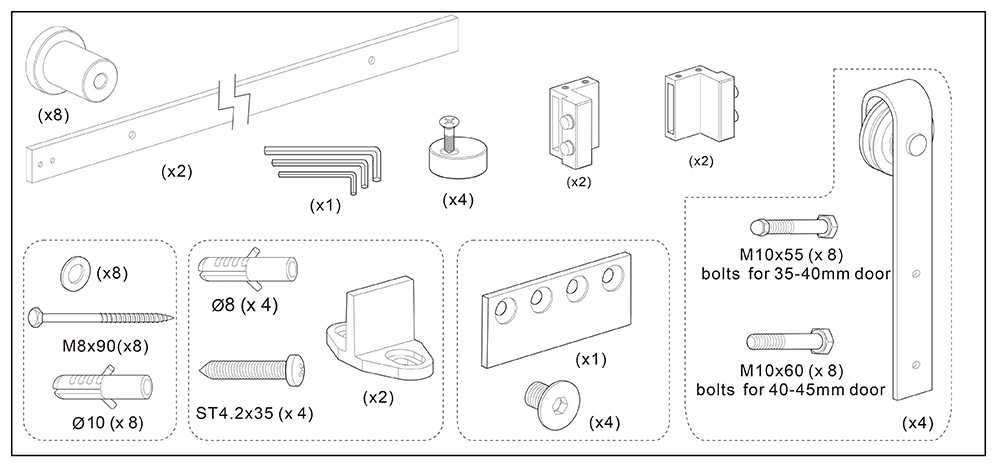 Part assembly
---
Product Package
| | |
| --- | --- |
| Packing Method | Components into boxes and a complete set into a carton, around 72sets cartons into a wooden crate. |
| Sales Unit Packing Type | Carton |
| Sales Unit Packing Size | 2040x135x80mm |
---
Double barn doors can transform the aesthetics of your space. Most hardware kits include the necessary components depending on the type of barn door you want. It's essential to be familiar with each piece in the hardware kit if you desire to install a barn door. The following are the components of the sliding barn door hardware kit:
Two sets of rollers and tracks: They support the doors and ensure a smooth sliding motion along the floor. The tracks are mounted onto the walls while the rollers are attached to the door. They come in different finishes, styles, and sizes to suit various applications.
Mounting brackets: These are typically used to hang barn doors from the ceiling or wall. They are made in different materials, sizes, and colors to accommodate the varying door styles and weights. Commonly, you'll find brackets made from aluminum, steel, and stainless steel. Follow the manufacturer's instructions and use the appropriate installation hardware for excellent results
You can use the sliding barn door hardware to create various door configurations ranging from one sliding barn door to a double door that you can open in opposite directions. They are a perfect fit when you need to cover large openings since a double door doesn't take up a lot of floor space, and you can customize them to fit any size opening.
Things to consider before buying the sliding barn door hardware
Consider the following before buying one:
Know the door and track system you need: Each barn door's track systems and hardware differ in size, style, and finish. It's essential first to determine the system you need before buying it.
Consider your door weight: You should know your door weight since this determines the size and type of hardware and track to buy. Your hardware kit must be able to hold and support the door's weight adequately.
Determine the style: Sliding barn door hardware comes in different types. It can be rustic, modern, or traditional, and you should know which one you are after before making a purchase.
Choose the right finish: Your barn door color and finish should match the rest of your home aesthetics. Choose a finish that best suits your other colors, such as bronze, brass, or black
Measure the track and door: You must measure the track length and door to ensure you have the correct size and style of track system and hardware.
Determine the type of material you want: Sliding barn door hardware comes in different materials like wood, steel, or aluminum. You must know the one you prefer to buy it.
Overhead clearance: You should know the distance from the top of the door to the ceiling and choose appropriately-sized hardware.
Knowing these features ensures you get a barn door that works for you.
Features of the sliding barn door hardware
The proper barn door hardware holds your door configuration together and makes it run smoothly. The following are some sliding barn door hardware features you should consider:
Space-saving: The sliding barn door hardware you choose should take less room than the traditional doors, allowing you to use your space better.
Versatility: The door hardware should be able to create a look that you want, whether classic, modern, industrial, or traditional look.
Quiet and smooth operation: The sliding barn door hardware should slide open and close smoothly and quietly without creaking or rattling.
Durability: The hardware should be made from sturdy materials built to last and withstand the elements.
Easy installation: The hardware should be easy to install even with limited experience.
These are some qualities you should consider when picking sliding barn door hardware. Check to ensure it fits your price and quality before buying.
Benefits of using the sliding barn door hardware
Using sliding barn door hardware has various benefits, like how you can customize it to fit different needs in tracking sizes. The following are other benefits:
Space saver: When you use a sliding barn door, you open up your floor space, making it appear larger than it is. It's a perfect option when you have areas with limited space or smaller rooms
Durability and long-lasting: The barn door hardware is sturdy, making them withstand daily wear and tear. They last a long time without the need for replacement.
Adds to the aesthetics of your home: Barn door hardware has a unique and rustic look. You can bring a country-style look to your rooms and home.
Easy to install: Barn door hardware can be installed using simple tools. They are an excellent option if you're a do-it-yourself person
Cost-effective: Compared to other door hardware options, barn doors are affordable. The cost of purchase and installation is reasonable.
These benefits make barn door hardware a worthwhile option.
Conclusion
Choosing barn door hardware is a perfect way to add a unique look to any room. With it, you can give your home a distinctive look and feel. The door hardware comes in different styles, finishes, and sizes to fit your taste and budget. Order one now from our stores and transform your home's look.