Face Mounting Sliding Big Wheel Barn Door Hardware
| | |
| --- | --- |
| Model NO.: | YMXT-BG07 |
| Ref.NO.: | 150204-2728 |
| Brief Description: | Big wheel face mounting sliding barn door hardware |
| Position: | For interior door use |
| Application: | Both residential and commercial use |
| Main Material: | Carbon steel |
| Surface Finish: | Black powder coating |
| Rail Profile Size: | 40x6mm |
| Rail Length: | 1830mm(72inch),2000mm(78-3/4inch),2134mm(84inch),2438mm(96inch) |
| Max Loading: | 100kg(220LBS) |
| Working Cycles: | 100000cycles |
| For Door Type: | Wooden doors, Metal frame doors |
| For Door Thickness: | 25mm(1inch) to 45mm(1-3/4inch) |
| Soft Closing: | Optional |
More Introduction
This is a quite typical style of barn door hardware. The big wheel sliding roller meets many customers' aesthetic preferences. The barn door was originally used as a warehouse door on the farm, It was later incorporated into interior use with an improved design.
Because the sliding barn doors are perfect for a variety of decor styles, such as rustic style, industrial style, nordic, modern style, etc., it becomes a choice of more and more households globally.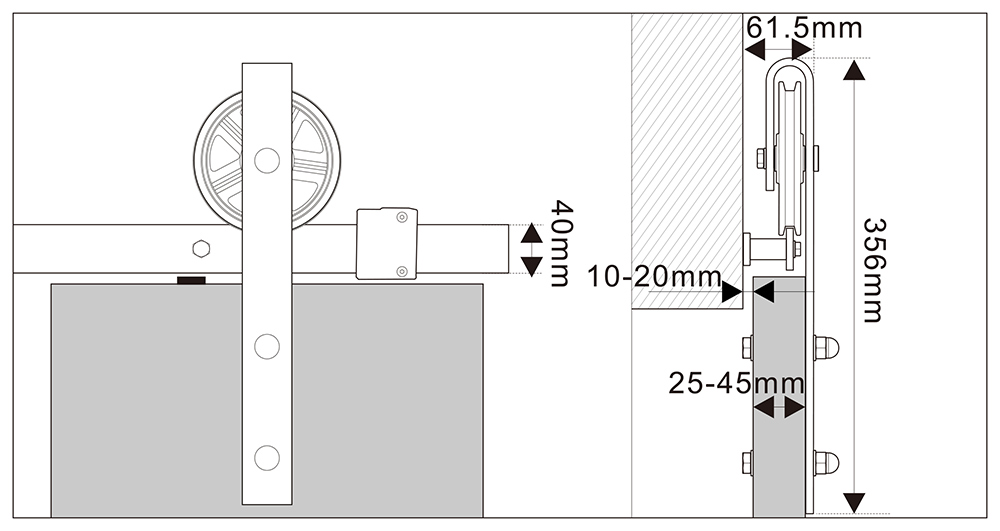 Dimension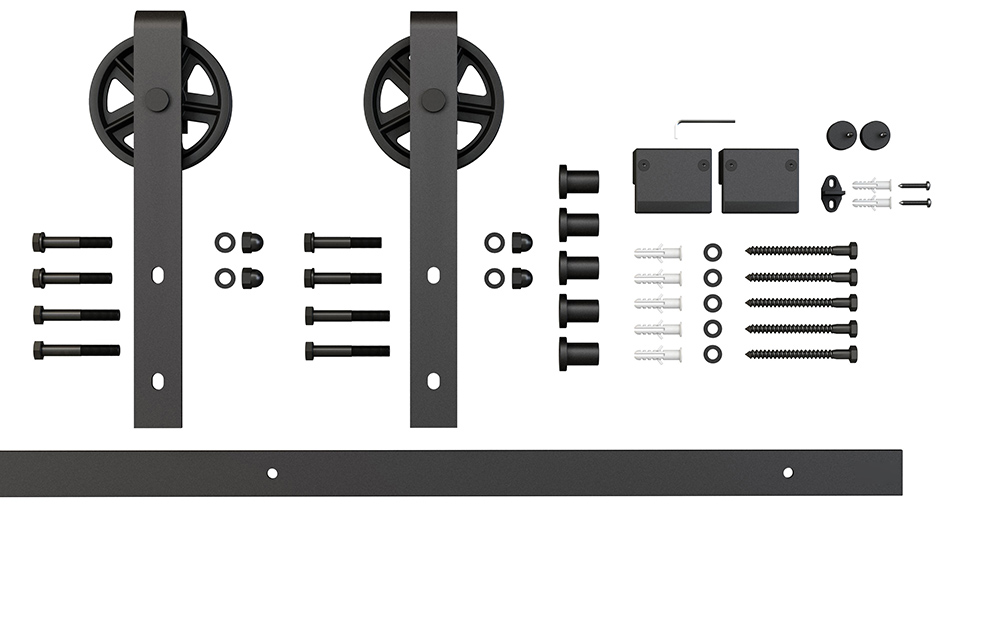 Part assembly
---
Product Package
| | |
| --- | --- |
| Packing Method | Components into boxes and a complete set into a carton, around 55sets cartons into a wooden crate. |
| Sales Unit Packing Type | Carton |
| Sales Unit Packing Size | 2040x170x80mm |
| QTY/Pallet | 55sets/PLT |
| Pallet Size | 213x97x106cm |
| Loading QTY | 660sets for 1x20GP;1440sets for 1x40HQ |
---
The big wheel barn door hardware is not only impressive to look at, but they also come with heavy duty features. This means the sliding barn door hardware is perfect for entrances that are often used in the home or commercial building. The bid spoke wheel is perfect for a reasonable door thickness, usually under 45 mm. The hardware kit comes in a secure package with everything needed for installation.
The big wheel barn door hardware kit is suitable for any track length, so it is convenient for the barn door hardware installer to work efficiently, regardless of the project requirements. Also, these sliding barn door hardware kit is guaranteed to work effectively and last longer because of the high-quality parts. Therefore, it is worth your investment.
The customer reviews are excellent, so we are not surprised this barn door hardware kit is a best seller on the market.
Where to Buy the Big Wheel Barn Door Hardware Kit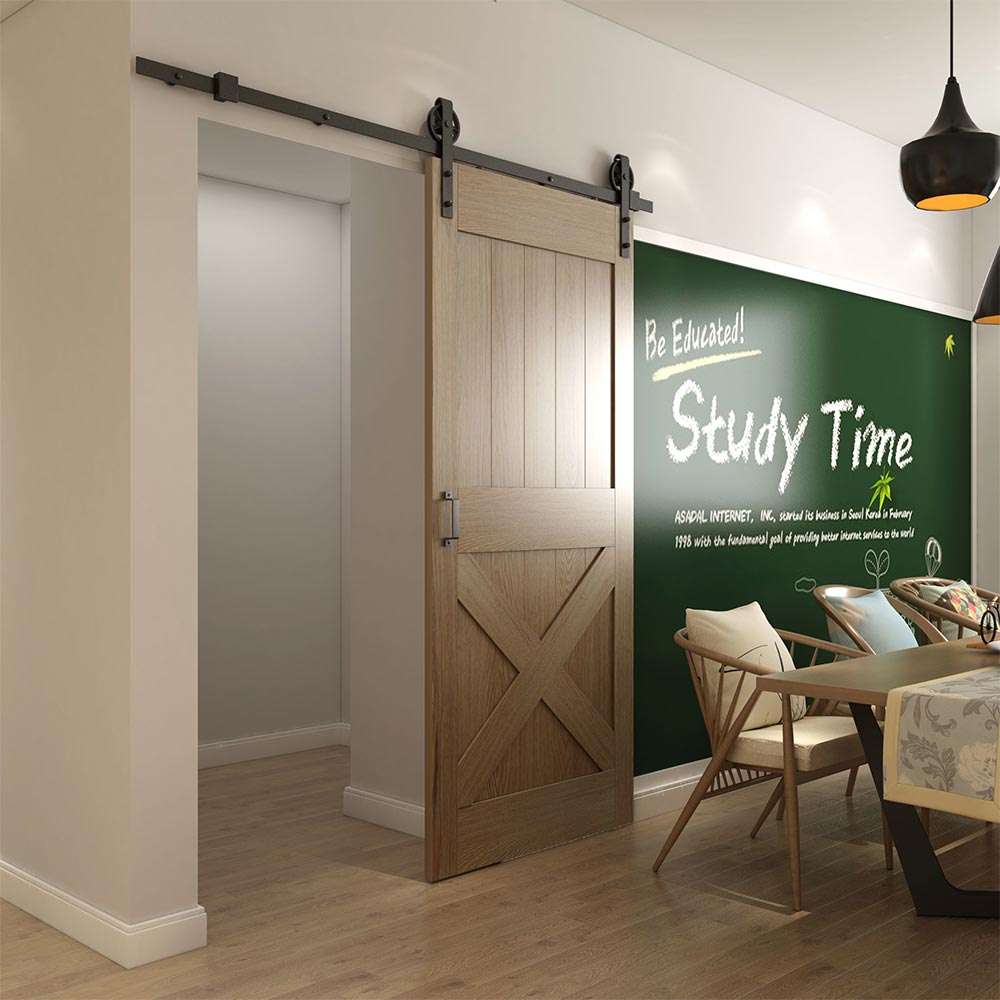 The end-users are guaranteed an excellent experience when purchasing these products from a trusted source. That is why we encourage everyone to buy the big wheel barn door hardware kit from our company. We have built a solid reputation in this business, known across the world. Our barn door hardware kit is made of the best materials, tested, and checked before shipping. They work excellently after an easy installation.
You can order these barn door hardware kits with door guides directly from our website.
Product Features
These features confirm that the big wheel barn door hardware kit we sell meets the required criteria.
Face Mounting Design
This is a heavy-duty big-wheel face mounting sliding barn door hardware, made from high-grade materials and easy to install.
They are excellent for interior installation and use in residential or commercial buildings. The installation process is flawless, meaning the barn door will stay upright and function as expected for many years.
High-Grade Materials
The barn door hardware kit is durable and worth investing because of the top-rated carbon steel used as the main production material. In addition to that, the product has an excellent black powder coating all across the wheel sliding barn door hardware and support header.
The top-rated materials make each open and close movement even more seamless than the previous slide, and the floor guide works perfectly.
Maximum Loading Capacity
This hardware kit can support up to 100kg, which is excellent for thicker doors. The big wheel seen on the product page also carries the load without causing disruptive noises during operation.
They are perfect for wood and metal frame doors, within a thickness range of 25 mm to 45 mm.
Rail Profile Size
The max length of rail suitable for the hardware kit is from 1830 mm to 2438 mm. Also, the rail profile size is 40 x 6 mm. This setting makes it possible to install the hardware kit properly without damaging the wall, and some of the doors can feature a front handle if needed.
Place Bulk Orders Now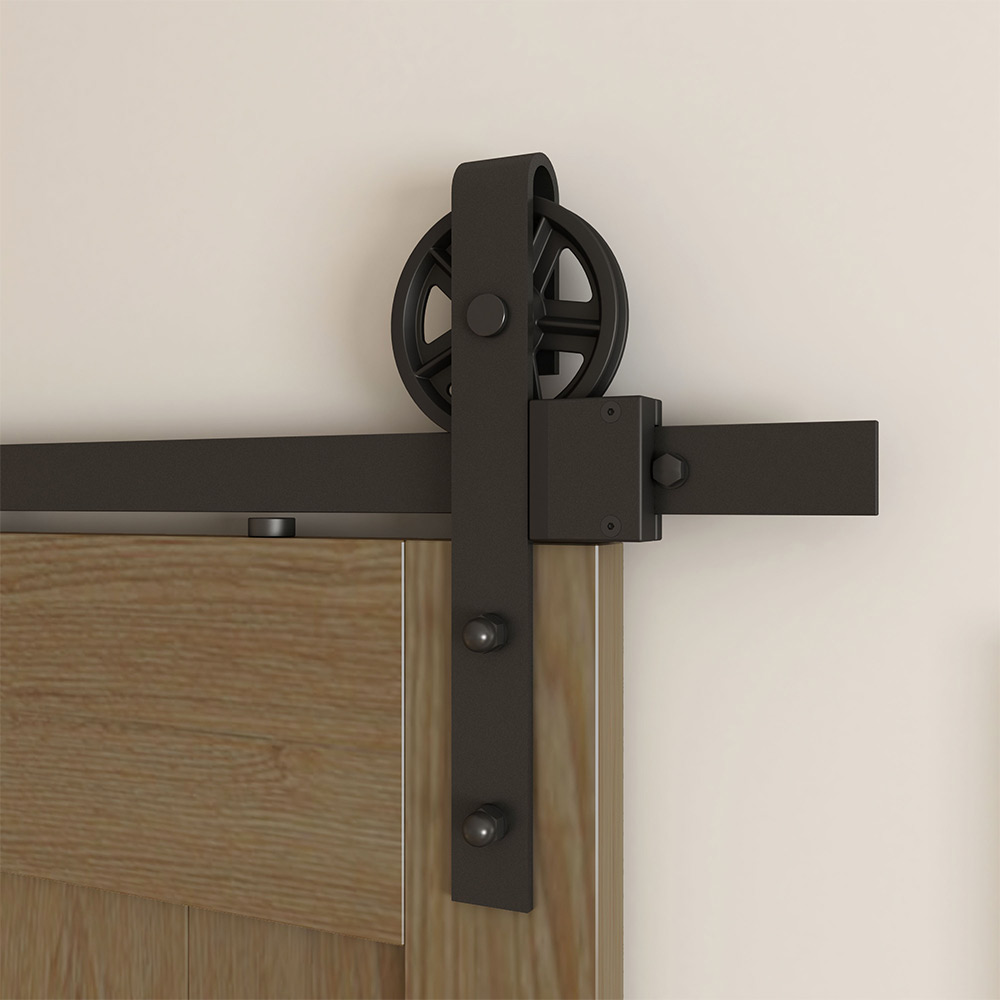 These products are ready to ship, so you should send us your customer contact form, and we will process your bulk order quickly.