Box Rail Barn Door Hardware, Interior Exterior, Heavy-Duty
| | |
| --- | --- |
| Model NO.: | YMXT-XC46 |
| Ref.NO.: | 150305-4471 |
| Brief Descritpion: | Heavy-Duty Box Rail Sliding Barn Door Hardware, Both Interior & Exterior Use |
| Position: | Both Interior & Exterior Use |
| Application: | For Residential use |
| Main Material: | Carbon steel |
| Surface Finish: | Galvanized |
| Rail Length: | 1830mm(72inch), Other length could be negotiated |
| Max Loading: | Up to 450lbs (204kg) per panel |
| Working Cycles: | 50000cycles |
| For Door Type: | Wooden doors |
| For Door Thickness: | 35mm(1-3/8inch) to 45mm(1-3/4inch) |
| Others: | 312H Salt spray test passed |
More Introduction
It's real Heavy-Duty Box Rail Barn Door Hardware. Thanks to its high performance of the max loading weight and the resistance to corrosion, it could be for both Interior & Exterior use. Roll-formed galvanized steel track with track brackets ensure smooth, flexible operation. There are end caps to eliminate potential damage from hash weather.
Precision-formed steel hangers with double axis offer minimum friction and smooth operation. The zinc-plated finish could be for durability and high corrosion resistance.
Vertical and lateral adjustments can be made through the hanger and door strap to ensure precise door alignment.
Galvanized steel floor guide add strength, with an adjustable roller securing door in place.
50000 cycles test passed.
312H Salt spray test passed. There are many compoent options sharing the same rail, also the rail size and the finished surface could be customized. Welcome to contact and negotiate.
---
Product Package

| | |
| --- | --- |
| Packing Method | Each set into a Carton as a sales unit, 54 cartons into a wooden crate. |
| Sales Unit Packing Type | Carton |
| Sales Unit Packing Size | 1860*165*105mm |
| QTY/Pallet | 54sets/PLT |
| Pallet Size | 1880*1020*975mm |
| Loading QTY | 540sets for 1x20GP;1440sets for 1x40HQ |
---
If you have a door project coming soon, consider installing a box rail barn door hardware. The sliding barn door hardware is created through a track mounted on an opening in the box. The system is popularly used in heavy barn doors and some commercial sliding door systems.
Ideally, the hangers and trolleys for the sliding box rail barn door hardware move within the enclosed track. The top and sides of the box are enclosed, leaving a space at the bottom for hangers and trolleys to be attached to the barn door. For illustration, when a door pulls, it's able to slide smoothly because of the box rail hardware.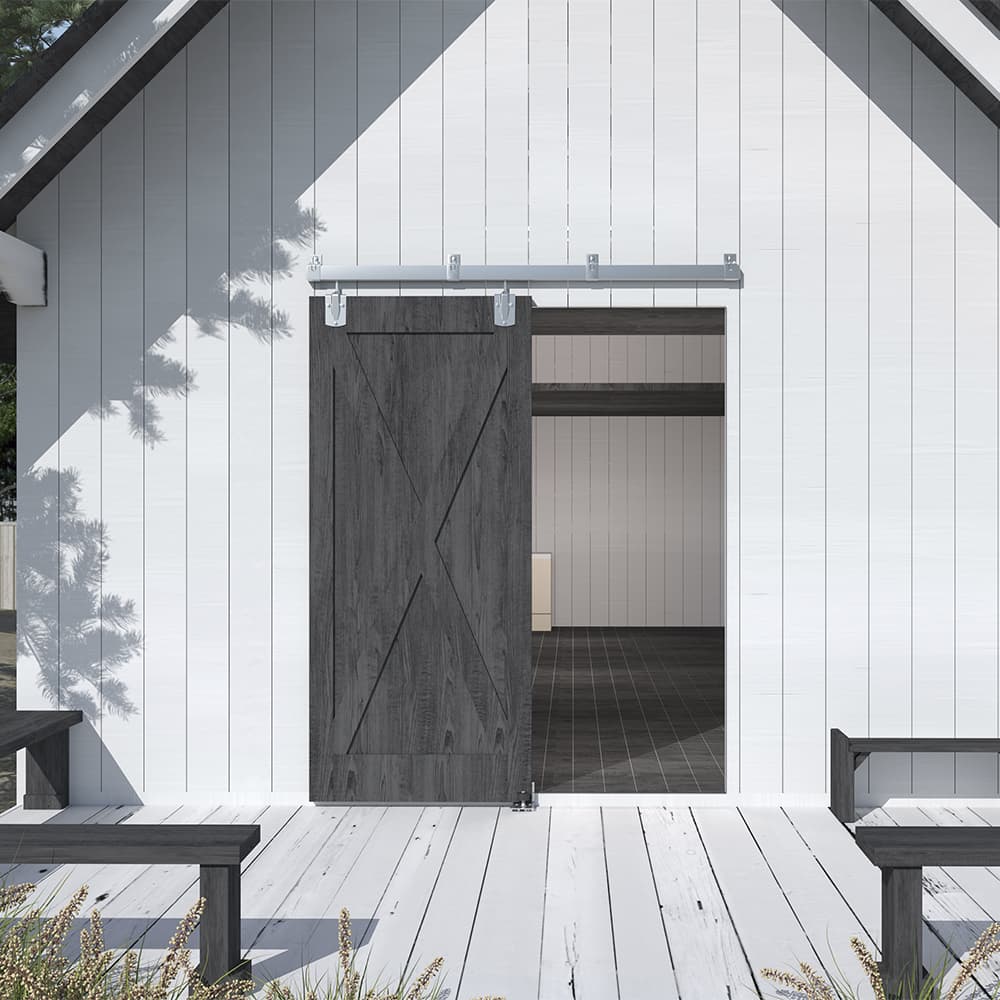 Box Rail For Heavy Doors
Box rail hardware is made using strong material and designed to support heavy-duty applications such as barn doors. This is because it has a greater weight capacity than other sliding barn door hardware. The box rail system can also come in handy for a heavy custom-made barn door made out of wood because of its weight.
Nonetheless, checking the door's weight before mounting is always important. If you're unsure whether you need a box rail for your barn door, you can inquire.
Reasons To Have A Box Rail For A Sliding Door Hardware
A sliding barn door can bring your house a fresh and modern aesthetic. In addition, barn doors are easy to use because of the track system. Here are some reasons why you should have a box rail for your sliding door hardware:
1. Maximum Weight Capacity
As discussed previously, box rails are perfect for managing heavy barn doors. It'd help if you always double-checked to make sure the sliding door track you buy is rated for your door. Some doors, particularly those created by order, are very hefty and call for heavy-duty sliding door hardware.
A box rail track is ideal for increasing longevity, weight capacity, and load-bearing ability. Many box tracks can support up to 5,000 pounds of sliding barn doors! If a track can support that weight, it can undoubtedly support your home's barn door. That kind of weight is typically encountered with doors in commercial buildings.
You'll need a stronger-duty door track the heavier your barn door is. A strong oak double bypass door won't need the same kind of barn door sliding rail hardware as lightweight glass and aluminum sliding barn doors. On the other hand, heavy-duty rolling door hardware is suggested if your barn door has a capacity of 200 pounds or more.
It's crucial to keep in mind that box tracks look beautiful no matter how heavy your door is when discussing what you need for your barn doors. We advise going for it if you have a lightweight door and desire a box track.
2. Low Maintenance
The moving parts in exposed hardware kits can accumulate dirt and dust. The track runs less smoothly as a result of the dust. However, box rails conceal the moving components, so you don't need to dust them to keep the track operating at its best.
From our experience, slipping a moist towel over the top of the box rail is much simpler. Thus, box rail hardware requires less upkeep and operates quietly and smoothly.
3. Extra Stability
From the above discussion, it's no secret that box tracks are famous for their ability to hold sliding barn door units that weigh a lot. For this reason, they're used in both residential and commercial settings. However, with their ability to hold a lot of weight, they provide another critical component; extra track stability for the doors mounted on them.
This is how it works; the door panel hangs on rollers or hangers on the inside of the track. The track is mounted over the wall and door opening and attached with brackets. These brackets fully enclose the top and sides of the track and wrap around to the bottom, providing the track with an extra layer of stability.
This is critical so that the enclosed track stays solid and doesn't become loose due to the weight of the door or repeated use. The entire door's weight is held by the track alone, so brackets form a critical part of the support system.
Though you may choose to install a bottom guide or roller, the roller only stabilizes the swing of the door, not the weight. The roller ensures that the door won't swing out. It also prevents small children from swinging it outward when opening and closing it. Bottom tracks or rollers are optional but are always encouraged to provide track stability to the door when opening and closing it.
4. Easy Installation
Box rails are extremely easy to install. The functionality of a sliding barn door can be made or broken by the sliding door hardware, and poorly installed hardware will convert your fantastic purchase into a source of frustration. Fortunately, we give you everything you need to install your box track correctly the first time with our barn door hardware kit.
It's always a good idea to read the complete instructions before installing your box track and to list all the hardware included in your purchase, including the metal tracks, bolts, spacers, door stops, wheels, fasteners, and brackets. Make sure to locate any missing components before installing the box rails and the sliding door.
5. Complements Different Forms Of Sliding Doors
A box rail can be used for single and double sliding doors. You must use the proper hanging hardware with your barn door to produce the desired look and feel.
Another great aspect of a box rail track system is that it can complement any door and pairs flawlessly with barn door rail hardware for cabinets, box rail sliding barn door hardware, and box rail bypass barn door hardware.
Additionally, the sliding door track system will go perfectly with any door, whether a French door made of glass and metal, a typical farmhouse barn door made of weathered wood, or elegant wine cellar doors.
The Best Box Rail Barn Door Hardware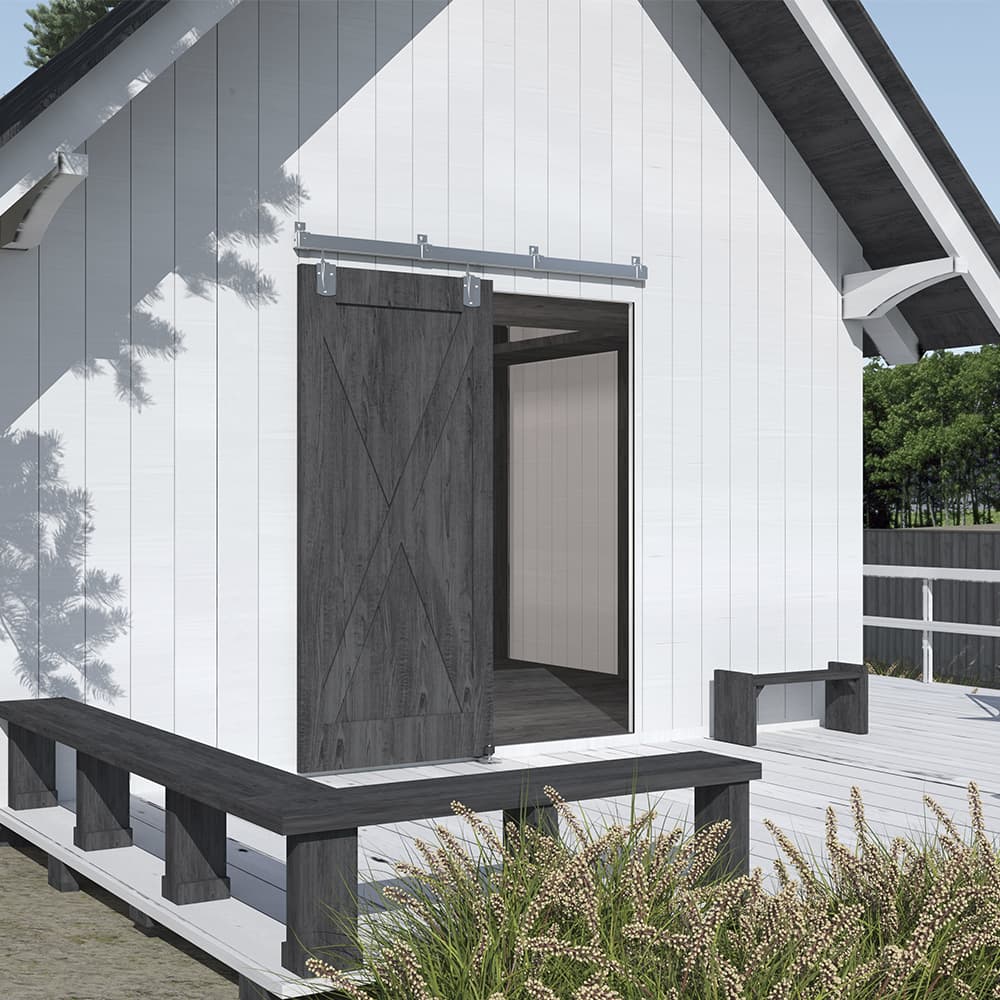 Our box rail hardware for sliding doors is the best in the market for its high quality. We use steel to make the box rails for sliding door panels. In addition, the trolleys are made of stainless steel and have premium polymer wheels that roll quietly.
Subsequently, the box rails are also customized to meet the needs of different sliding doors. This ascertains that the box rail sliding door tracks are individually bent to meet customer needs rather than having the metal extruded via a die.
As a result, the functioning is smoother, and the corners are sharper. The final product is a box rail that's excellent for heavy-duty sliding door track hardware kit. Moreover, even in heavier doors that can be pushed open easily, it's simple to use.
Furthermore, all our kits come with end stops to prevent your door from rolling out of the rail's end. We also offer an end cover for the rail ends to ensure a clean-looking finish. If you decide to use the mounting option, we've ascertained that the brackets are easy to install.
Box Rail Applications
Box rails are versatile and can be used in different areas in residential and commercial buildings. In addition, the box rail is still the best choice for outdoor applications, even though it was created as exterior sliding barn door hardware. Some of the applications of a box rail include the following:
Sliding security gates.
Retail and wholesale stores.
Household use such as bathroom and kitchen doors.
Partition doors for social places such as museums.
The box rail is durable because of its high weight rating. This makes the box rail hardware ideal for larger doors, making it a fantastic choice for big doors used in barns and other industrial settings.
Subsequently, it can give an industrial aesthetic when used in interior areas. Box rail hardware is low-profile, which makes it perfect for interior situations where there isn't much room between the door opening and the ceiling.
Factors To Consider Before Using A Box Rail
It'd be best if you considered the following factors when considering buying box rails when installing barn doors:
1. High-Quality Hardware
High-quality hardware lasts a long time, operates quietly and smoothly, and complements your doors. In the long run, it may cost more, but it will be worthwhile. We recommend that you contact us for sturdy aluminum flat rail, round rail, and stainless steel hardware kits in well-liked forms and finishes.
2. The Available Space
You should ensure enough overhead space for the box rail to be fitted. You can determine the space you need through the door size and whether it's a single or double door.
Compared to a swinging door, a barn door can save space, but it also needs room to move along its track. In order for a single door to slide completely open when mounted, there must be wall space on one side of the opening that is at least as wide as the door.
For double doors, you need a wall space on either side of the entry that is the width of a single door. Please ensure there are no light switches, outlets, windows, vents, doors, or pieces of art on the wall that could obstruct or damage the door as it slides open.
3. Structural Support
Since barn doors can weigh up to 200 pounds or more, most people mount the track to a header fastened to the wall studs above the doorway for stability. It should work with a 2 x 6 cut that is twice as long as your track.
Make sure there is a stud or wood block at each interval along the track, including past the door opening, if you mount on wall studs. Wall anchors do not provide enough stability to hang these doors. Bonus: Mounting your door to a header places it far enough away from the wall for it to slide past the door frame and trim.
How To Measure The Box Rail
Ideally, the box rail should double the barn doors' length. The doorway is covered by barn doors that hang from a track outside the chamber; however, there are gaps between the door and the wall on either side. Ensure the door is at least a few inches wider than the opening to ensure full coverage and reduce gaps.
To minimize gaps, a 4-foot door, for instance, will cover a 3-foot hole with 6 inches on either side. Purchase a track twice as wide as your door: It needs at least 8 feet of track for a 4-foot wide door to move fully open. If your door is broader, you can cut the track to fit and connect the parts with connections from the hardware maker.
As a general rule, you can estimate the measurements of your box rail by multiplying the sliding door's width by two and then adding four to six inches. The extra space is there because the door(s) must be able to travel with a few extra inches at each end of the track.
Verify that the track has ample space on both sides of the door opening. Mark the wall where the track's ends would go once you've determined your initial minimum track length measurement to make sure it will fit.
The space between the wall studs should also be measured. The distance from the ceiling to the top of the door frame should also be measured. You can then determine whether the box rail track will fit in that location.
Getting A Matching Floor Plan To The Box Rail Hardware
Floor guides serve a vital purpose by maintaining alignment between the door(s) and the track system. While a floor guide provides smooth operation and keeps the door(s) in the proper position, whether open or closed, a box rail gives greater stability than many other sliding barn door hardware options.
You can choose to have one of the following floor plans:
Industrial heavy-duty plan: If your box rail hardware is designed for an extra-large door, then the best floor plan for you is the industrial heavy-duty. This floor plan doesn't have a limit on door thickness and is weatherproof.
C-guide: The C-guide does not need a slot in the door because it is attached to the floor. We provide basic C guides or an adjustable version for doors with a thickness of one inch or more. The C-guide might be the best option because of its sophisticated appearance and low-profile design.
If you have a different floor plan, you can inquire with us for a recommendation. Our personnel can advise on the best box rail hardware to suit your needs and floor plan.
Conclusion
Our box rail hardware has been carefully designed to improve your experience by paying close attention to detail when designing. For instance, our box rails are so silent that they won't disturb your family or guests. We have also ensured that the box rails operate smoothly through sharp corners. Give us a call today for the best barn box rail hardware!