Interior Office Glass Window Steel Frame with Sliding Leaf
| | |
| --- | --- |
| Model NO.: | TKC-GC04(TY2.112.195.44) |
| Ref. NO.: | 151000-0226 |
| Brief Description: | Interior steel frame glass window with sliding leaf |
| Position: | For interior use |
| Application: | Residential |
| Opening Style: | Sliding opening |
| Main Material: | Carbon steel, Tempered glass |
| Surface Finish: | Black powder coating |
| Window Size | 1090x1050x85mm |
| Glass Frame Thickness | 40mm |
| Glass Thickness: | 4mm |
| Glass Pattern: | Clear glass |
| Features: | Two fixed leaves on two sides and two sliding leaves in the middle |
More Introduction
It's an modern office interior window steel frame with two fixed leaves on two sides and two sliding leaves in middle.
This is an ideal product to be used as a partition, like between the kitchen and the canting. The sliding leaf makes the interaction between two divided areas become convenient. The clear glasses bring brightness as well as a sense of spatial extensity.
---
Product Package
| | |
| --- | --- |
| Packing Method | A full piece into a carton, with foam boards and cellular boards inside the carton, packed in a plastic bag and fasten with straps. It could pass the drop test. |
| Sales Unit Packing Type | Carton |
| Sales Unit Packing Size | 1180*1140*135mm |
| Loading QTY | 140PCS for 1x20GP and 300PCS for 1x40GP (no pallet) |
---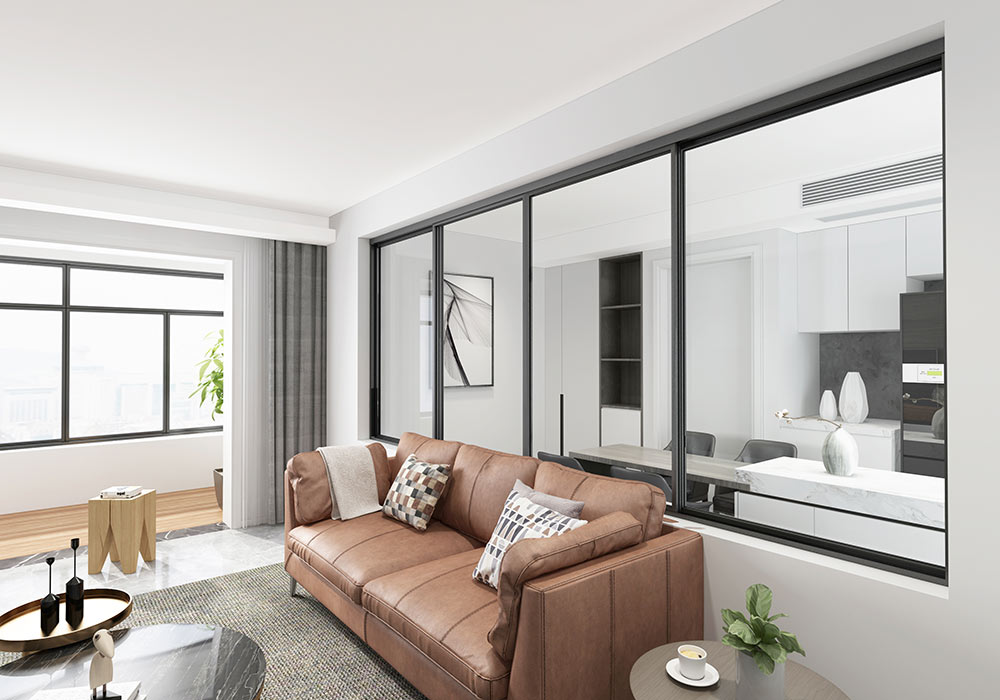 Steel windows will always be a favorite when it comes to making a choice because they are suitable for different types of buildings. The steel frames can also blend effortlessly with the exterior and modern office interior decor theme in homes.
You can find many types of steel frame windows on the market, but it is best to avoid buying these products from random brands. Instead, it would be best if you went to patronize trusted companies that have been selling the best steel frame windows for many years.
Where to Buy Custom Steel Windows
We won't mince words to say that our company is the best source of custom steel windows on the market. We sell excellently designed steel frame windows that stand out with beautiful architectural styles.
Also, the broad insulated glass gives users in the house unobstructed views of the outdoors while allowing sunlight to come into the modern office interior parts of the home.
Please send us a customer contact form via the website to order these custom steel windows and other models.
Are there Disadvantages of Installing Steel Windows?
The frames that come with steel windows are sturdy and can last for many years. However, the only factor that could pose a disadvantage is that the steel frame windows could be much heavier than other types of windows and doors. This means the installer may have challenges when setting the windows.
However, the weight of steel windows should not be a problem for an experienced installer who has been working with this product for many years. So, for the best results, you should buy your custom steel windows from a trusted source and hire an experienced professional to handle the installation.
Benefits of Installing Steel Windows in Homes
There is a rising demand for customized windows with steel frames. This is an ongoing trend because these products have some of the best features that the end users like. The steel windows are a perfect match for different types of homes, giving them the advantage of being versatile.
Also, these windows are affordable compared to other market options. Here are the top benefits of buying steel windows and doors:
Design Options
The architectural styles are outstanding and suitable for different types of homes, whether residential or commercial buildings. You can find different custom steel windows on the market. The customized features of these products can also have welded configurations that improve the corners and modern office interior space.
Durability
These steel windows are the best options for creating partitions in houses. The architects always recommend these products because they are weather resistant and project elegance without a high price. These windows have an excellent quality making them suitable for projects that will make the homeowners proud.
Overall, using these steel frame windows is excellent because their features exceed contemporary architecture. They come with large panes and feature different styles.
Steel Windows Product Category
These excellent steel frame windows withstand high temperatures and have narrow sightlines. The demand for steel windows exceeds aluminum products in this category. And the glass is always sturdy.
Interior Office Steel Frame Glass Windows with Sliding Leaf
This modern office interior window is best for residential homes and offices. The steel frame is excellently designed, and the corners are sturdy. This is an excellent sliding window that can create ambiance in any space. It has no wood parts, and the builders take great care to make the framing structure meet world-class standards.
This window type is much better than the traditional open windows with hinges, and it is easy to use because of the seamless operation. The window is affordable when you order in bulk, and the sliding parts expand to allow the warm or cool breeze to enter the building when necessary.
It is easy to incorporate these steel windows when completing projects because they are always available from our company.
Clear Insulated Glasses
The clear glasses are large panes that allow sunlight which brightens the room. The glass also enhances spatial extensity in the modern office interior parts of the building.
Glass Thickness
The glass in these steel windows has a thickness of 4 mm. This is thick enough to withstand moderate pressure instead of cracking at the slightest force. The thickness is also excellent because it enhances the narrow sightlines.
Glass Frame
The steel windows also come with a glass frame that is 40 mm thick. The thickness spec is perfect as it compliments the glass thickness. The combo helps enhance the structural integrity of the steel windows.
The Movable Leaves
The steel windows feature two types of leaves. There are fixed leaves and movable leaves.
The sliding leaves are set in the middle. You can slide them in either direction to allow more sunlight to come in or for better visibility.
Surface Finishing
The steel frames on this product have an excellent surface finishing. It is the black powder coated that has such a beautiful look. This surface finishing is an excellent option for steel custom window models. It also helps to improve durability.
Main Material
The primary materials used to create these steel windows are carbon steel and tempered glass. This is a much better combo compared to using aluminum or wood.
Overall, these are the perfect sliding leaf steel windows for offices and residential homes. They come with excellent custom designs and can enhance the modern office interior room. The thermal resistant windows are high quality and protect the inhabitants from extreme cold.
Buy Sliding Steel Windows in Bulk
We have made it easy for you to invest in these outstandingly durable and beautiful steel windows. Please send us a customer contact form to order these products in bulk.
"*" indicates required fields