In recent years, barn doors have evolved a lot of novel styles with the popular trend of interior decoration. Its application is more and more inclined to the interior. But the development of the barn door for exterior use, which is the original application, remains slow. Our company is in the development of interior barn doors at the same time, dedicates to the development of exterior barn doors as well. Here is a new product YM-XC46 to be introduced. This hardware is suitable for both exterior and interior barn doors. Its significant feature is the box rail, which is different from the American interior black rail.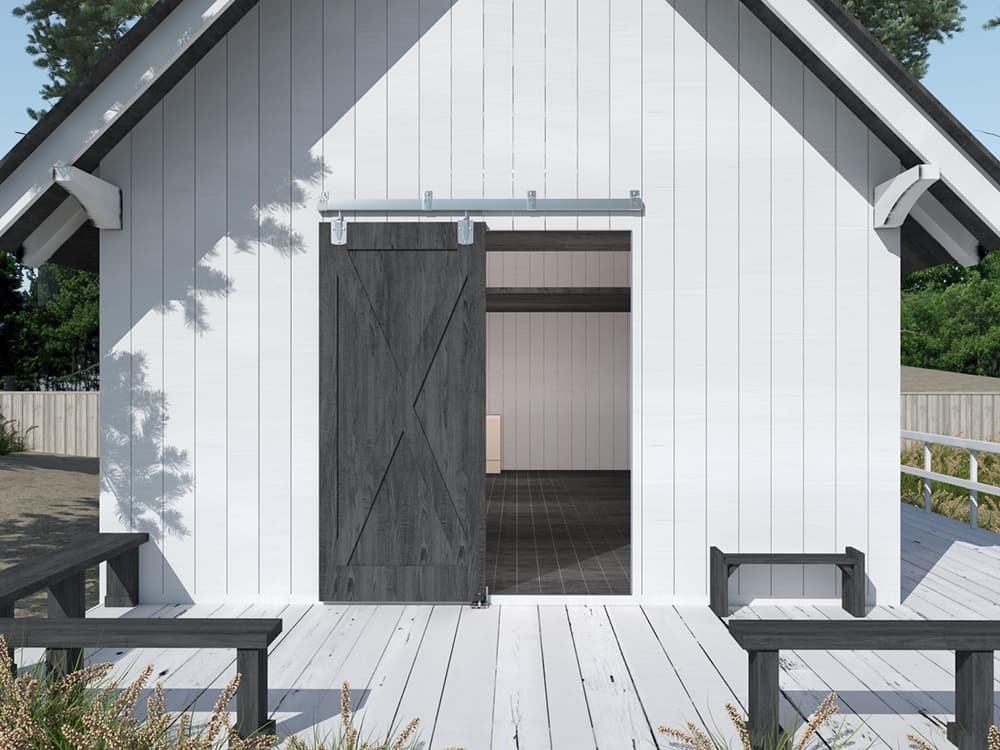 Because it is used in the outdoor, so the hardware requirements are higher.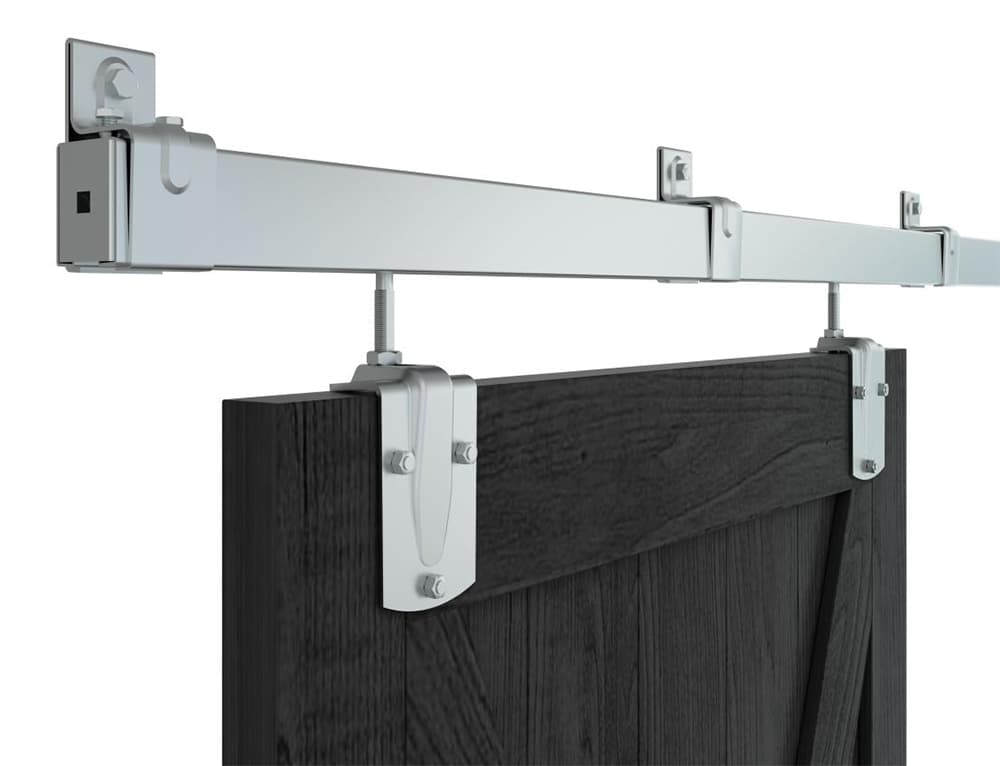 Performance
As an exterior barn door, its bearing capacity must be large. The double-axis hangers can hold a max door weight of 204 kg/450 lbs per panel. The ability of exterior barn door hardware to resist rust and corrosion is also crucial.
This kit has Roll-formed galvanized steel track with track brackets to ensure smooth, flexible operation. Track end caps eliminate potential damage from hash weather.
Precision-formed steel hangers with double axis offer minimum friction and smooth operation, a zinc-plated finish for durability, and high corrosion resistance.
Vertical and lateral adjustments can be made through the hanger and door strap to ensure precise door alignment.
Galvanized steel floor guide adds strength, with an adjustable roller securing the door in place.
50000 cycles test passed.
312H Salt spray test passed.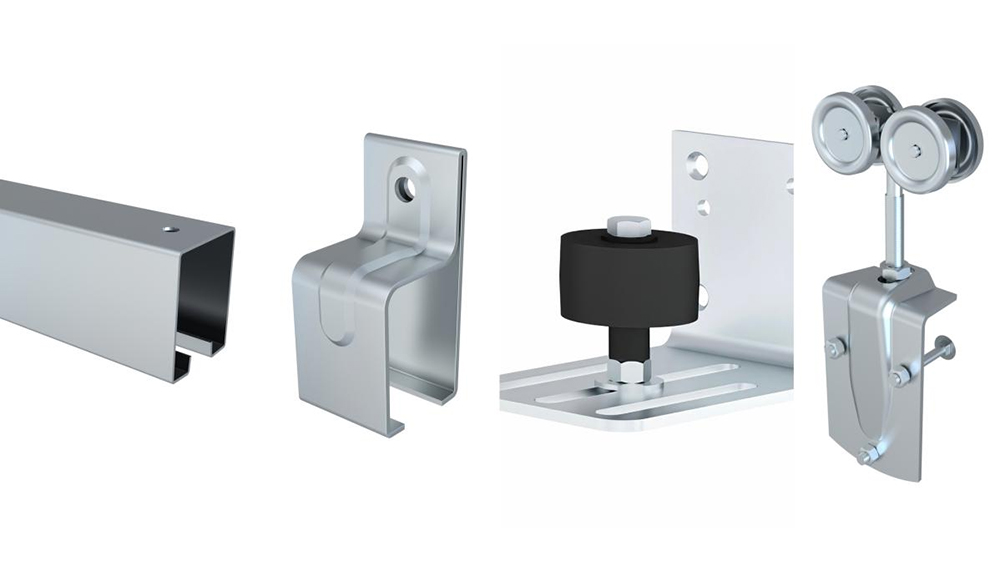 Specification
Suitable for door panel thickness 1-3/8″ [35mm] to 1-3/4″ [45mm]
Track Length: 6ft/72″ [1830mm]
*Custom track length is available
Components
The complete set includes 1 Heavy-duty galvanized steel track, 2 track end caps, 4 track brackets, 2 hangers with door straps, 1 galvanized steel floor guide, & instructions.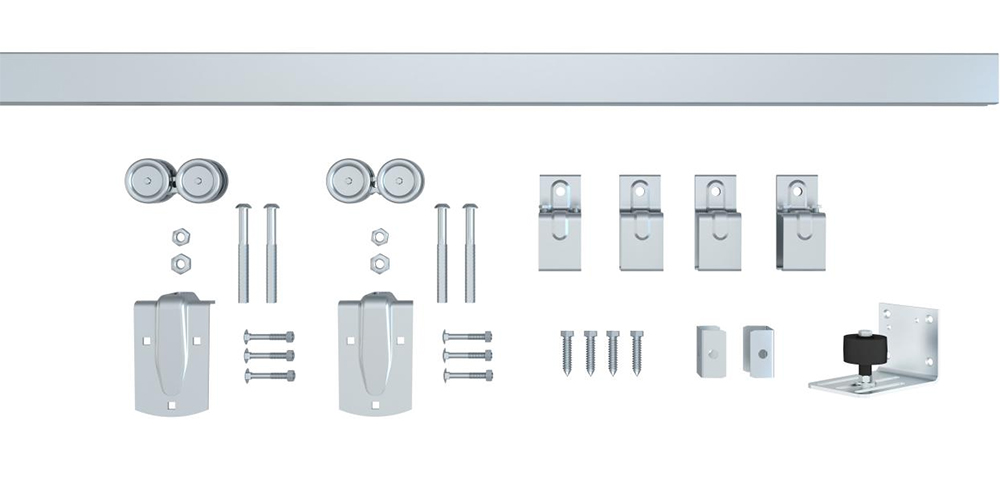 Installation
First, check whether the wall is solid. Solid wood barn doors are heavy, so the beam walls must be load-bearing solid walls. The walls must be checked before installation. Hollow brick or foam brick walls cannot be used for barn doors.
1. Slide Brackets #B and #C onto Box Rail and loosely position into place so that weight is evenly distributed.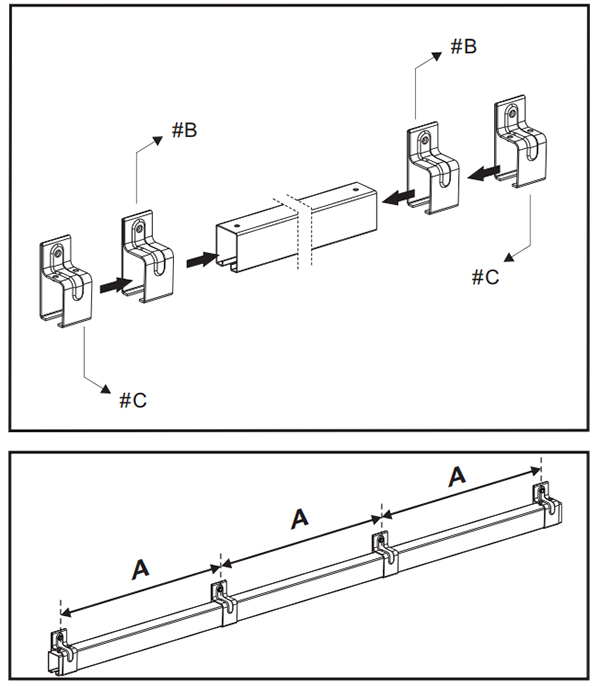 2. Mark screw hole locations. Position brackets into marked place and fasten into studs with #3/8 in diameter lag screws.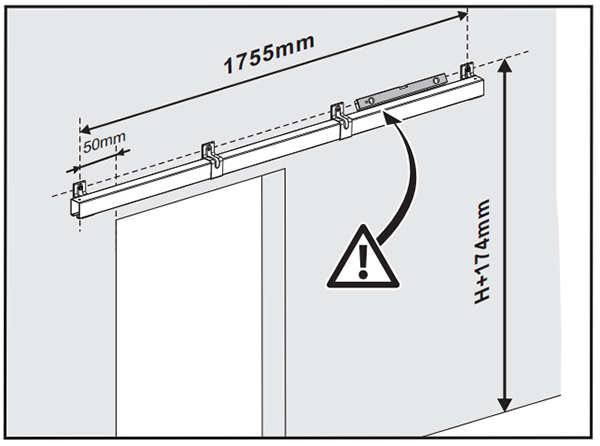 3. Slide connector bolt through center hole of hanger, attach #3/4 in hex nut and tighten. Insert door strap and secure into place with #7/8 in hex nut.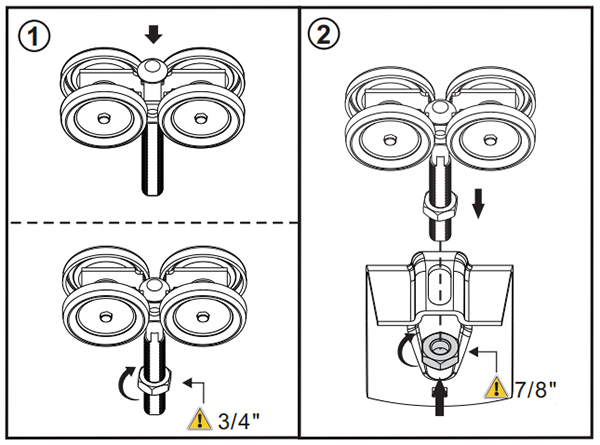 4. Place assembled hangers on the door and position to distribute door weight evenly, a minimum of 3 in (76mm) from the edge of the door. Drill a 19/32 in (15mm) hole at the top of the barn door for a 1/2 x 4 1/2 in connector bolt, insert excess threading into the drilled hole, and have it flush against the top of the door.
Use strap as template, mark and drill holes for #5/16 screw bolts. Use 5/16 x 2 1/4 in screw bolts and 5/16 in hex nuts to secure barn door-to-door straps.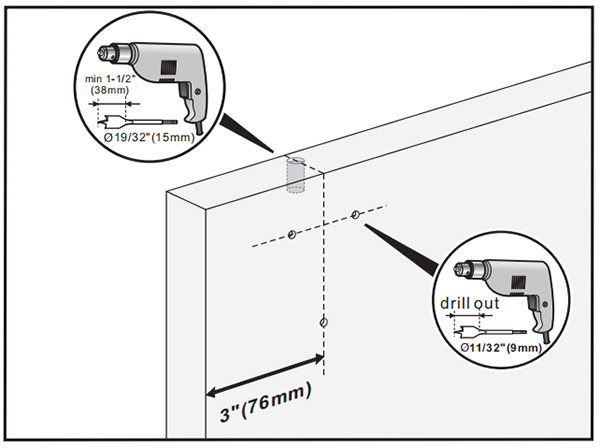 5. Slide hangers into the box rail. Vertical adjustments are made by turning the hex nut on the top of the door strap with a wrench. Lateral adjustments are made with a slot in the door strap.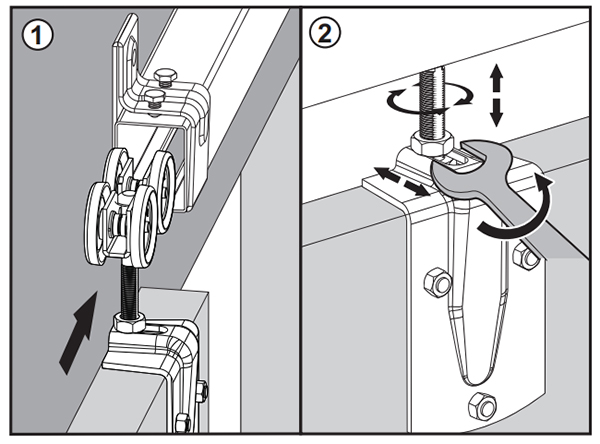 6. After the door is hung, insert both end caps into the end of the box rail for single rail application. End caps can also be sued as center stops.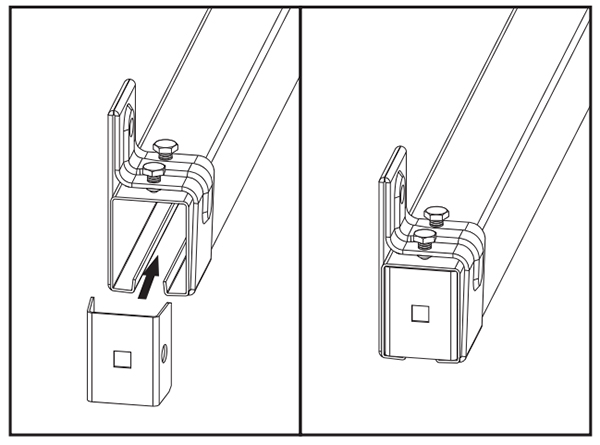 7. Install the floor guide in the appropriate position.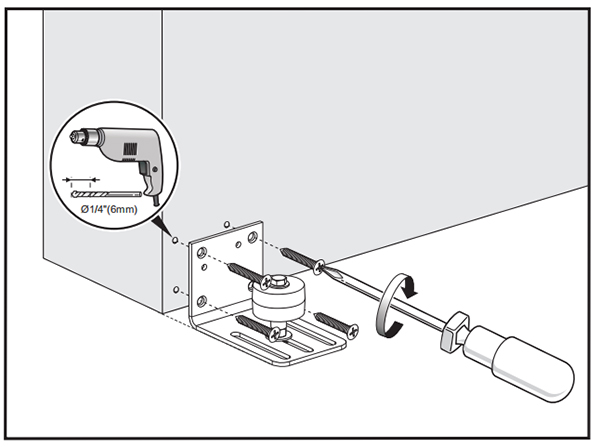 Usage scenario
Mainly used on farmhouses, warehouses, apartments, or as partitions in homes. Add modern or industrial styles to your home. If your door requires a unique set of hardware to properly work with, many options are available in terms of style and function. We'll get you familiar with the Barn Door Hardware that you need.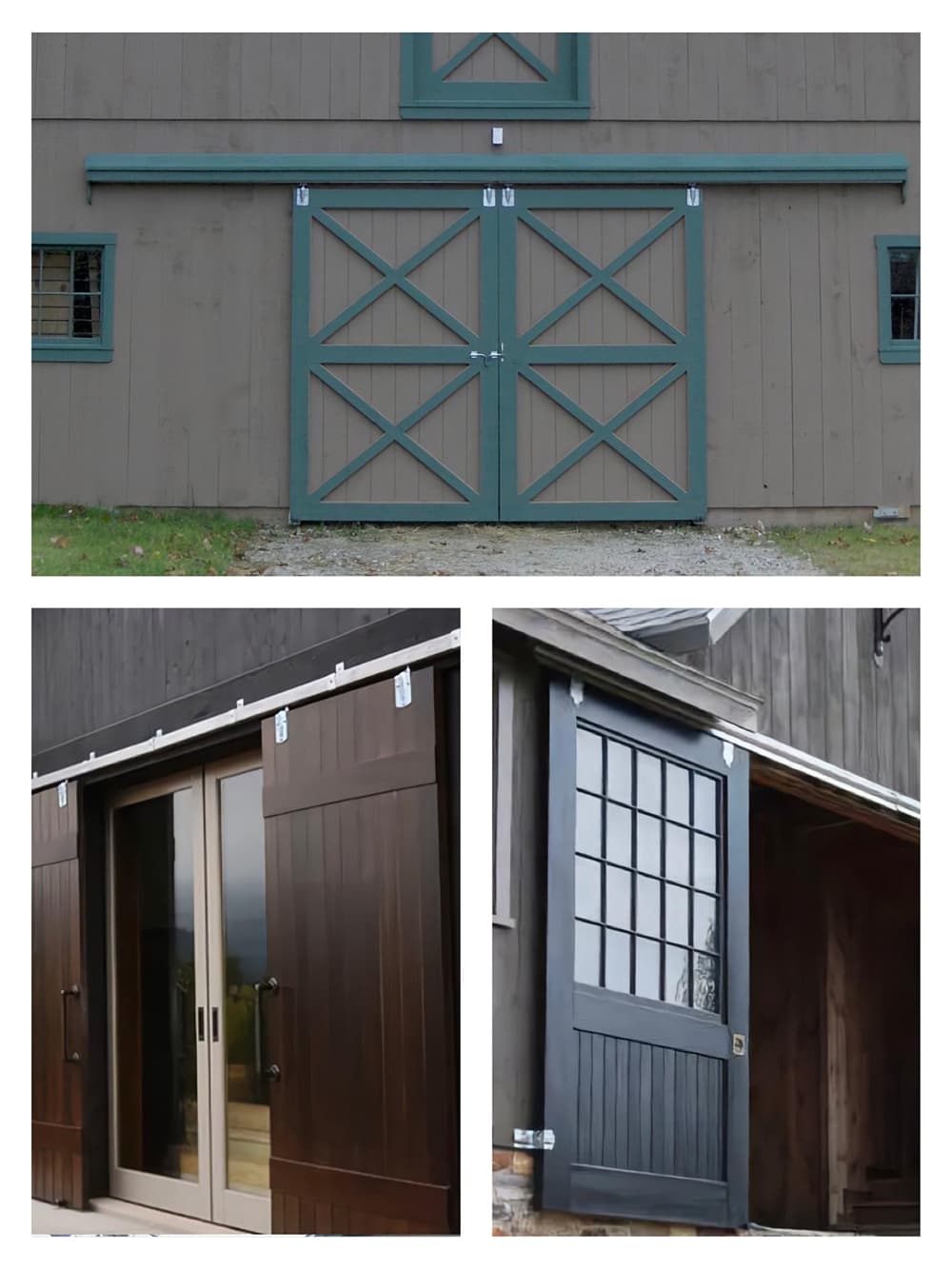 Exterior Barn Door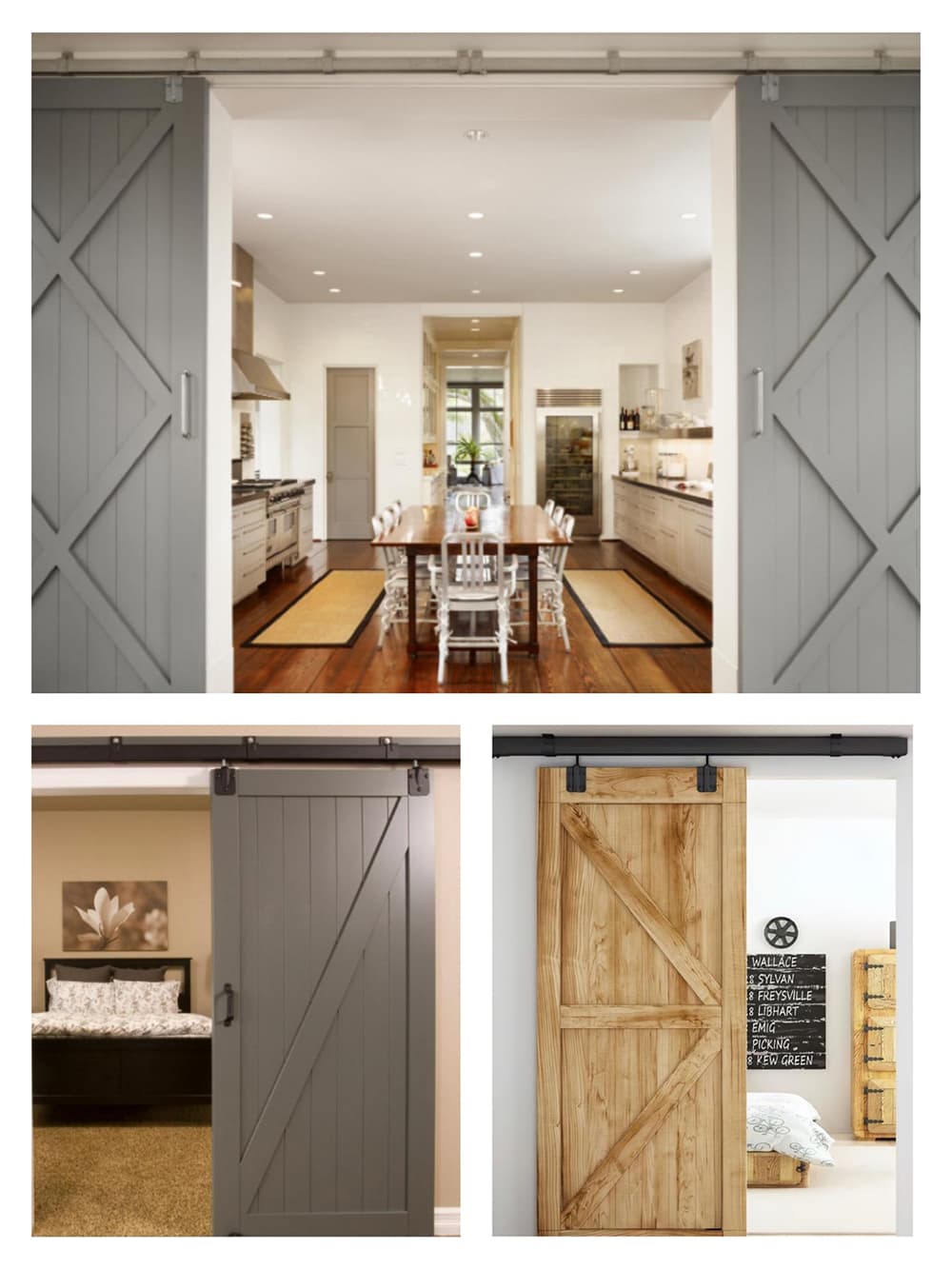 Interior Barn Door
Daily maintenance
1. The galvanized box rail and connector surface is covered with a layer of zinc coating, forming a protective film with air at room temperature. It will not rust, and it does not need brushed anti-rust paint. But if there is a bump or impact that makes the oxide film destroyed, you need to brush anti-rust paint.
2. Keep the box rail and its surrounding environment clean to ensure the smooth sliding of the hanging wheel. Cleaning and maintenance work once a month. Wipe off the dust and debris on the box rail with the cloth. Smear some lubricating oil regularly. Sliding back and forth to ensure uniform distribution of lubricating oil.
3. Regularly check the fastness of the track end caps and screws on track brackets, the fastness of the screws is important for the use of heavy-duty barn doors.