Soft Close Barn Door Hardware Set
| | |
| --- | --- |
| Model NO.: | 159900-1554 |
| Ref.NO.: | 159900-1554 |
| Brief Description: | Soft closing set for barn door hardware |
| Position: | For interior door use |
| Application: | Both Residential and commercial use |
| Main Material: | Plastic,Carbon steel,etc. |
| Surface Finish: | Black powder coating |
| Max Loading: | 80kg(176LBS) |
| Working Cycles: | 100000cycles |
| For Door Type: | Wooden doors |
| For Door thickness: | 25mm(1inch) to 45mm(1-3/4inch) |
| Features: | No Pre-drilled holes on the rails needed |
More Introduction
This kit is really the soul mate of the barn door hardwares.With the soft closing set, it will make the barn door closing quite softly,which will also reduce the noise effectively. In addition, it will prevent people, especially children's doors from getting damaged when slam the door.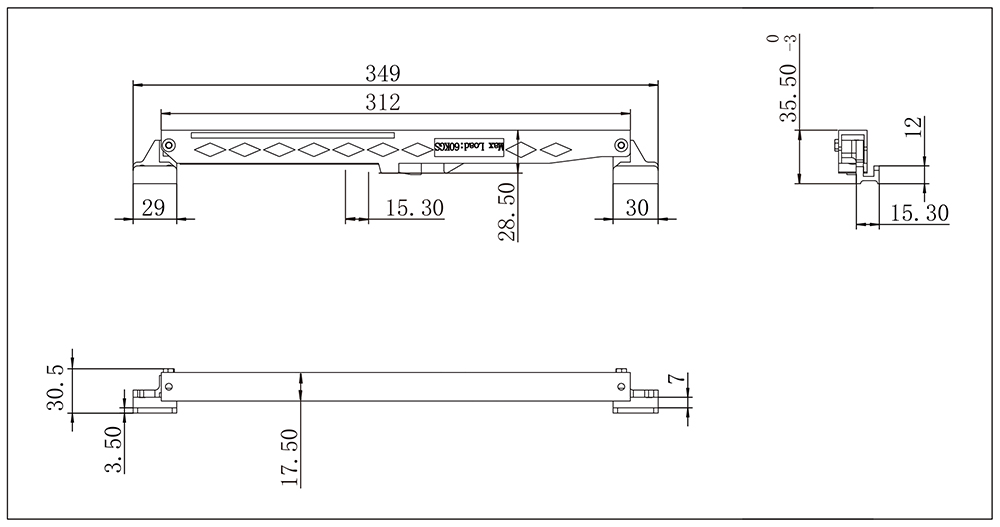 Dimension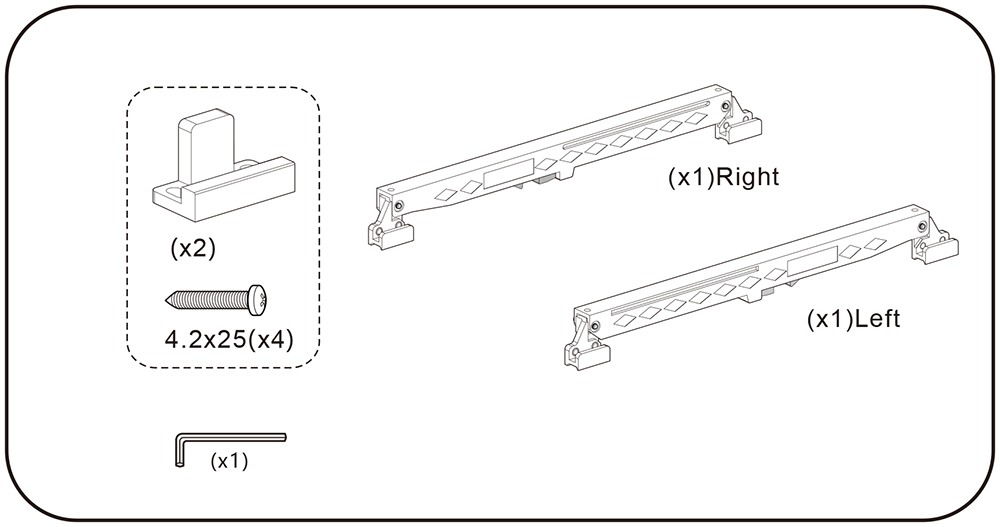 Part assembly
---
Product Package
| | |
| --- | --- |
| Packing Method | A full set into boxes and 10 boxes into a carton |
| Sales Unit Packing Type | Box |
| Sales Unit Packing Size | 85*40*360mm |
| QTY/Pallet | 10sets/CTN |
| Pallet size | N/A |
| Loading QTY | 18000sets for 1x20GP |
---
Installing a soft close barn door is an ideal way to add operating convenience to your home. It allows smooth and quick opening and closing of all types of barn doors, even the large and heavy ones, without the need to add more hardware or other modifications. Also, it adds style and modern charm to your home since the hardware is beautifully designed.
Our soft close barn door hardware solution is specially designed to work perfectly with all flat track systems. Therefore, our product will deliver exceptional results regardless of how long your track is.
The soft close barn door hardware has a soft close mechanism for each side of your track system. Therefore, it ensures a soft close whenever your barn door is opened or closed.
What is Soft Close for Barn Door?
A soft close for barn doors is a closure system commonly found on interior sliding barn doors that enable them to close smoothly and quietly. It uses a spring-loaded design that slows your door down before it makes contact with the track stop and thus prevents the sliding door from making loud noise or slamming when it is opened. Thankfully, with our soft close barn door hardware products, we can ensure our clients re-establish peace and quiet in their residences.
How Does Soft Close Work on Barn Doors?
Soft close barn hardware utilizes a track system that keeps your barn door in place and enables it to shut with less force. As you open the door, the hydraulic soft close mechanism is activated, and it applies a soft close action when the door is about two inches from closing. Therefore, it guides it quietly and smoothly into its final position.
Notably, by having a soft close hardware kit in place, the soft close mechanism absorbs any excess energy produced during slamming, leaving only adequate force to guide the sliding door slowly to its fully closed position.
What is the Difference Between Soft Close and Self Close?
While soft close and self close may sound similar, they differ slightly. Firstly, self close hardware, mainly the hinges, have a spring-loaded mechanism. As such, when the door is closed, the spring takes over, pulling it to close fully, and it happens when your door is about two inches away from closing.
Typically, doors with a self close hinge shut with only a slight tap since they are specially designed to pull doors closed even when a small amount of energy is applied. Therefore, they are an excellent solution for ensuring your cabinet doors close with little effort. Actually, they can easily shut even when your hands are full.
In contrast, soft close barn door hardware utilizes a hydraulic setup that pulls the cabinet door closed softly and in complete silence. Most door hinges that are soft closing also self close, and with these hinges, there is no audible tap or thump. However, not all self closing door hinges soft close, and you'll probably hear a tap or thump in this case.
Therefore, self close solutions may offer less advanced noise-dampening properties than soft close hardware do. So, it might not be suitable, especially if people tend to slam doors at your home frequently.
Things to know before installing soft close barn door hardware
Below are some aspects to know before soft close barn door installation:
Use quality materials: The soft close hardware you pick for your barn door is as vital as the door itself. Therefore, choose high-quality materials that fit your application. Also, ensure you select a hardware material that fits your specific design aesthetic, whether modern or classic styling.
Consider your door weight: Luckily, our soft close barn door hardware solutions are designed for both lightweight and heavy doors.
Have the right space: You should have adequate space for your door and the hardware components to accommodate movement during installation.
How to Install Soft Close Barn Door Hardware
Below are the basic steps to take during soft close barn door hardware installation:
1. Take your measurements
Measure the width of your barn door and the length from the top to the bottom of the door. These dimensions will help you select the correct size of soft close hardware for your barn door.
2. Gather other necessary supplies
Before you begin the installation process, it's good to have all your working tools close at hand. This way, you can avoid inconveniences in the middle of work, for example, the need to pause work to purchase a missing tool from the store. Some of the supplies you'll require to install your soft close hardware include:
Soft close hardware: It's the hardware that uses a specially designed mechanical mechanism to provide sliding doors with the soft close experience. Notably, ensure you purchase the correct size soft close hardware for your door. Also, it should correspond with the type of barn door you have. And if you have any doubts, you should consult a professional contractor about the appropriate soft close hardware to shop for your barn door.
Four screws: These are mechanical fasteners that hold objects together.
A small ladder or stool: This enables you to safely reach the top of the door, making your tasks easier. Ideally, it provides proper support and a high level of fall protection so you can complete your installation conveniently and securely. If you're using a ladder, it should be secured or footed to ensure it's stable for use.
A Phillips head screwdriver: You'll use a screwdriver to tighten or remove screws during installation.
Drill: A drill is used to make round holes or to drive fasteners.
Once you have all the materials in place, you are ready to start the installation process.
3. Prepare the Door
Your sliding barn door must have an anti-jump bracket situated at the edge. You should remove the screws to get rid of the bracket and prepare your door for soft close hardware installation. If you have a barn door floor guide in place, you'd also want to take it off.
4. Remove Track Lags and Spacers
Move your sliding door farther from its railing system's last two spacers to easily remove the track lags and spacers. The process should be fast and uncomplicated with the use of an electric drill and proper socket attachment.
5. Add Soft Close Bracket Behind Barn Door Track
At this phase, you should be able to add your soft close bracket at the back of the barn door track. You'll need to align the hole from the soft close hardware with the hole at the upper end of the door track. Also, remember that there is a small bracket at the lower side of the soft close barn door hardware plate. Therefore, to ensure it's aligned correctly, you should position it downwards towards the bottom of the track.
6. Replace Lags and Spacers
Take the spacers you removed before and reinstall them together with the lags and stops. Again, you should use your drill to make the process easier and quicker.
7. Install Stop Tab
The last step is to set up a small stop tab hardware piece. To do that, you should move your barn door to its final closing point and position the hanger against the stop. Afterward, place the stop tab at the top or behind the sliding door. However, note that if you want to put the stop tab behind your door, you may have to completely remove the sliding door to install it more efficiently.
After placing the stop tab in your most preferred position, you'll notice a tab hanging down beneath the soft close barn door mechanism. The tab should be oriented upwards to grab the stop tab. Ensure they are firmly coordinated, then use your drill or Philips screwdriver to install the tab efficiently. The tools can help you attach the stop tab with four screws at the top of the barn door.
This marks the end of your barn door soft close installation. Therefore, you're set to enjoy a totally quiet and safer closing barn door.
8. Do a Test Close
After successfully completing the installation process, you should do your due diligence to ensure your barn door works perfectly, just the way you want. Therefore, you should conduct a few tests close to check if everything is set up accordingly and that the soft closing system meets your requirements. If everything is aligned correctly, you can proceed and reinstall the entire jump bracket removed before at the end of your barn door, so it stays firmly in place.
Benefits of Soft Close Barn Door Hardware
Having an interior barn door is an ideal way to improve the aesthetics and add personality to your living space. As such, it's vital to equip it with the proper functionality to ensure it operates optimally and retains its visual appeal. The following are some benefits of soft close barn door hardware:
1. It ensures safer operation
It prevents accidents caused by the slamming of sliding doors, such as pinched fingers and other possible accidents. This safety measure is vital, especially if you have children at home who may play around by slamming doors. By installing soft close barn hardware, you can ensure a smooth stop and thus protect their fingers from potential pinches that may cause severe bruises or broken bones.
2. It's easy to install
Installing soft close hardware is a relatively simple and quick process that you can complete on your own as it doesn't require special skills or tools. Therefore, after collecting all your materials, you can go ahead and follow the installation instructions to set up your soft close system successfully.
However, keep in mind that while installing soft close barn hardware is an easy DIY project, it may involve some heavy lifting, especially if you have to remove the door from the track completely. Therefore, consider requesting help from one of your family members or friends. Also, if you're not comfortable doing it yourself or don't have the required materials to complete the installation, it's best to employ a professional contractor or handyman to do it for you. An expert can install a soft close system fairly quickly and get it right the first time.
3. It provides enhanced aesthetics
Soft close hardware is crafted with a sleek and minimalistic design, adding a modern touch and stylish appearance to your home. You can match it with the rest of your interior decor to transform the look of any room and make it aesthetically pleasing.
4. It reduces possible wear and tear on your barn door and its components
Repeated slamming against end stops or door frames may cause tremendous damage reducing your door's useful life. Ideally, your attractive, top-quality sliding barn door is one of your most significant investments. Therefore, you'd want to protect this investment and make it more durable by adding soft close hardware.
Luckily, soft close systems require minimal maintenance as they are designed to resist impact. Also, it doesn't require additional lubrication.  Even so, like any other hardware component, a sliding barn door may require scheduled maintenance over its duration of use to ensure it's fully functional. However, reducing regular wear and tear due to slams can lower the prevalence and complexity of the maintenance your door needs, as it'll remain in perfect condition for many more years.
5. It reduces noise
Soft close hardware eliminates the noise that doors create when they slam shut with much force. It's particularly important for specific spaces in your home like the bedroom, study, or home office where you require peace and quiet to sleep or concentrate on work.
6. It makes barn doors user-friendly
Soft close barn door hardware installation enables you to open and close sliding doors using less force. So this makes them user-friendly for your family members and friends of different ages and ability levels. Therefore, you'd want to install soft close barn door hardware to provide additional operating convenience in your home.
Conclusion
Soft close barn hardware provides added convenience and improves the aesthetics of your living space. Therefore, you'd want to install a soft close system to ensure the effective use of your well-designed barn door. Additionally, it can be the best solution for noise control and a safety precaution, especially if you have little ones who may play with doors. Fortunately, as one of the leading developers of sliding doors and soft close systems, our solutions provide various options for soft close barn door hardware.