Imagine how you would feel if you suddenly discovered a secret door leading to a mysterious part of your home you had never seen before.
Freddy Goodall doesn't have to imagine because he found a secret door in his family's 500-year-old home. He speculates that in the past, the door provided a passageway for servants and other staff who were generally not permitted to use "official" corridors and staircases.
The New York Times reports about a New York couple who bought a home in the city. When they started renovating their home, they discovered a hidden door to a tiny space where a child could safely hide.
Folks, from Otto Frank to Harriet Tubman, used hidden doors to safeguard people from persecution.
Intrigued by these stories, we spent time researching some of the most fascinating secret doors around the world. We start by explaining what a secret (hidden) door is and how it compares to some styles of modern, off-the-shelf doors.
What Are Secret Doors
There will be no prizes for guessing what a secret door is – the name says it all.
In simple terms, secret doors are hidden entrances into different types of areas. Writing for the home improvement site Spruce.com, Kristin Hohenadel says, "The notion of a hidden door taps into the childhood desire for a secret place and the lifelong longing for everyone to have a private room to call their own."
The Benefits of a Secret and Pocket Doors
Having a secret door will forever remain an outlandish idea for many. However, this doesn't mean that you should give up on the idea of enjoying the benefits of a hidden door in your house; just get a pocket door.
The traditional swing door requires floor space to be left unoccupied so it can swing smoothly. In small rooms, this is space that you can't afford. Usually, the space taken by a hidden door is compensated by the fact that the door often takes on another function, such as a place for storing books or ornaments.
While pocket doors can't work as bookshelves, they save space since they move into a cavity in the wall, taking advantage of space that would otherwise have remained unused.
Another advantage of secret doors that can be extended to pocket doors is the aesthetics. Because they need to be hidden, the hardware in secret doors has to be concealed into the walls. You can do the same for pocket doors where you can hide the hardware inside the wall or parts of the door. This is especially great for spaces like a patio where you may want to create a smooth flow from the inside to the outside.
Enchanting Secret Doors Around the World
If you read some of the stories about secret doors we feature below, you may think they came straight from a movie script. However, all the secret doors and passageways we present exist today.
1. The Frank Family's Revolving Bookcase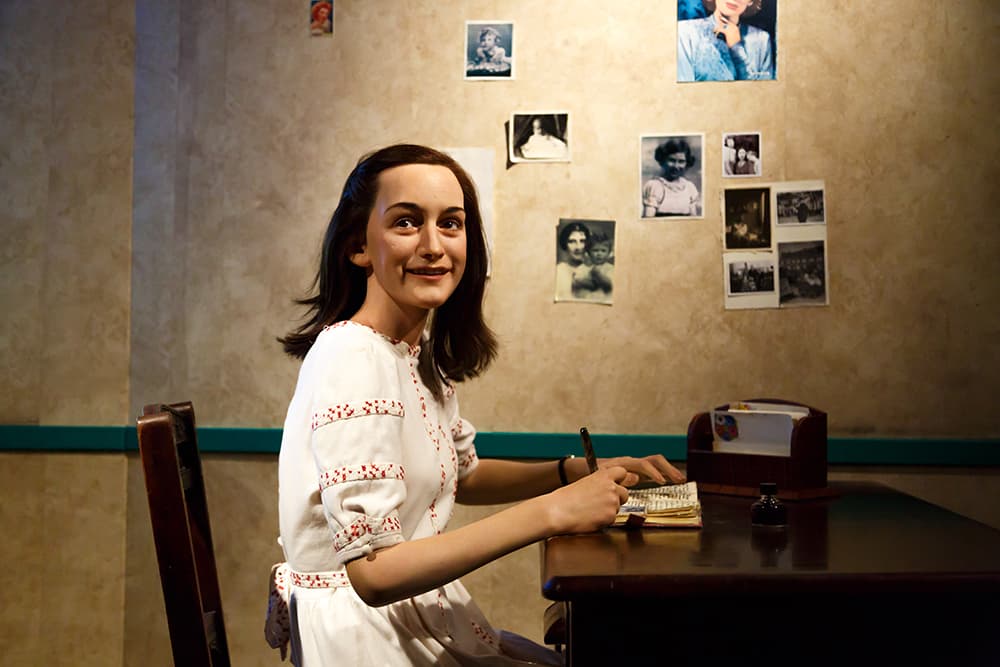 It's hard to tell the story of the six million Jews who died in the Holocaust without telling the story of Anne Frank, the German Jewish girl famous for diarizing her experiences.
According to AnneFrank.org, when Ann's family moved from Germany to Amsterdam in the Netherlands, it was later forced into hiding. The need to hide was prompted by th threat of Anne's sister being called to a labor camp in Germany. Their hiding place was the annex of business premises rented by her father.
The Frank family's hiding quarters could only be accessed through a hidden door: disguised as a revolving bookshelf. These quarters were eventually discovered, and the only person who survived the Holocaust was Anne's father, Otto Frank.
2. The 22 Secret Doors of the Taj Mahal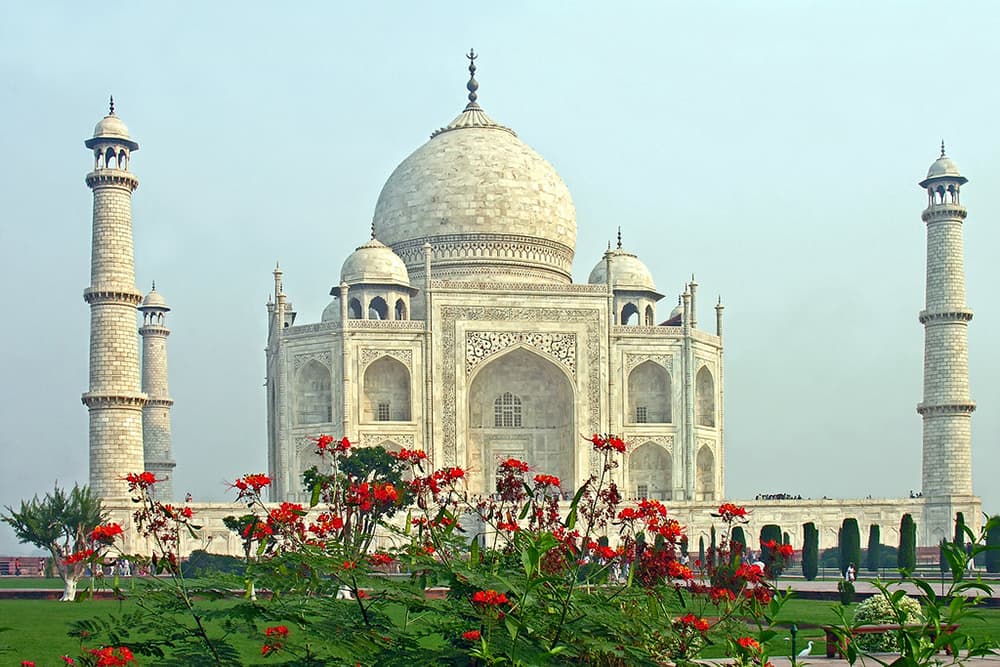 India's Taj Mahal is a UNESCO World Heritage site, meaning that it's designated by the United Nations as a place of scientific, historical, cultural, or other significance.
Part of what makes the Taj Mahal attract almost 8 million tourists a year is that it has over a thousand doors, of which 22 are secret doors that have never been opened.
There is speculation that there may be some secrets behind the Taj Mahal's secret doors. The British Broadcasting Corporation reports that when someone petitioned an Indian court to declare that these secret rooms should be opened to the public, the judges dismissed the case.
3. The Blue Room Behind a Bookcase
The next time you see a bookcase anywhere, find out if it's not a secret door. When the Frank family in Amsterdam decided that a bookcase could be a great idea to conceal a secret world behind it, the Blue Room of Los Angeles took notes.
Writing for Forbes.com, Eustacia Huen advises, "When you hit the fourth floor of Los Angeles Athletic Club, you must check out the sliding bookcase." She adds, "It's a hidden entrance to Blue Room – a waterhole first opened in 1912 and catered to such Hollywood royalties as Mary Pickford, Rudolph Valentino, and Charlie Chaplin."
4. A Hotel's Hidden Door for the President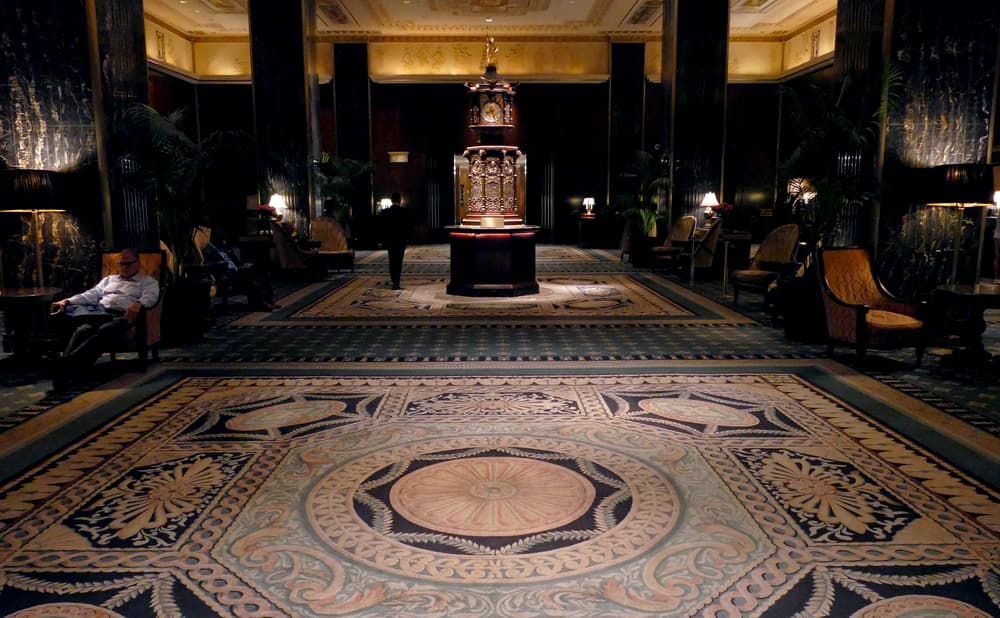 The Waldorf Astoria Hotel in New York calls itself the "Home of world leaders, royalty, movie stars, and music legends."
We speculate that those who have gained fame and fortune appreciate this hotel because it has a secret door to an underground train station where they can come and go without being noticed.
Well, maybe our speculation is stretching things a bit regarding why every who's-who of every generation has been to the hotel, but there is indeed a train station under it.
Apparently, the secret door to the platform was created to help President Franklin D. Roosevelt travel from the hotel's presidential suite to Hyde Park without being noticed.
5. Buckingham Palace's Door to a Secret Passage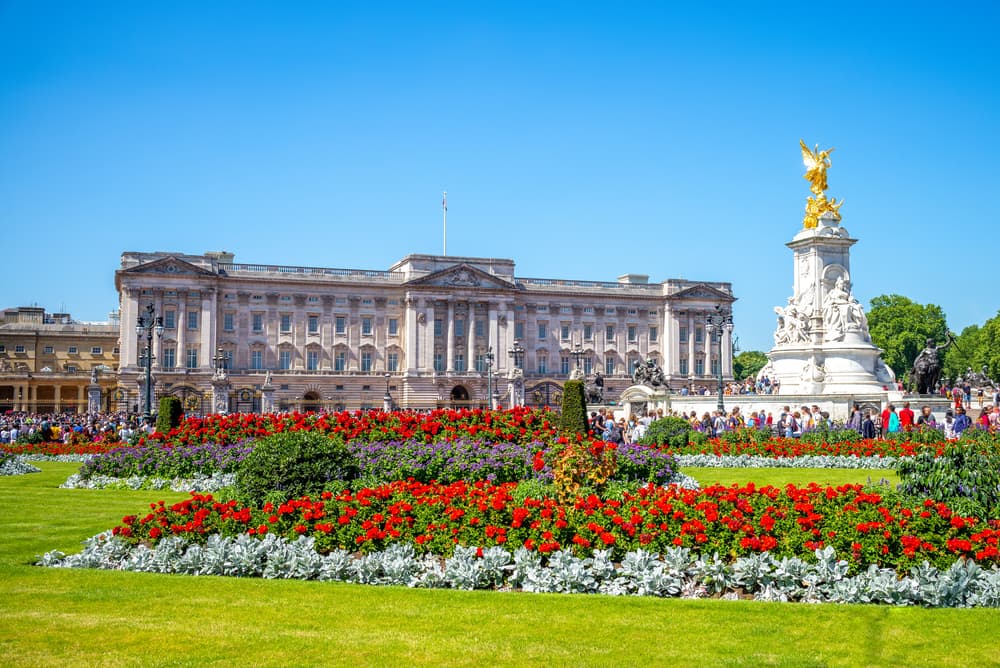 We were not surprised when we heard that England's Buckingham Palace has secret doors.
Writing for Reader's Digest, Lauren Cahn says, "Buckingham Palace has a secret door in the White Drawing Room, which connects to The Queen's private residence." She adds, "Although the White Drawing Room is open to visitors, the door is not."
6. The Carter Hotel's Secret Door to a Bus Station
It looks like New York has a penchant for doors that link to transit stations. Remember we referred to the hidden door to the train station under Waldorf Astoria Hotel. Cahn presents another secret entrance leading to a former partly underground bus station at the Carter Hotel in New York's Time Square.
7. Predjama Castle's Secret Supply Tunnel
Katherine McLaughlin of Yahoo News tells the story of a 15th-century rebel Slovenia knight who lived behind the hidden doors of the world's largest cave castle.
McLaughlin says that of all the fascinating things about the castle, "… the real showstopper isn't the king's chambers or the armory, but the connected cave and series of underground tunnels buried deep into the cliffside."
She adds that legend has it that it's in these remote parts of the castle that Erazem Lueger, the son of an imperial governor, erected concealed doors behind which he would hide after carrying out a ruthless murder. The knight used these entrances to sustain supplies to the castle.
McLaughlin reports, "… the legend states that he was sold out by a servant who lit a torch while Erazem was using the nearby outhouse, leading the Romans to shoot a cannon that killed the knight."
8. The Hidden Door Protecting a Catholic Family
The victims of the Holocaust, like the Frank family, were not the first to find themselves having to hide behind secret doors from persecution and possible death; many Catholics found themselves in the same predicament hundreds of years earlier.
The home and interior website LoveProperty.com reports about the priest hole at Coughton Court in England. This entrance led to a secret place where John de Throckmorton and his family would hide. Throckmorton was King Henry VI's Under-Treasurer of England. He was also Catholic.
9. Secret By Day Open By Night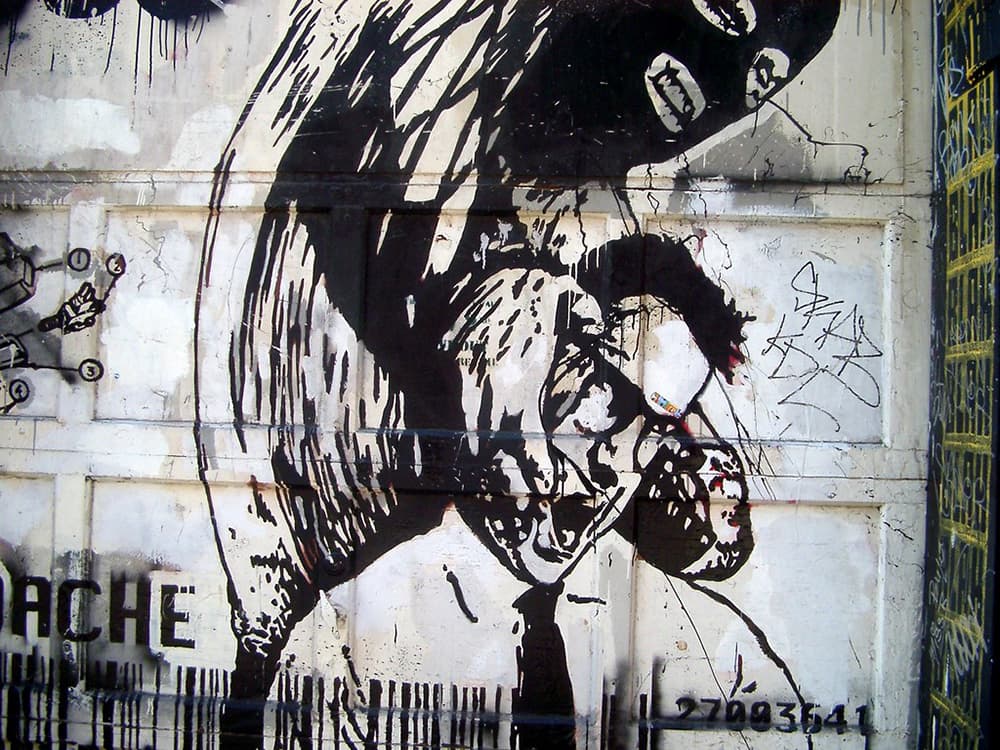 The secret doors of Berlin are not hard to see. However, anyone who looks at the doors during the day will believe they are no longer in use and just ignore them. After all, they look dirty and are covered in graffiti.
Deutsche Welle (DW), Germany's international broadcaster reports, "by night, they transform into the entrances to some of Berlin's most famous clubs." The broadcaster adds that as the secret doors take a new life as the sun sets, "People from around the globe flock to Berlin to line up in front of these doors."
10. Disney's Expensive Secret Entrance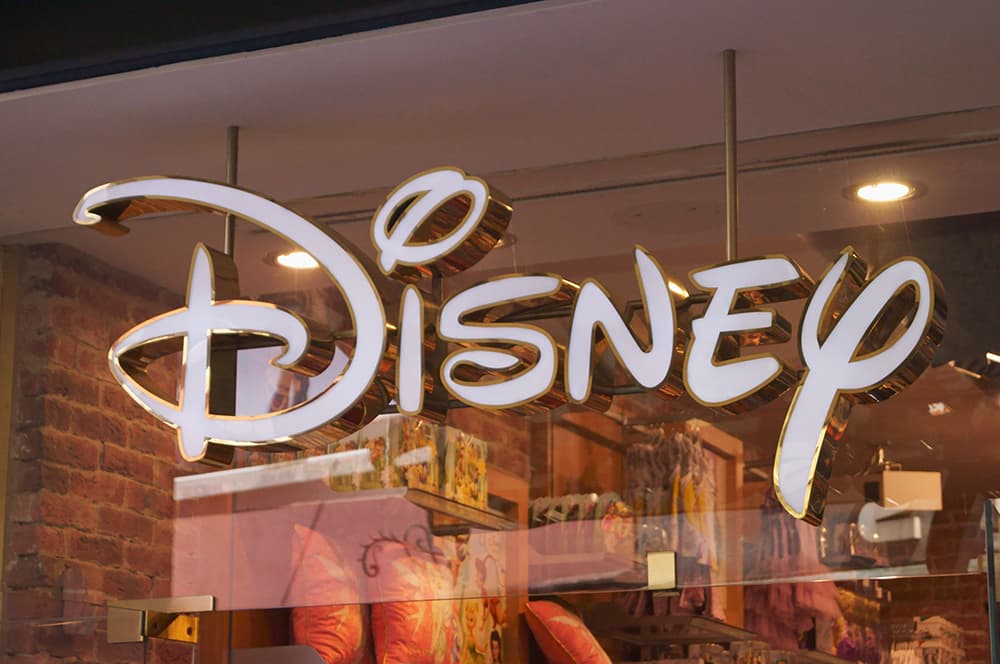 Ask anyone that's ever been to Disney, and they'll tell you that long lines are one of the biggest challenges faced by holidaymakers visiting the destination. But why do we never see the rich and famous in those long lines? It's because they use a secret door.
Before you rush to Disney's hidden entrance, you may want to check your bank balance; it will cost you $33,000.
Lydia Veljanovski writes for Newsweek. She advises those looking for the secret entrance, "… it is behind a rather unassuming door with a circular sign which reads 33."
11. The Butcher Door That Requires a Password  
Forbes.com's Huen features another bar hidden behind secret doors: The Butcher in Amsterdam. She reports, "The Butcher may look like another sleek burger joint, but tucked behind its secret kitchen stands one of the coolest speakeasy-style bars in Amsterdam."
According to Huen, The Butcher has all the trappings of a secret place: "dark and intimate …, inventive drinks, and exceptionally attentive bartenders." Those who hope to be permitted into the venue must get a password first.
12. Banff Springs Hotel's Missing Door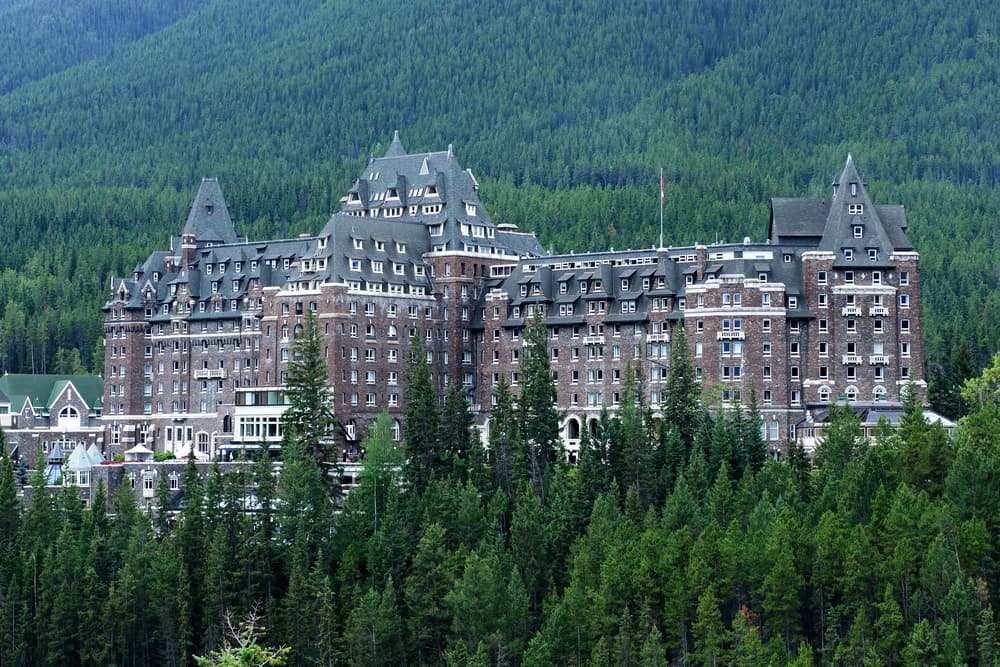 If you were to try and book a room at the Fairmont Banff Springs hotel in Canada today, you could be assured that you will not be sleeping in Room 873, although the hotel will gladly let you sleep in room 872 or 874 if they were unoccupied.
But why is this the case? Because if the hotel booked you into room 873, there is no door to let you in. Hauntedrooms.com reports that the door to room 873 was sealed after a guest killed his family in it.
It is reported that even though the hotel cleaned the room and started booking guests into it after the murder, guests reported that strange things were happening in the room.
Legend also has it that the mirror in room 873 still has the bloody fingerprints of a child. We wonder why they don't just remove that mirror and replace it with a new one. But that's a story for another day.