150305-4287 Concealed Sliding Door Track Aluminum Sliding Wooden Door System
| | |
| --- | --- |
| Model NO.: | YMXT-XC01 |
| Ref.NO.: | 150305-4287 |
| Brief Descritpion: | Aluminum sliding wooden door system |
| Position: | For interior door use |
| Application: | Residential |
| Main Material: | Aluminum |
| Surface Finish: | Anodization aluminum |
| Cover profile Size: | 65*85mm |
| Rail Length: | 2000mm(78-3/4inch), or to be customized |
| Max Loading: | 80kg(176LBS) |
| Working Cycles: | 50000cycles |
| For Door Type: | Wooden doors, Metal frame doors |
| For Door Thickness: | 35mm(1-3/8inch) to 45mm(1-3/4inch) |
| Soft Closing: | Optional |
| Features: | Heavy loading capacity, long service life, this is suitable for both home and commercial use. |
More Introduction
It's a hot seller concealed sliding door track in european market. Besides the sluminum silver, the cover can also be made black, grey and other colors to match different door finish.With the soft closing,the sliding closing will be quite gentle. Futhermore, the sliding door system can be installed in different ways, side-mounted to the wall, or top-mounted to the ceiling or door opening,this is more convenient for our DIY decoration.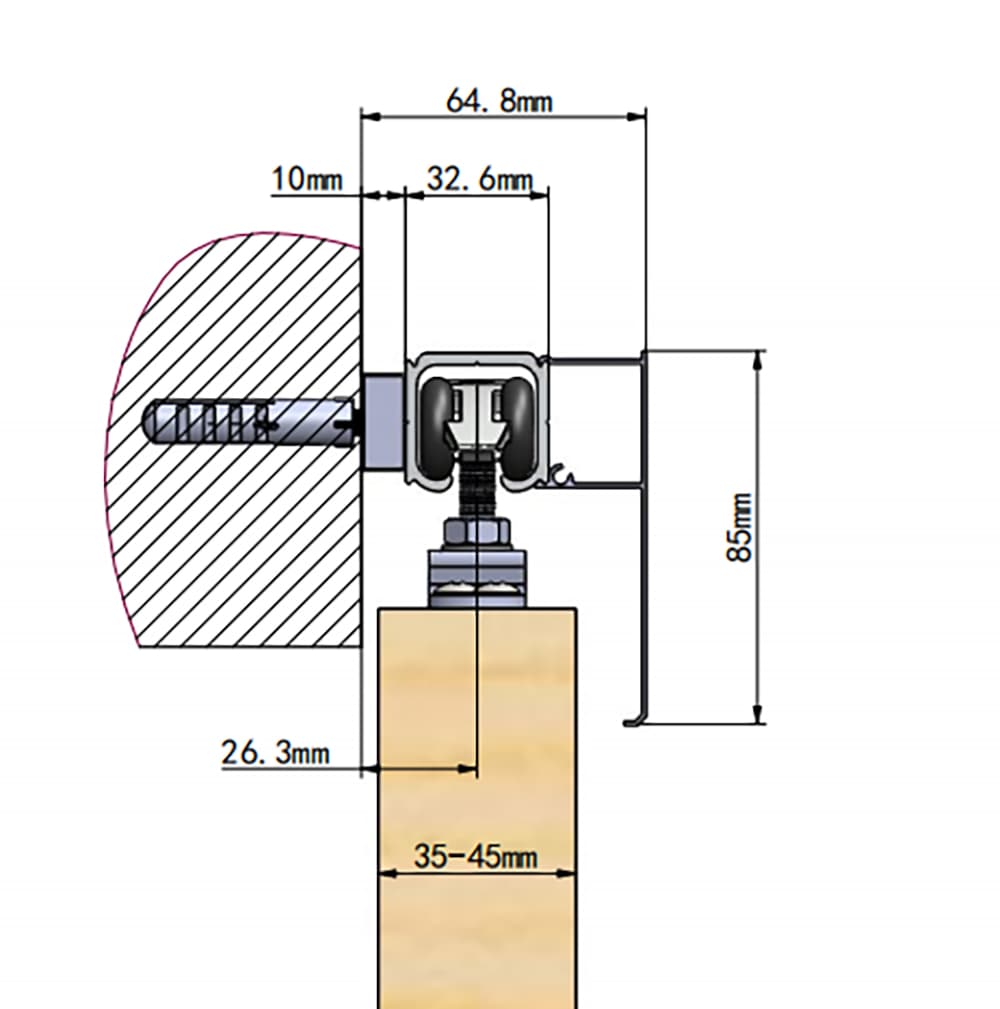 Dimension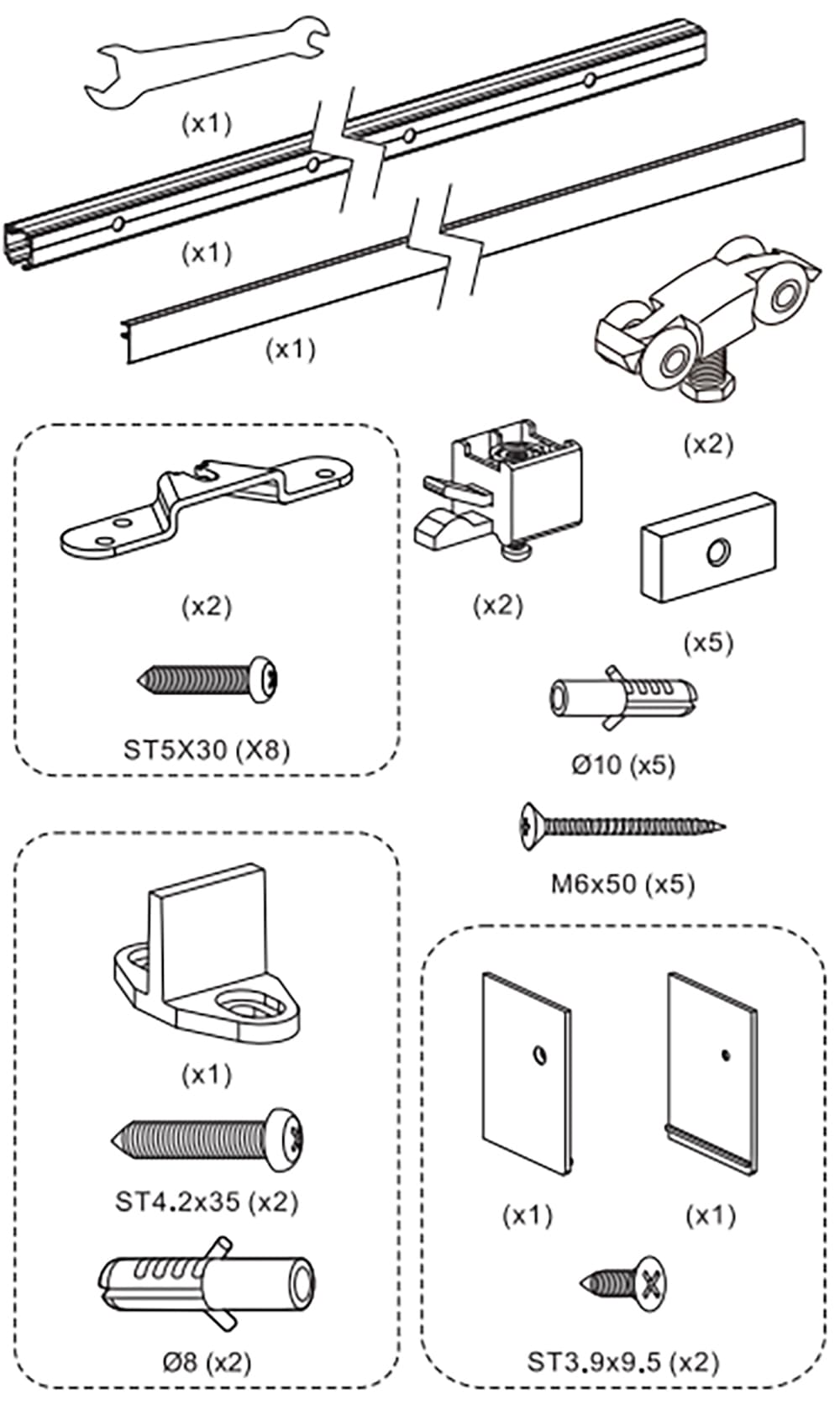 Part assembly
---
Product Package

| | |
| --- | --- |
| Packing Method | Components into boxes and a complete set into a carton, around 104 cartons into a wooden crate. |
| Sales Unit Packing Type | Carton |
| Sales Unit Packing Size | 2040*135*75mm |
| QTY/Pallet | 104/PLT |
| Pallet Size | 2120*1140*1120mm |
| Laoding QTY | 1040sets/20GP, 2400/40GP |
---
Have you noticed how many homeowners are choosing concealed sliding door track for their home interior design? These homeowners have discovered the secret to creating a more appealing look with these hidden sliding doors. If you are one of those who would not like the hardware for your barn door to be out there in the open, you should consider using the concealed sliding door system.
In this article, we will be writing about the different reasons why many people are choosing the hidden door hardware design and how you can get it installed in your home.
What it is
For anyone who does not know, we should give a quick explanation. The barn door hardware is all the components that hold the door's sliding system in position. Whether you are using a solid door with an upper track or other types of sliding barn door systems, you should use these hidden barn door hardware, which is suitable for wood doors, and the glass or aluminum framed barn door models.
The advantage is the neater look, which is sleek and more sophisticated. You and everyone living in the house will not see the barn door hardware that operates the sliding system. However, for those who like the visible hardware, those options are also available. Some people prefer the old-fashioned systems for their door slab.
What Types of Doors Are Suitable for Hidden Barn Door Hardware?
The concealed sliding doors are perfect for wood doors and any other door frame you can install in a room with a solid floor. The door thickness only matters when you have the right set of barn door hardware for the job. This is why we always advise everyone to buy door hardware for sliding doors from trusted sources only.
You can get the concealed barn door hardware for your sliding doors from our company. We have leveraged extensive aesthetic and functional research to develop the best barn door hardware for any range of door thickness, door slab, and operating system that involves concealed sliding features.
Send us your customer contact form to order these excellently designed barn door hardware in bulk.
Here are features of doors that are suitable for this barn door hardware model:
Doors with Low Clearance
The barn door hardware is perfect for doors with low clearance. This means you do not need to worry about scraping noises or damaging your solid floor when using the concealed sliding doors for a while. You can move the sliding doors to open and close the entrance without any issues.
Since they are suitable for use with low-profile door hardware, you can rest assured that the bottom rollers on your doors will last for a long time.
Door Slabs with Aesthetic Designs
The concealed sliding door hardware is a great choice because it enhances the aesthetic appeal of the doors. The best barn door hardware combines aesthetic appeal and excellent functionality, which gives users more benefits over time.
Also, these doors are less likely to present practical challenges when using them over time, making them an excellent investment in any home.
Good for Doors of Varying Thickness
The concealed sliding hardware for barn doors you can install in your residential apartment is becoming more popular because users can install them for different door slabs, regardless of the thickness. The concealed sliding door hardware will hold the doors firmly, so you do not need to worry about any wobbles while using them.
That said, the best experience with these concealed sliding door hardware is when you have hired an expert to properly install the original door hardware. Finding original concealed sliding door hardware is now easy. All you have to do is contact us, and we will help you process your order for these products in bulk.
Advantages of Using the Concealed Sliding Door Hardware
We have already discussed one of the main benefits of using these hidden door hardware above, and that is the fact that these products are suitable for use when you are installing different types of doors. The barn door hardware works excellently with beautifully designed doors, low-profile doors, and other door slabs with different profiles.
Here are more reasons to use them:
Durability
In addition to buying top-quality sliding door hardware at a reasonable price, you are guaranteed to enjoy its durability. These barn door hardware will last for years, which is a great feature for many people. You will be satisfied with your investment and the feedback from customers who buy them.
Silent Operation
The concealed hardware for these sliding doors works silently. The hardware is designed to work smoothly and can support a wide range of door thickness measurements, which is very convenient for the end users. So, if you have young children in your home, you have no worries about making unsettling noises when opening or closing the barn door.
Simple Maintainance Requirement
You may only need to schedule oiling for the sliding door system once in a few months to keep the moving parts oiled and running smoothly. This is a huge advantage for people who will need more time to follow up on elaborate maintenance operations for the bottom rollers or other practical challenges. The concealed barn door hardware works seamlessly, and it is a top choice for every homeowner.
In addition to everything you have read, the bottom rollers are not visible, which means no risk of garments getting caught in the rollers when opening or closing the sliding doors. The installation process is also seamless, and they stay firmly on the track without obstructing the ceiling.
Because of the smooth floating design, you can mount these hidden door track systems in any doorway without ruining your carpet. And the innovative product, with modern elements, is just what you need to enjoy the benefits of a concealed barn door in your home.
Installation Kits
After purchasing this concealed hardware for barn doors, we ensure all buyers will get the complete installation kits. The installation manual is easy to understand, so you can get the door slabs mounted in a short time. The installation kits are of high quality and easy to use. They can also be reused when necessary, for example, if you need to lubricate any of the moving parts of the concealed sliding door system.
You will find a list of the items in the installation kit in the product box for easy checks.
Order Concealed Barn Door Hardware in Bulk
Send us a message via the customer contact form to order these products today. We will reply with instructions and provide all the answers or guidance you need to order a batch of these fast-selling hidden barn door hardware.