Sliding Shower Door Factory
One thing many homeowners struggle with is space management in the bathroom, now, there is a solution, and it is a huge advantage from many perspectives. You can avoid using swinging shower doors that take up so much space. Instead, installing the new shower sliding shower door is a much better option.
The shower doors have been designed to add aesthetics and make your bathrooms look even better. You can also use the right shower door to demarcate your tub enclosures. There are too many advantages to using the china shower sliding door, which greatly benefits homeowners. Thankfully, you can now order custom glass shower doors to meet the growing demand for these products.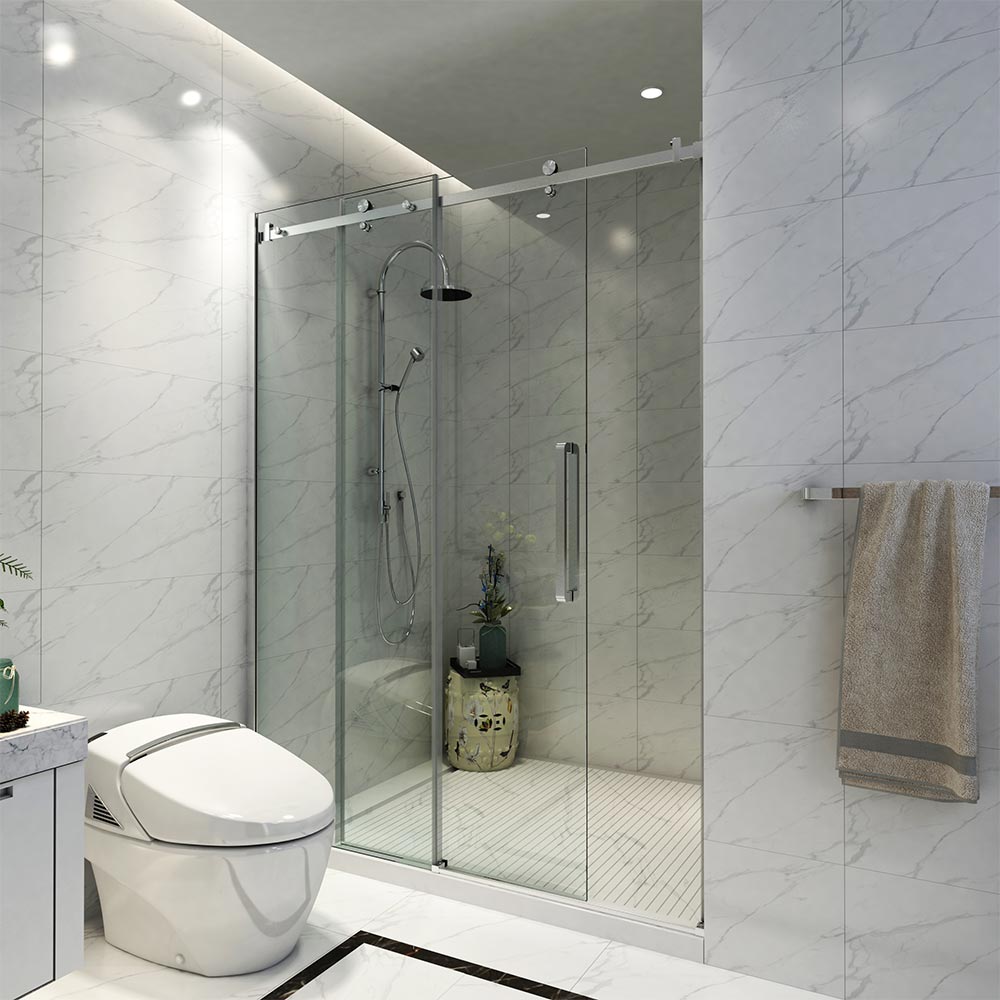 Using Shower Doors in Bathrooms
These shower doors are about the most functional features in bathrooms. You use them every time you need to have a bath. And opening or closing our shower doors will not require rocket science. All you need to do is slide the shower door open to enter the shower enclosure and slide it to close.
Leaving the shower enclosures is also seamless, as you only need to slide the shower door open and close it behind you.
Choosing the Glass Enclosures
You have options when it comes to choosing the perfect glass for your shower enclosures. You can select the glass type according to your preference or based on its physical features. While we offer these opportunities to give you custom shower doors, we can confidently state here that all the glass types you can use when installing the shower enclosure are beautiful. They are also sturdy, so you have no worries about cracks.
The options for glass types include using a mirror, tempered, insulated, or painted glass. The glass can also have several attractive patterns on them or commercial decorative styles suitable for your customers.
We can produce glass shower doors hardware with the best features in our factory. And they are easy to install during installation.
Advantages of Using Glass Shower Doors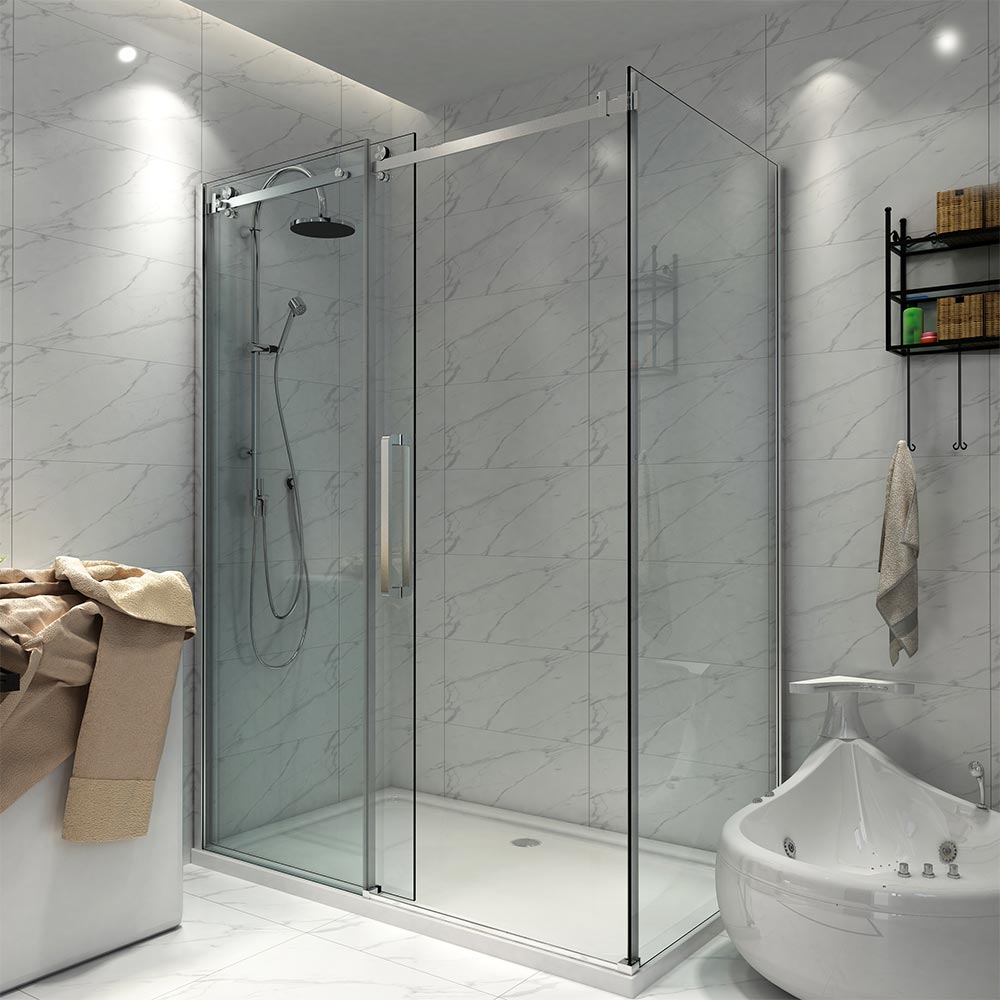 We have mentioned that using shower doors has several advantages and dropped hints about these benefits. Now, let's go deeper into these advantages to give you more perspectives about the products and why they are currently outselling other shower enclosure options on the market.
The advantages of using shower doors are not limited to particular users, so everyone who buys the shower door for their shower enclosures will enjoy the benefits.
Universal Fit
The custom shower door for bathroom enclosures is the perfect fit for all bathroom types, regardless of the design. This means as far as there is space for the shower enclosure, you can successfully install the shower doors. They come in the standard measurements regarding the width and height of the shower doors. Also, the glass design can be pretty flexible, so you can change the shower door if you ever feel like it over time.
Sturdy Shower Doors
The shower door is sturdy, and that is great news for all users. The sturdy features do not influence the style, as a glass shower door can look beautiful while remaining solid. The doors may be bi fold or single. They are less prone to cracking, and that means no worries during installation.
Safe for Residential Buildings
The hardware parts for installing these shower doors are the best, meaning there is no worry about user safety, as the doors remain secured to the frame when opening or closing. The hardware parts are designed to be used extensively for many cycles, so you can use shower doors for many years without issues.
Types of Sliding Shower Doors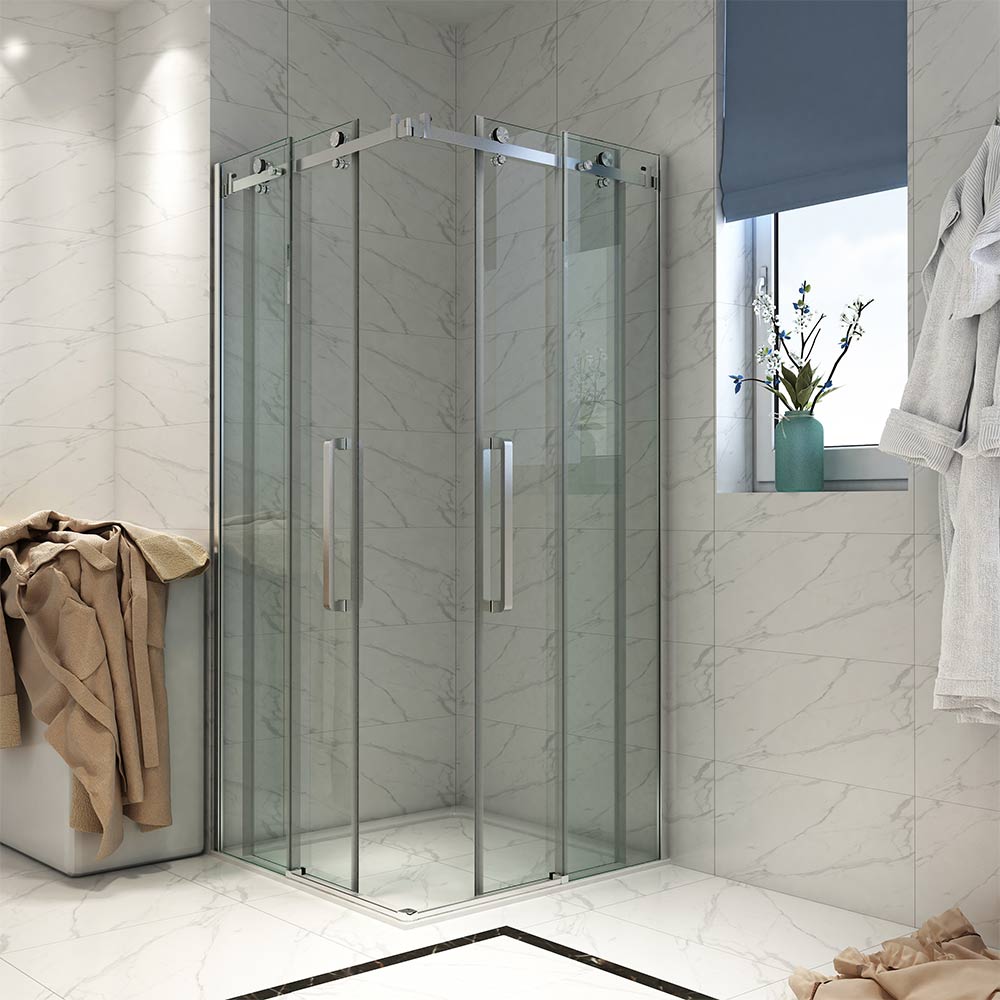 Here are the shower doors you can order from us in bulk:
Glass Alcove Sliding Frameless Shower Doors
The best feature we love about this custom frameless shower door is the stainless steel barn door hardware that looks beautiful and lasts for a very long time. The shower doors are perfect for residential buildings and feature high-grade tempered glass.
The surface finish is brushed stainless steel and clear glass, which has a sophisticated look every homeowner will love. Also, the glass thickness is from 8 mm to 12 mm, and it is perfect for customized shower enclosures of different sizes.
Rectangular Shower Sliding Door
The glass sliding door is frameless and held in position with stainless steel barn door hardware, making it easy to use and safe for residential homes. The main glass is tempered, and the frame surface finishes with brushed stainless steel that compliments the clear tempered glass. Opening and closing the sliding door is easy because the glass thickness falls within the range of 8 mm to 12 mm, perfect for standard glass shower door measurements.
Serenity Sliding Frameless Shower Doors
The frameless shower doors opens by sliding the glass panel, and this is easy because of the stainless steel barn door hardware. The sliding operation is silent and smooth. The surface finishing for the main materials, which are clear tempered glass and stainless steel, is excellent. The brushed stainless steel is corrosion-proof and lasts for many years.
The sliding frameless shower doors are suitable for shower enclosures of different sizes because the glass door can be customized to fit perfectly. Also, the glass thickness is from 8 mm to 12 mm, which makes it easy for anyone to slide the shower door open or close.
Where to Buy Glass New Shower Doors?
We have established a world-class sliding shower door factory where we make all types and sizes of these doors. Our stainless steel barn door hardware is the perfect fittings for installation, and we guarantee these products are fully functional and will match the bathroom theme, giving a complete aesthetic look. You can order these products from us in bulk quantities.
Order Today
Most of our sliding shower doors are made of stainless steel and are positioned at the high end for commercial use. At this stage, they are mainly used in hotels in North America. Send us your customer contact form to start the process. We will receive and process your order within a reasonable lead time and deliver directly from our sliding shower door factory to your location.